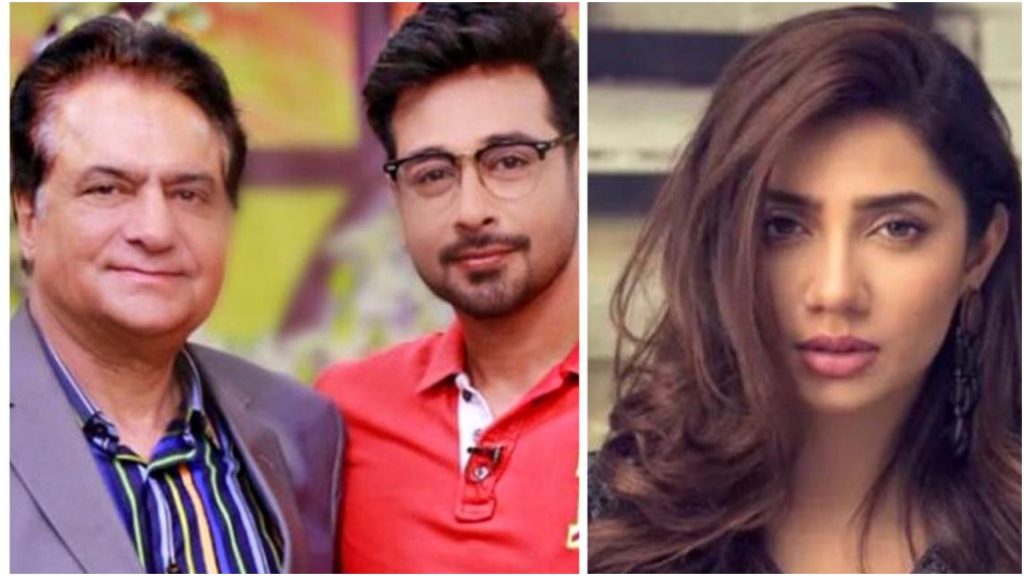 Just when you thought the celebrities were done bringing each other down, another clip has gone viral. And this time it isn't a no name actor but seasoned veteran actor Firdous Jamal who has been finding himself under heat on stating his opinion against Mahira Khan.
Being a guest at Faysal Qureshi's show, when asked about Mahira Khan, Faysal Qureshi started off by saying that none of her films has been a hit yet. After which Firdous Jamal added that Mahira Khan is not 'heroine stuff,' he also shared how he finds Mahira to be a 'mediocre sort of a model and not a good actress'. He then continued to  suggest that Mahira take up roles of playing a mother rather than a heroine. And this did not sit well with the audience!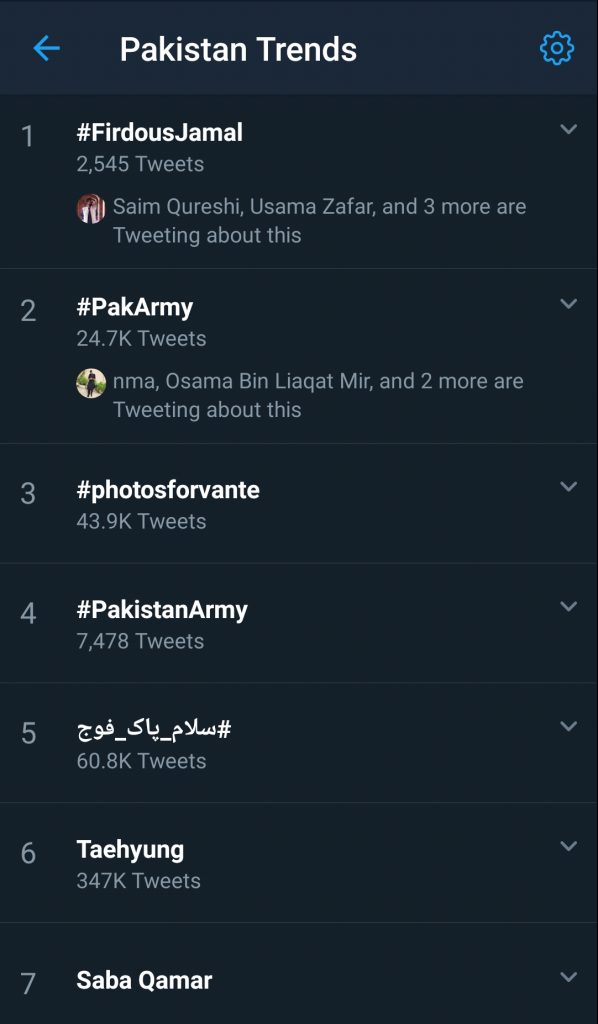 Firdous Jamal's comments upset a ton of fans and fellow colleagues:
#FirdousJamal Do people make such senselessly negative statements because they are bitter with their own short-comings or are they actually so evil. For the sake of believing in the goodness in human beings, I hope it's the former.

— Ammara Aziz (@aziz_ammara) July 27, 2019
People also expressed their disappointment over Faysal Qureshi not defending Mahira:
What a cheap shot from Firdous Jamal – least expected. @TheMahiraKhan is one of our finest actress. None of the description Firdous Jamal gave of Mahira is correct. Expected @faysalquraishi to defend her!! pic.twitter.com/5fwDNOgyq9

— Kalim Khan (@Kallerz37) July 26, 2019
Humayun Saeed shared how disappointed he was at the comments made:
Extremely disappointed and strongly condemn Firdous Jamal's comment regarding Mahira Khan. Whatever his point of view is, there's absolutely no justification for such rude remarks for a colleague publicly & on television. Mahira is extremely hardworking and honest to her craft…

— Humayun Saeed (@iamhumayunsaeed) July 27, 2019
Fahad Mustafa took a dig at the veteran actor and admitted how she is the ultimate superstar for him:
@TheMahiraKhan jab log aapke baray main achee ya buree batein karen aapke naam se kuch chaar min kee importance chahen to is ka matlab hai you must be doing something right ..you are and you will be My Super Star ⭐️ Shine More ✨

— Fahad Mustafa (@fahadmustafa26) July 27, 2019
Osman Khalid Butt shared how these stereotypes need to be broken, immediately!
If we as members of the film & television fraternity can't keep our chauvinism in check, if we keep reinforcing regressive & sexist stereotypes, how do we expect the public to treat our industry – and specifically the women in it – with respect?

— Osman Khalid Butt (@aClockworkObi) July 27, 2019
And as usual, people took his tweet on the opposite direction, but he gave them befitting replies one after another!
My tweet was about his ageist comments, not his opinion on her acting.
But yes, meray ghar ka choola to Mahira ke aagay sar jhukaanay se chalta hai. https://t.co/E3V9tSbibo

— Osman Khalid Butt (@aClockworkObi) July 27, 2019
Maa baap ne sahi aur ghalat mai farq bhi sikhaya hai. https://t.co/UCE6btbwpa

— Osman Khalid Butt (@aClockworkObi) July 27, 2019
Dismissively claiming actresses have a shelf-life, that they should stop acting as leads and appear as mothers is not the same as 'mentioning their age', you bashi-bazouk.
I'll stay in my lane when you delete your account, and your existence. Acha tamasha lagaya hua hai. https://t.co/aUHs1rQEso

— Osman Khalid Butt (@aClockworkObi) July 27, 2019
So I assume you follow me on Twitter for my dashing personality? Or is it my white butt that gets you off? https://t.co/DUcWRlhfya

— Osman Khalid Butt (@aClockworkObi) July 27, 2019
Sarmad Khoosat shared a little piece from Ghalib for Mahira, and it's absolutely beautiful:
https://www.instagram.com/p/B0auklZhCT7/?igshid=uguqknr3rf8c
Mawra Hocane came hard defending Mahira:
Taking a dig at the biggest name of your country makes you as small as it gets. Disrespectful remarks in the garb of opinions need to STOP. Hope the two mins of fame were worth it. Mahira works extremely hard to be where she is. It's not easy
So Proud of you my M❤️ @TheMahiraKhan

— MAWRA HOCANE (@MawraHocane) July 27, 2019
Mirza Gohar Rasheed pointed out how, when on national television, words should be used wisely:
Everybody is entitled to their opinion true that !! But when a public figure like #FirdousJamal sharing his opinion on national television then the choice of words are very important (1/3) #RespectfortheSeniors #LovefortheJuniors #MahiraKhan

— Mirza Gohar Rasheed (@GoharRsd) July 27, 2019
He then continued to say that belittling juniors like this is never right:
sir with all due respect if a legendary actor like you will be so demeaning towards juniors like @TheMahiraKhan then how will we learn? Constructive criticism is very important for the growth and that's what we seek from you (2/3) #RespectfortheSeniors#LovefortheJuniors

— Mirza Gohar Rasheed (@GoharRsd) July 27, 2019
He then concluded his tweet by saying how he expected better from him:
There is a reason why other entertainment industries of the world are thriving because the seniors pass on the torch with grace and love to their juniors sir personally speaking I expected better from you (3/3) #FirdousJamal #MahiraKhan #RespectfortheSeniors #LovefortheJuniors

— Mirza Gohar Rasheed (@GoharRsd) July 27, 2019
Anoushey Ashraf pointed out how she has nothing to do with one's acting abilities:
Respect. To get it, you must give it. I don't think our elders sometimes realise how regressive they sound. #FirdousJamal a person's age has NOTHING to do with their acting ability sir. You should know this better than anyone. https://t.co/Ock2wyKBQL

— Anoushey Ashraf (@Anoushey_a) July 27, 2019
Tooba Siddiqui said how we've all had enough of celebrities putting each other down: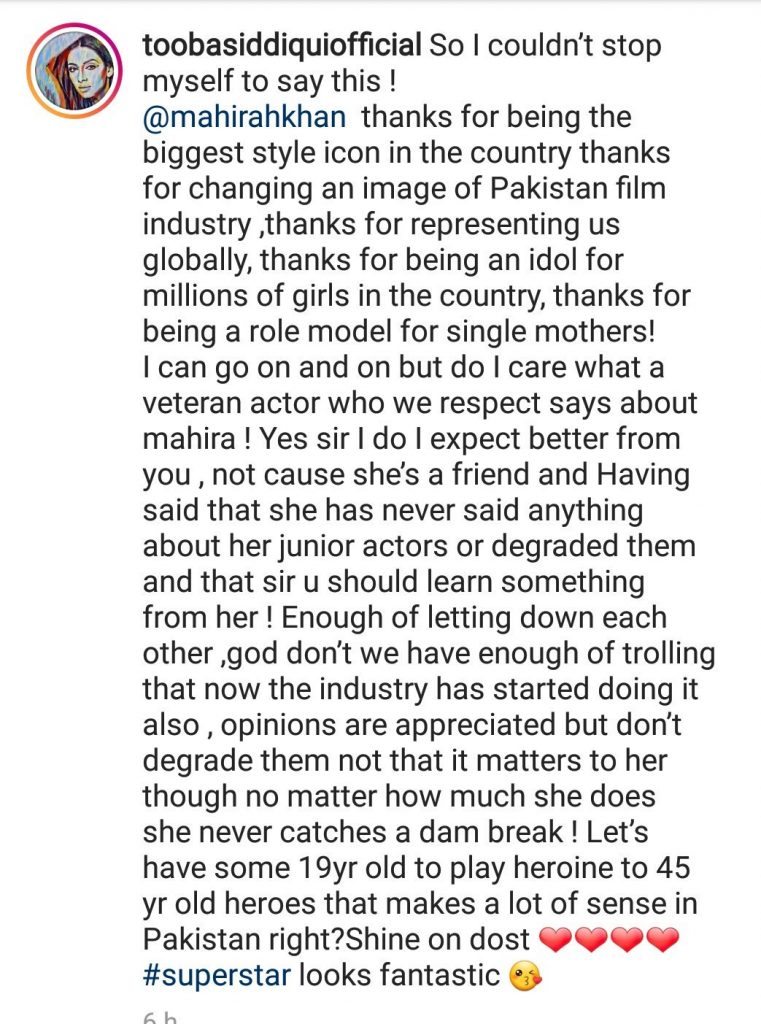 Madiha Rizvi too posted a status on Facebook sending love to Mahira: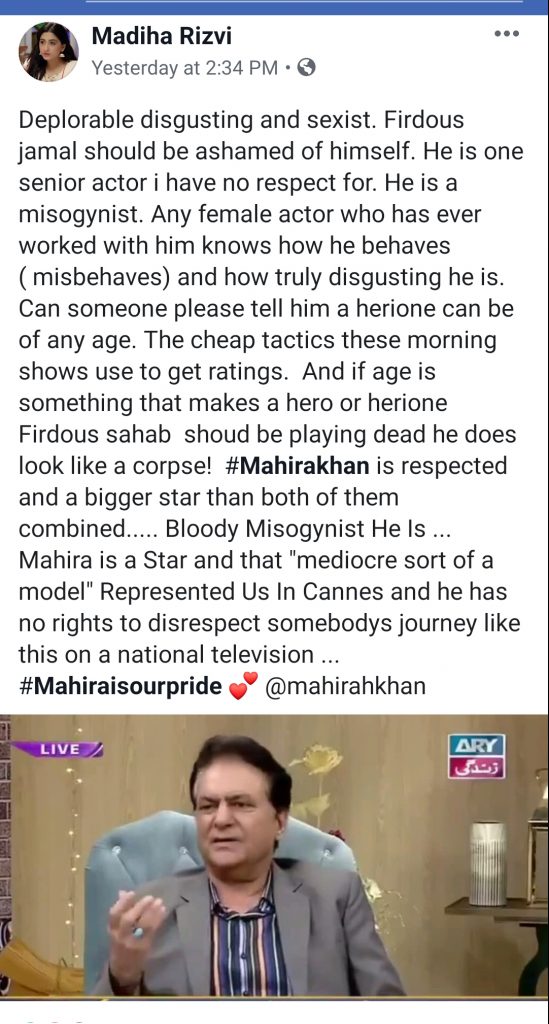 Singer Annie Khalid pointed out the double standards in the society:
Mahira Khan is too old to play lead heroine roles and should play roles of a mother whereas Junoon are older than our dads but have a tour coming up and no ones bats an eye. Both are from entertainment so plz don't try to differentiate. Double standards in this country. Pathetic

— Annie Khalid (@annie_khalid) July 27, 2019
We bet: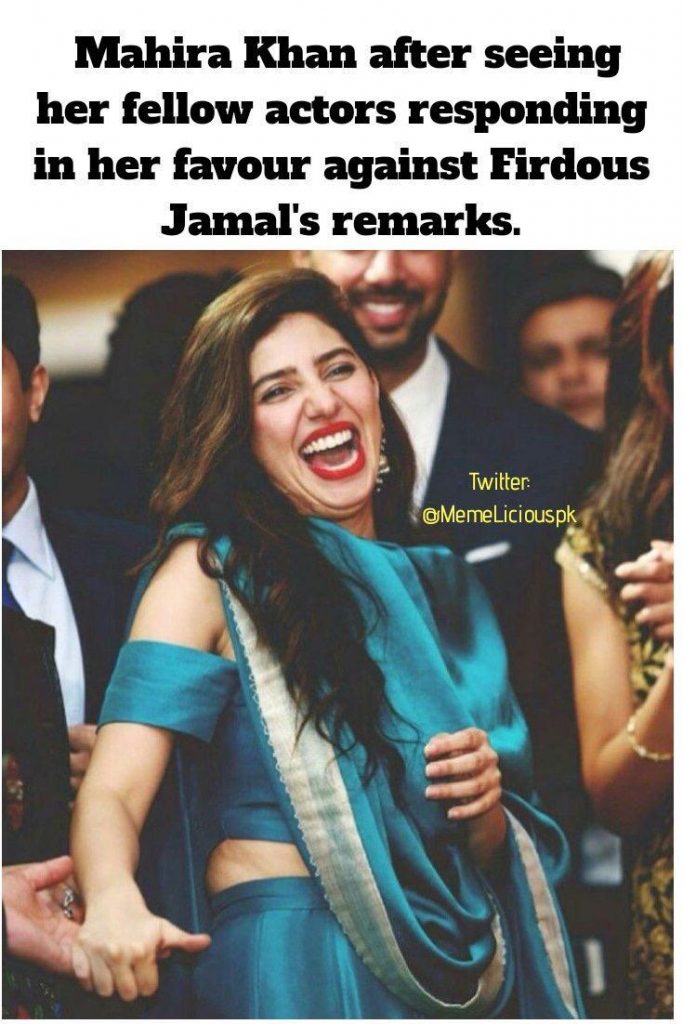 People compared how Firdous Jamal's comments made absolutely no sense:
:Mahira Khan's movies don't do well on the box office:

Normal person: well.. multiple factors go into a movie doing well. Script/hero/music etc. Also, maybe mahira is a better drama heroine than a film heroine? Idk ok

Firdos Jamal: MAAA KA ROL KARNA CHAIIYE MAHIRA KO.

— Jibby (@JibbyD) July 27, 2019
People voiced their opinions loud and clear:
i am sorry but elders don't deserve respect just for the fact that they're elders. age is not a medal u can use to demand respect. if you have shitty views that enforce the ills in the society, you need to be told to keep your mouth shut, sir.

— Faizan. (@merabichrayaar) July 27, 2019
People shared how this incident proves that women have to struggle much harder in the industry:
Hence woman in showbiz have to struggle against thinly disguised misogyny. Though I'm not a huge fan of Mahira Khan, but the actress is beautiful and talented. The shameful critical remarks of this old man, advanced in years, are bullshit.#MahiraKhan#FirdousJamal

— Khanzadi Gul Aqsa (@GulKhanzadi) July 27, 2019
People wanted that very kind if confidence:
God give me the confidence of a 65–year-old man sitting in front of a 45-year-old actor (who still plays lead roles) dissing a woman in her early thirties, saying 'uski age ziyada hai' and that she should play mother roles now 😠🤮 https://t.co/BCoSc7xyIj

— Anum R. Chagani (@Anumero_1) July 27, 2019
Many said how Mahira has no time to deal with 'salty uncles:'
I dnt understnd why didnt #FirdousJamal pass the same comment at Faisal Qureishi, a guy who still gets the male lead roles (thanks to botox) altho being even older than Mahira Khan..sexist much?

Mahira khan has 3 upcoming films, she doesn't hv time to put up with salty uncles

— the misandrist next door (@amnaaww) July 27, 2019
Many argued that Mahira wouldn't have the 2 million fans she has if she was a mediocre actress:
#FirdousJamal how you can blame some one with more then 2M Followers. There should be something extra ordinary in her acting. No doubt @TheMahiraKhan is one of the talented actress. pic.twitter.com/LmcMDaZbWI

— Munir khan (@MunirOfficial_) July 27, 2019
People were appalled:
I am really appalled that senior and respectable persons like #Firdousjamal sahab still think that a woman has a heroine by date….till when will we continue on this repressive path and pull peers down. @TheMahiraKhan is a star in every sense of the word like her or hate her. pic.twitter.com/fZTEBUgJDj

— FK (@faisalkapadia) July 26, 2019
Some shared how respect was a two way road:
It makes me very sad to see an actor of Firdous Jamal calibre stooping so low. Mahira Khan is a star. She's a star beyond borders and she wouldn't be if she weren't a heroine. Our senior actors demand respect but do very little to deserve it. #MahiraKhan #FirdousJamal

— Fatima Shah (@FatimaShah95) July 27, 2019
Many were offended on the poor choice of words:
Mahira Khan is not the heroine 'Stuff'! REALLY??👏🏻
"STUFF"!! are women, bloody objects to you!! SHAME ON YOU!
You are a reflection of the parochial male mindset in our society. Men like you can only endorse a woman with a child – as a mother.
Age brings no wisdom.#FirdousJamal

— M.Z.K (@Theflawsome_mzk) July 27, 2019
Some said being a senior actor does not give him a certificate to demean anyone
He may have reservation on her acting skills but taking cheap shots on her age is very low of him. Being a senior actor does not give him a certificate to demean any one on any platform at anytime. He needs to show that he is bigger and senior by his acts and words too.

— shahmah (@shahmah_k) July 26, 2019
Many thought Firdous Jamal was enjoying his fame with a hashtag:
#FirdousJamal enjoying his name trending on top after his remarks about Mahira khan. pic.twitter.com/dUi70ObAZ0

— MemeLicious (@MemeLiciouspk) July 27, 2019
Journalists also come forward in Mahira's support:
Hamna Zubair who doesn't mince words asked someone to tell Bushra Ansari to give him a chapair…
It's NOT OKAY to assume that that women performers have an expiration date.

Older men like Javed Shiekh Shaan Shahid Adnan Siddiqi get roles and respect but a female actor has to in her first blush of youth to be valid? Stfu.

Someone tell Bushra Ansari to give him a chappair. https://t.co/MAnD7pR4h0

— Hamna Zubair (@hamnazubair) July 27, 2019
Maliha Rehman questioned why at all people are judging actresses by their age?
After getting loads of hate, Faysal Qureshi took to Twitter to share how the comments made by the veteran actor were unnecessary and uncalled for:
Live shows can be tricky but as a host of one i have always strived to peoject positive image and energy of our people , country and traditions . What happened with veteran actor #firdousjamal commenting on @TheMahiraKhan on the show was totally uncalled for and unnecessary .

— Faysal Quraishi (@faysalquraishi) July 27, 2019
Thats how he thinks kiya faraq parhta hey …she is super star and i was shocked too. I meant jo hit milni chahiye woh mily #binroye was hit but bari wali hit .khir i praised her 1000 times in my show no one shared that 🤔 https://t.co/xb5IYwukgs

— Faysal Quraishi (@faysalquraishi) July 26, 2019
He then promised to address the matter on the same platform where the damage was done:
I as a responsible host will address this on the same platform in the coming week also. As a host I am and was shocked at our veteran actor Firdous Jamal's comments on the live show for @TheMahiraKhan who is undoubtedly an icon of our industry and for our country.

— Faysal Quraishi (@faysalquraishi) July 27, 2019
And while some were fuming, others stood with Firdous Jamal:
#FirdousJamal , he is living legend, people must see his performances on youtube so to know his caliber . Whatever he said about MK must be appropriate.

— H.A.Mughal (@Hasan202) July 27, 2019
Many thought he had called her out rightly:
#FirdousJamal called Spade a Spade. #MahirahKhan is not a cut for acting. Acting requires spontaneity. What if I assert she is beautiful but not elegant. What do u say?

— Qamar Uz Zaman (@qzaman8) July 27, 2019
Waisay legend #FirdousJamal has spoken nothing but truth. https://t.co/RRmAFK4UqE

— Syed Asad Ali (@ubbermensch) July 27, 2019
People were angry at the so called 'burgers' schooling him:
I have seen #FirdousJamal in dramas, many, many years ago. I did not know him by his name, untill i saw the clip and the trend going on social media. He is a veteran, a legend, older then their fathers of these third rated burger actors, who are disrecpting him.

— Zakaria Shah (@zakshahofficial) July 27, 2019
Some found validation:
I remember watching #TheMahiraKhan's Humsafar as a kid and wondered till date if she can ACT (I'm just the audience and he has spent his life in the industry and can judge better). I totally agree with #FirdousJamal's opinion.

— R.Zk (@Rumpie09) July 27, 2019
Veena Malik shared how criticism should be taken constructively to help one grow:
#FirdousJamal is Under attack for having his opinion about an actor🙄 He was &is part of This industry before anyone else who's criticising him.I mean such a small industry and tolerance level so low for criticism How these people will grow if They cant take slightest criticism ?

— VEENA MALIK (@iVeenaKhan) July 27, 2019
Some said that celebrities all around the world are criticized:
#FirdousJamal is right. People also criticize SRK,Salman,Amir,Akhsay etc to perform along with young actresses kike Alia,Anushka,Dipika etc.Its not about double standards or sexism. Its about what is right. Same goes with Humayon saeed, when he tries to look young,when he's not.

— Shahbaz Saeed (@Shahbazsaeed178) July 27, 2019
He didn't say anything wrong, he gave his opinion, you can ignore, agree or disagree but everyone has started this campaign against a legend? Why can't you tolerate criticism, matlab banda kisi female ki burai kar hi nahi sakta foran society ka masla ban jata hai #FirdousJamal

— Fasih Uddin (@Fasih_Uddin) July 27, 2019
Many had to agree with what he said but thought he shouldn't have mentioned the age part:
#FirdousJamal is right about Mahira's acting skills but he should not comment about age.

— Shanila Sikandar (@ShanilaSikandar) July 27, 2019
This quotable quote by Babra Sharief though!!! That's all.
What do you think about Firdous Jamal's comments? Has it become a new trend to bash Mahira? Let us know in the comments below!