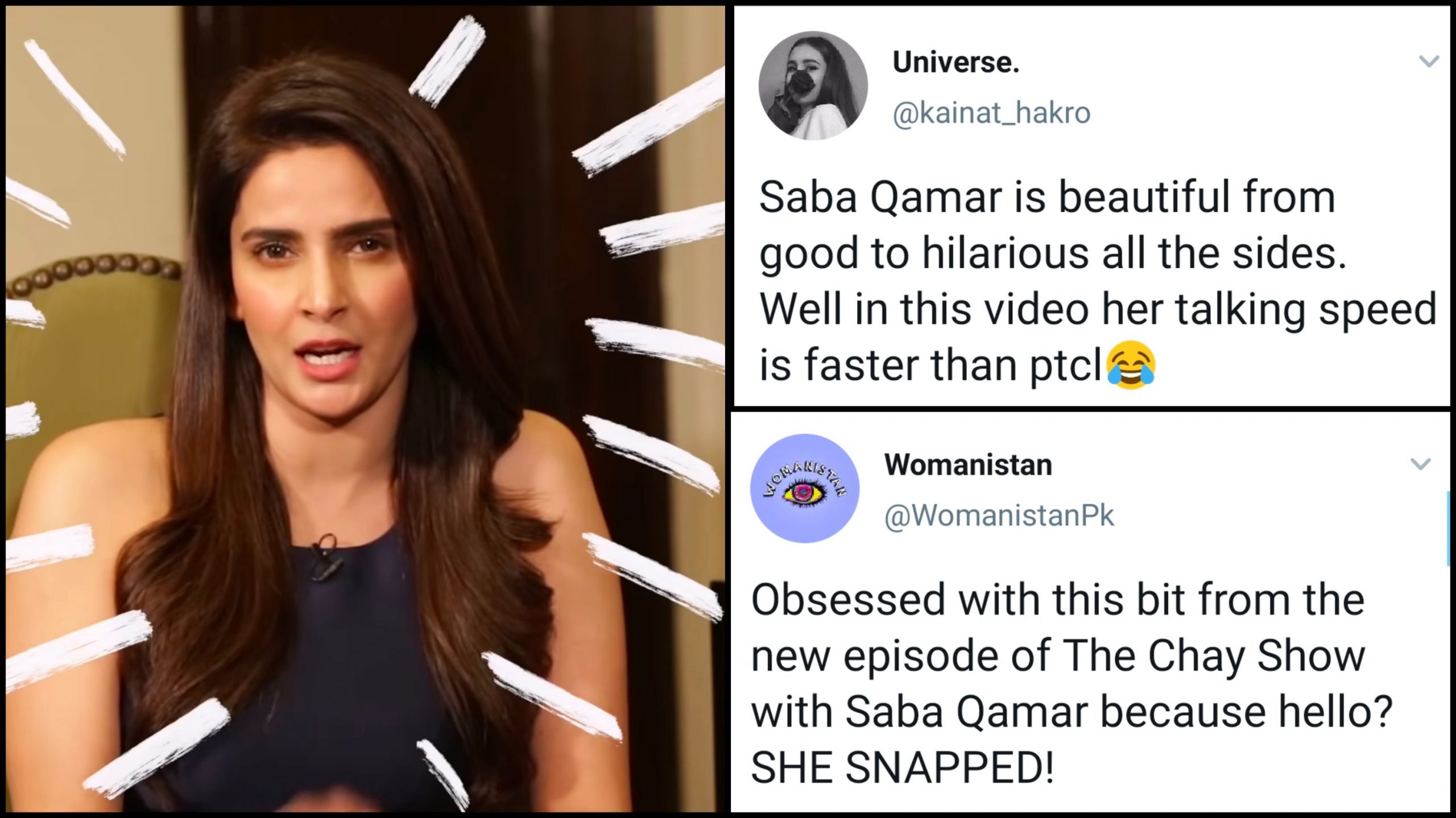 Saba Qamar continues to showcase her unfiltered side on her YouTube channel and with every episode Saba makes us fall in love with her all over again!
Her latest video is an enactment of her interview which had some of the most absurd questions, and her unfiltered answers are the best thing you'll see on the internet today!
Saba's answers quickly became the life of social media and the internet is loving every bit of it!
Obsessed with this bit from the new episode of The Chay Show with Saba Qamar because hello? SHE SNAPPED!

via @SabaQamarActor @RahealRao pic.twitter.com/P3faVhc8Pp

— Womanistan (@WomanistanPk) May 18, 2020
We call her the queen of monologues for a reason!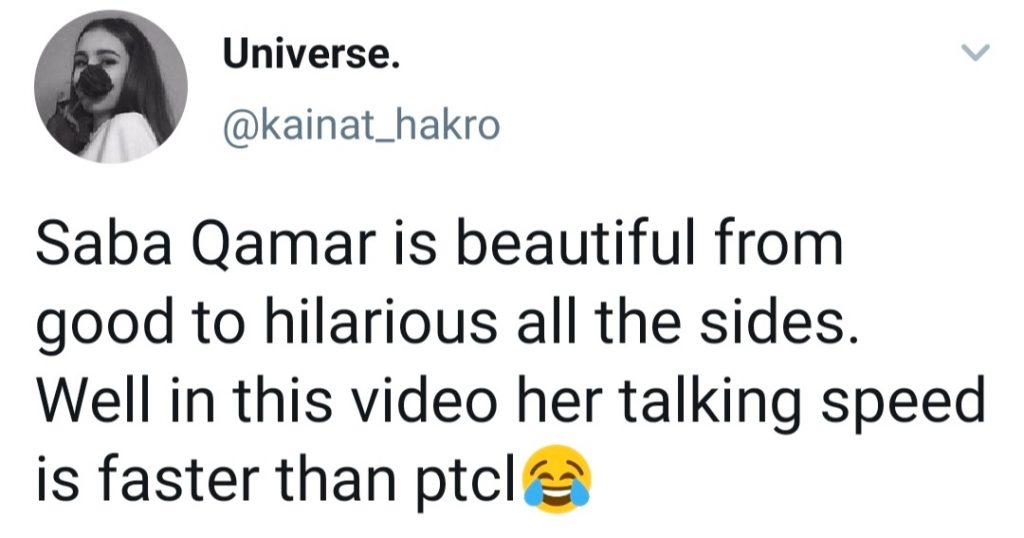 Our favourite diva!
Saba Qamar is the undisputed queen of Pakistani showbiz industry. No other actress is even close to what Saba is.

— Burning Brownie (@SaraETariq) May 18, 2020
People were curious!
Question: Who is Saba Qamar's ex?

— ThatOnePainduGurl (@VeyRano) May 18, 2020
There was love pouring in from across the border:


Oh yes she did!
she really did that pic.twitter.com/k4fF9PYQNk

— zainab🌙 (@zainabmsheikh) May 19, 2020
The clip had people exploring more to Saba Qamar:
I'm a #SabaQamar fan today pic.twitter.com/PmeXNR1Uzw

— Natasha Javed (@natashajaved1) May 19, 2020
FACTS!


Yaaaaas!
Forget Shahid Afridi. Saba Qamar for the President!

— Sƚαɾԃυʂƚ (@BadassLadybird) May 18, 2020
People were loving this side of her:
This side of Saba Qamar is hilarious 😍 pic.twitter.com/ZGiF4X3dkB

— A. (@Ahsan_Shahzad10) May 18, 2020
Some had a hard time believing that the questions were real: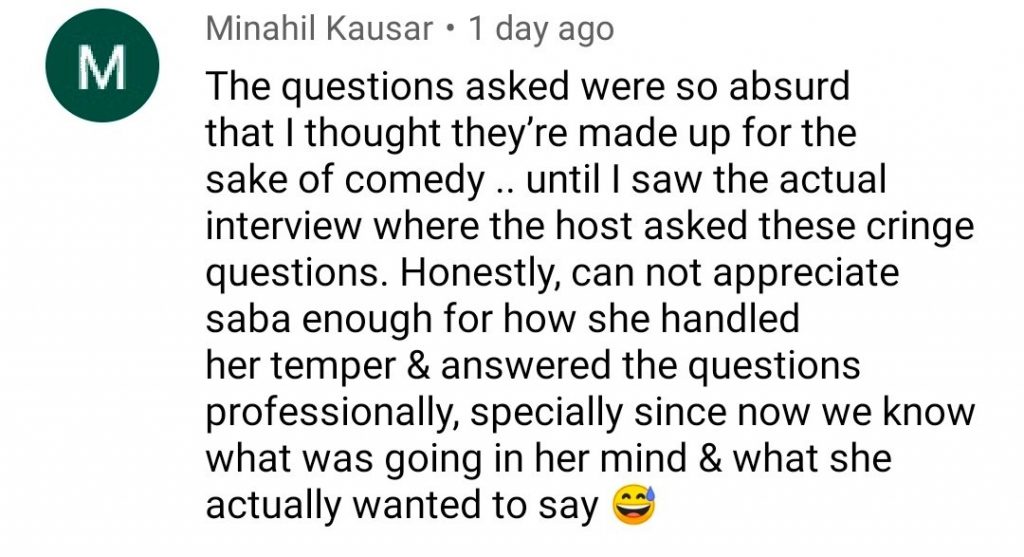 And of course, we had the never ending comparison between Mahira and Saba:
Mahira Khan may get the votes by majority for being pretty n all but when it comes to skills, elegance & grandeur. Saba Qamar is the real deal. Nobody comes even close to her.

— depreciation (@raving_dead) May 18, 2020
We know righttttt?
Saba Qamar is whole mood.

— TOOBA (@toobaastic) May 19, 2020
Ours too!
Saba Qamar is my hero https://t.co/EGXkW9R43c

— punkistan (@pvnkistan) May 18, 2020
Couldn't agree more!
Saba qamar is a total savage dude.

— Hafsah sajjad. (@rich_avocado) May 18, 2020
True though:
No one deserves Saba Qamar she's too perfect. Oh my gawd I'm in love

— Unprecedented Circumcision (@Thomas_WayneFPt) May 18, 2020
People found her to be better than the entire lot combined!
Saba Qamar >>> the whole current lot combined https://t.co/JlUEaN98DK

— Margalla hills (@FrazzKhan) May 18, 2020
We knew it since day one!
ummmmmm who knew saba qamar was a fucking national treasure. might have to stan https://t.co/cbkMShyDYY

— 🅱️ichael (@THICCFILLA) May 18, 2020
And just in case you don't believe the ridiculous questions, here's the real interview:
What do you think about her video? Let us know in the comments below!