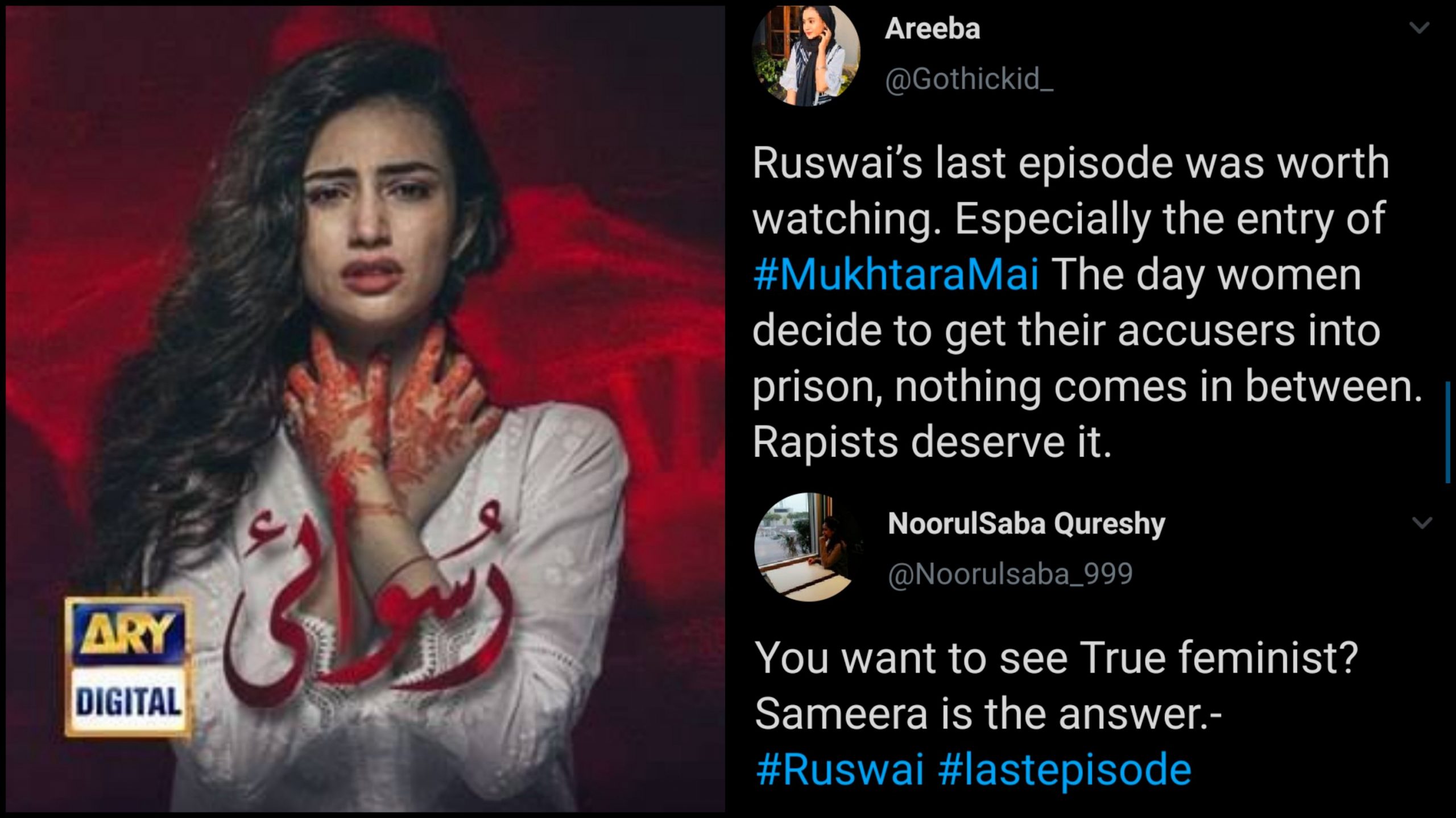 What started off as an uncomfortable but yet brilliant plot, Ruswai, throughout the course of it's airtime kept the audience hooked on to it. From Sameera first being kidnapped and violated to entering into an abusive marriage and then getting out of it to finally pursue justice, it was one heck of a ride!
And the last episode today was a treat for the fans waiting on Sameera getting justice and it left the internet in tears:
And finallly Ruswai ended!
It left me in tearrrrs😭😭😭

— Nimrah Memon (@NimrahMemon) April 14, 2020
Many recently learnt that Ruswai was based off of Mukhtaran Mai's true story:
Ruswai Is Based On True Story, Says Writer Naila Ansari.

— Mentally Creative (@ShahXu_Dogar) April 14, 2020
So many emotions, all at once!
What a Splendidly executed, well-written, awesomely performed drama #Ruswai

The End was heart-wrenching as well as a pleasant surprise #RubinaAshraf you did an awesome job as a debuted director.

— Fizza نہال 🍀 (@UrFragileEgo) April 14, 2020
These dramas are the first step:
Amazing feeling when victims get justice against all odds after so much struggle. Chahay drama mein hi sahi.#Ruswai

— M. (@blekhhhhhh) April 14, 2020
And the appearance of Mukhtaran Mai was truly an iconic scene:
#MukhtaranMai 's entry in #Ruswai 's last episode was one of the most poignant moments of the drama. The pain of rape survivors is unimaginable & the struggle to get justice in a rotten political system requires nerves of steel. Amazing drama with powerful performances!

— Summaya (@_Defiant1) April 14, 2020
So #ruswai ends today.
Mukhatara maai's appearance was pretty nice.
Hats off to all rape survivors !

— Are Zee ! (@bhattispeaks) April 14, 2020
Mukhtara Mai made an appearance in the last episode of Ruswai and I cannot be happier #Ruswai #WomenPower

— Mehwish Batool (@The_MediaGate) April 14, 2020
We need more women like her!
Ruswai's last episode was worth watching. Especially the entry of #MukhtaraMai The day women decide to get their accusers into prison, nothing comes in between. Rapists deserve it.

— Areeba (@Gothickid_) April 14, 2020
Go, Sameera!
You want to see True feminist? Sameera is the answer.-#Ruswai #lastepisode

— NoorulSaba Qureshy (@Noorulsaba_999) April 14, 2020
People were hoping for more dramas like this to air from time to time:
Done with last epi of #ruswai drama serial , I think it was good step and story line , there is need of such courage and strength for struggling women , rather then to just put up some bullshits like #merypasstmho, ended with nothing .. @RealSanaJaved sanajave

— SHANZAY KHAN (@shanzay_khan101) April 14, 2020
If only we had more men like Dr. Feroz:
Hello, yes I would like one Dr Feroz for me, thanks.#Ruswai

— Ayesha (@punfloyd) April 14, 2020
People were sharing why such stories and dramas are so important:
It was the last episode of Ruswai today. It portrayed the struggle of a rape survivor in our society. How her husband who was once madly in love with her, ill treated her after this incident. The thing I like about such dramas (like Ruswai or Cheekh) is that they are at least 1/2

— The Mercurial Melody 🎶 (@stopbeingcheesy) April 14, 2020
Promoting a message that we must take a stand against injustice whatever it takes. The journey to justice is not easy, it can not be, but we have to keep striving. Ultimately it's not about winning or losing, it's about fighting with the right spirit.

— The Mercurial Melody 🎶 (@stopbeingcheesy) April 14, 2020
People were missing the show already:
Haarta woh nahi hai jise maidan main shikast huyi hu
Haarta woh hai jis ki jeet ko bhula diya jaye….#Ruswai ends today on a positive note,
….will definitely going to miss my fighter Sameera… @RealSanaJaved pic.twitter.com/3qtUh47ZAm

— #Nadaan Parindaa 🕊️ (@kanwali2) April 14, 2020
Sana Javed at her absolute best!
Sameera (Sana Javed) was fabulous throughout the play. The actor who played her brother (Hamza) also acted v.well. Rubia Ashraf did a decent job at Direction but the play was dragged a lot.

— Mehwish Batool (@The_MediaGate) April 14, 2020
#Ruswai drama ended peacefully. Beautiful acting by @IamSanaJaved 👍 Hats off 👏

— Talal Ahmad (@TalalSalimi) April 14, 2020
Sana Javed acting is unmatched #Ruswai

— ayaan with Chen (@exowineverytime) April 14, 2020
People were in love with Osama Tahir as Hamza:
Watching last episode of #Ruswai, dis scene really makes me cry😥 the way @osamatahir showing protecting his all women,the way all women showing concern abt only 1 man of their family its truly giving vry deep msg related 2 our real face of our society,well done @IamSanaJaved 👍 pic.twitter.com/q6nuP0OiqH

— Aima Kiyani (@Aima_kiyani22) April 14, 2020
Brother like hamza. T_T #Ruswai

— -E (@virescentlight) April 14, 2020
People were living for the ending!
Just watched the last episode of #Ruswai. What a beautiful beautiful drama. Loved the ending. 👏🏻
If you haven't watched it yet, watch it on YouTube.

— Aman (@LalaLoyalist) April 14, 2020
Yes please!
Ruswai is really goodd.
Good writingggg.
Good stuff.
Also I want one Dr. Feroz too

— anam. (@Urban_Mossy) April 14, 2020
Many got goosebumps!
#Ruswai gave me goosebumps😭

— neena (@_sudharjao) April 14, 2020
This!
Harta wo nhi jissy shikast ho
Harta wo hai jiski jeet bhula di jaye!#Ruswai

— Farheen Khan (@Farheenkhan_fk) April 14, 2020
People were lauding ARY for portraying real women and real issues:
All said and done, my heart is full on seeing Sameera getting justice and when she meets Mukhtara Mai, ufff ❤
A good effort by @arydigitalasia and 7th Sky Entertainment @iamhumayunsaeed

— Mehwish Batool (@The_MediaGate) April 14, 2020
Oh, the poetic justice!
Salman died in ruswai. He deserved this for not supporting his wife 😭

— Noor Inam (@noorinam1) April 14, 2020
And with Salman taking a bullet for Sameera, people just weren't having it!
oh yar pls don't make a hero out of salman, him taking a bullet for sameera 😭😠 #ruswai

— mon mon (@monazzilla) April 14, 2020
What an absurd ending to ruswai ulo ka patha jo poray time emotional abuse physical abuse krta raha usay hero bana diya.

— junkfoodwithdrawalisreal (@jerryyaar) April 14, 2020
What did you think about Ruswai's last episode? Let us know in the comments below!