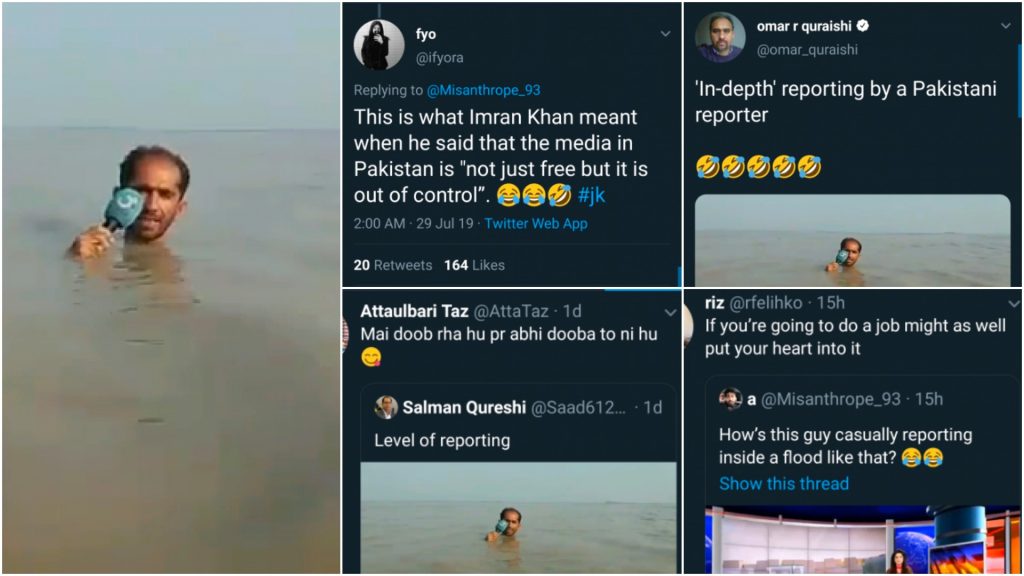 When it comes to our reporting, we definitely have a few gems! From 'mujhay anday wala burger' to Chand Nawab trying to get the departing train in the background, the competition is tough! But this bloke took his reporting to the next level by actually reporting in water, with just his head popping out and it's winning the internet!
The video which went viral has gathered tons of fans around the world, and their reactions to the video are priceless:
How's this guy casually reporting inside a flood like that? 😂😂 pic.twitter.com/mP4vM70LUx

— a (@Misanthrope_93) July 28, 2019
Literally in depth 😂
'In-depth' reporting by a Pakistani reporter

🤣🤣🤣🤣🤣 pic.twitter.com/la8yLn2OmL

— omar r quraishi (@omar_quraishi) July 28, 2019
His dedication was lauded through and through:
Please don't dispatch him to cover forest fires or a war zone. His dedication is too pure! https://t.co/xtS89Bp8dj

— VanHeist (@RTenpas) July 29, 2019
Ae wada farahmosh main tujhsa toh nahi hoon~
Mai doob rha hu pr abhi dooba to ni hu 😋 https://t.co/7jAf3QMw48

— Attaulbari Taz (@AttaTaz) July 27, 2019
Haha, us too, inshallah!
I aspire to have this much dedication towards my work iA https://t.co/BTNJI4v1Qv

— snickers🌜 (@snehvx) July 29, 2019
We agree:
That's some deep reporting, I must admit. https://t.co/vNgAPM9Z3p

— Ahmad (@yarkhanalizai) July 27, 2019
Haha, definitely out of control:
This is what Imran Khan meant when he said that the media in Pakistan is "not just free but it is out of control". 😂😂🤣 #jk

— fyo (@ifyora) July 28, 2019
YAAAAAS, give him a show already!
SOMEONE GIVE THIS MAN HIS OWN SHOW😂

— Simra (@simra_s) July 28, 2019
The video even had the goras going gaga!
All I heard was"tarabarrafarraderramarrderrfarra" etc xx

— Jim (@James_Monty2) July 28, 2019
He's like "just another flood, no big deal" 😂😂😂😂

— Ariana no Grande (@Ninja_Ari02) July 29, 2019
People wanted a Pulitzer for him, banta bhi hai:
Pultizer is a must#level#reporting https://t.co/I5aAkAyTvx

— Jahangir Ghafoor (@DoctorJahangir) July 27, 2019
Pakistani reporter reports on flooding….while neck deep in flood water.

Hey @PulitzerPrizes please give him a Pulitzer ASAP. https://t.co/oeuhkqPIuw

— F. Jeffery (@Natsecjeff) July 27, 2019
Even the folks at Bollywood loved him:
We need more reporters like him

— Bollyville (@instabollyville) July 28, 2019
Hold our chai*
CNN : We can create an actual 3-D flood demonstration and recreate the feel for the viewers. What ya got?
Pakistani Reporter : Hold my beer https://t.co/m9fpsiBA2d

— demßouz (@ZoraizAsim) July 29, 2019
Seeing really is believing:
That's a crystal clear report!
Full proof facts, seeing is believing!

— Salim Akhtar (@SalimAk86551691) July 28, 2019
People demanded that he gets a raise, and we agree!
Lmfaoo idk how much they paying this man but i know it aint enough😂

— LazyQ (@KingYoNez) July 29, 2019
What can we say, we like living on the edge:
Maaaahn i was waiting to see him reporting with half his body in the water but nooo!
Man only spared his head

— S.Ebrahim (@shl__madridista) July 29, 2019
Hahaha, true that:
He got Allah on his side

— Marco (@tnahardy15) July 28, 2019
People were loving it!
I LOVE PAKISTANIS😭😭😭😭 https://t.co/SHSCDgpsc4

— Saira (@stazzyyyyyyyyy) July 29, 2019
only in Pakistan https://t.co/yPpgDYdxEh

— زليخا (@zulaaaiha) July 28, 2019
I'm proud to be Pakistani 😂😂💖💖 https://t.co/CgHHVbici7

— Zahra.S.M.Iqbal (@zahraiqbal96) July 28, 2019
We different!
loooooool our people are always doing the most https://t.co/hRsKmtiw5o

— subhana (@subhanataj) July 28, 2019
Desis never fail to amaze me 😭😭 https://t.co/ShB8p9JvBH

— H u m a 🦋 (@hxvx__) July 28, 2019
He became an inspiration for many:
This is how I'm going to report from the next flood in Yorkshire
Full points for dedication to this journalist https://t.co/IXnEI9ixjy

— Sabbiyah Pervez (@SabbiyahPervez) July 28, 2019
Exactly, there's no in between!
either do ur job right or not at all 😤 https://t.co/0X42ws6Nt1

— Noor🌙 (@noorxchandi) July 28, 2019
People could relate to him:
Me tryna break through my journalism career https://t.co/TQicvwUmQf

— . (@Mahnxr) July 28, 2019
Heart, soul and body:
If you're going to do a job might as well put your heart into it https://t.co/RQJlDHfVlV

— riz (@rfelihko) July 28, 2019
Cautions were raised:
Correct
Pls don't send him to cover.
Volcanoes .

— Devniti (@Devnitisinha) July 28, 2019
Totally!
This Pakistani reporter gives live beeper right from the flooding Indus river. No one can beat our 'genius' reporters when it comes to reporting bizarrely. pic.twitter.com/pKfBebP7CR

— Fazil Jamili (@faziljamili) July 28, 2019
Okay, that was deep literally and figuratively:
This is me telling people how I'm drowning in stress and trying to keep my head above water ,despite all the cuveballs life is throwing at me. https://t.co/K51cQ3dNa3

— Sardar (@MahumSardar) July 27, 2019
Some had pretty relevant stuff to say…
Journalism is sinking

— Muhammad (@mazamrasheed) July 27, 2019
Floating Journalism 🏅🏅

— Khurram Siddiqui 🇵🇰💖 (@MAKSiddiqui) July 27, 2019
He deserves one:
Journalist of the year award should go to him.

— Usama Qureshi (@UsamaQureshy) July 27, 2019
We would appreciate that too:
I would appreciate it if his news director NOT select him to report on the upcoming Advances in Gynecology and Proctology conference.

— Condescending Rumi (@CondescendingRu) July 27, 2019
What do you think about this level of reporting? Let us know in the comments below!