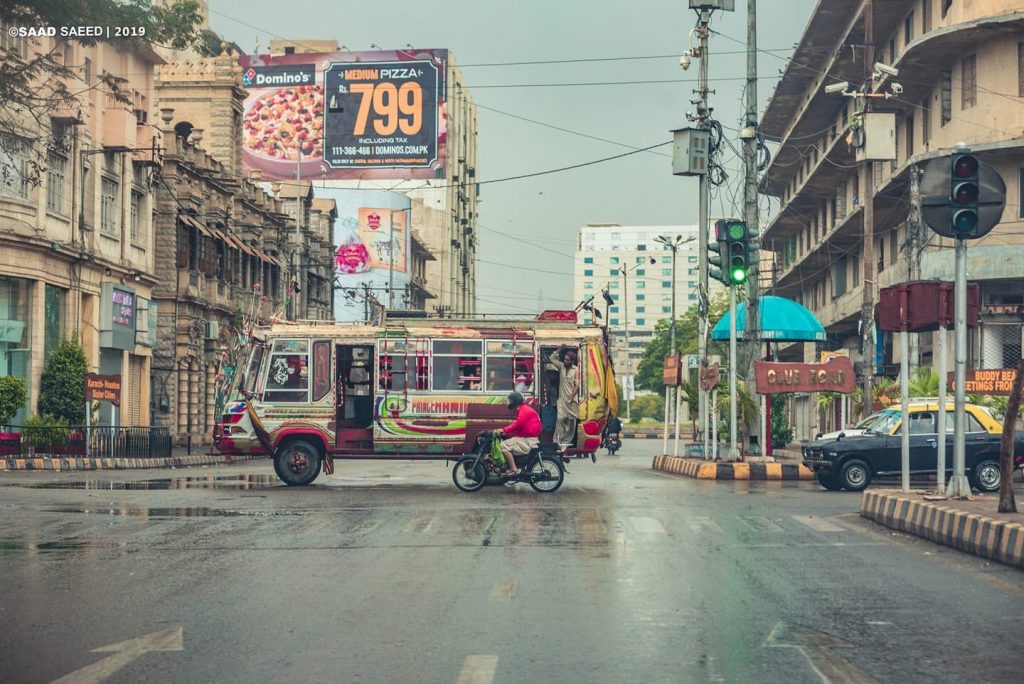 Only a true Karachiite can relate to the joy of a good monsoon season! For a city that witnesses hot temperature throughout the year, the monsoon rains bring us sheer bliss! As soon as it started raining, the netizens took it to Twitter to share the love, making #KarachiRains the top trending hashtag: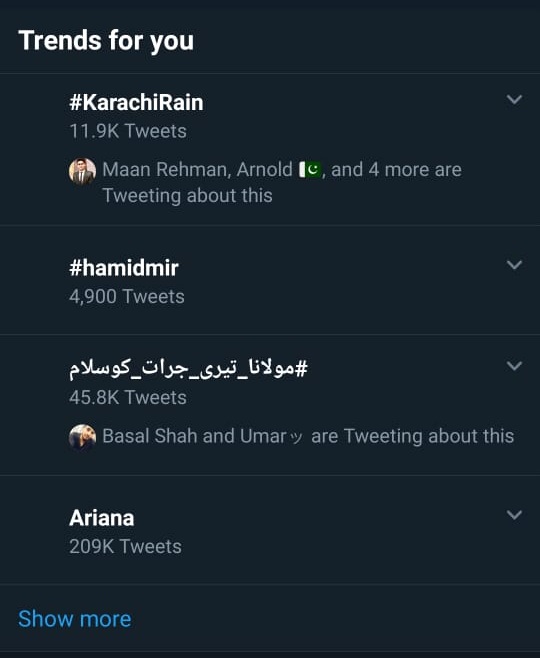 And as the heavy rainfall continued, the internet had a lot to share:
Karachi mein jab barish hoti hai to woh bhi purey mulk ka top trend ban jata hai tabhi to kehtey hain Lahore agar lahore to Karachi uska shohar hai 😂#KarachiRain

— Sehar Shinwari (@SeharShinwari) July 29, 2019
Haha, waqayi mazzay!
Karachiets right now:
"Haye Haye mazayyy"
#KarachiRain #raininkarachi pic.twitter.com/oNDGPWFWOc

— #PakistanUnited 🇵🇰 (@TanTanTanaTann) July 29, 2019
People also shared how Careem and Uber were charging insane fares!
Careem and Uber peak factor right now 🙄 #KarachiRain pic.twitter.com/XIPia0bJMS

— Shamilah (@ShamilahR) July 29, 2019
Sub lele re baba, jayedaad mei hissa bhi lele!
Careem/Uber when it rains:#KarachiRain pic.twitter.com/Xr3v6FBZlo

— ماریہ (@xyzmariaa) July 29, 2019
Humara bus chalay toh hum pictures frame kerwalein baarish ki:
Whatsapp pe bhi lagaenge insta pe bhi lagaenge snapchat pe bhi lagaenge twitter pe bhi lagaenge. hamare han saal mai 1 bar bhi itni duao k baad barish hoti hai 😤#karachirain

— 🍕🍩 (@WhereIsDonut) July 29, 2019
Literally all of us:
A reminder for karachites to enjoy the "lab e sheerin" vibes #KarachiRain pic.twitter.com/j5nqg1EiDt

— MEMEOLOGY 🤖 (@Baba_e_Gormint) July 29, 2019
Mums were getting down to serious talks with the CEOs, such cuties!
My mom called me at work today to ask me for my CEO's number so she could talk to him like he's the principal of my school or sth and tell him to close work early because of the baarish.

Me: ma, this isn't how this works
Ma: you give me his number, I will talk. pic.twitter.com/6nox0iqAOI

— sana is in retrograde ♐ (@sanabajipls) July 29, 2019
Pehla qatra girtay hi!
Barish 2mb, Loadshedding 4gb #KarachiRain #Pakistan pic.twitter.com/QDtah0xScl

— FatiMa Butt (@FatiMaButt_17) July 29, 2019
Miracle hi hai bhaee!
Karachi waly during rain since morning 😂🌸🌧⚡ #KarachiRain #raininkarachi pic.twitter.com/HVDsd75LdW

— KINNU. (Shariq jeju ka bdy 1/aug 🍰) (@sadnibbi) July 29, 2019
Iss baarish ki qeemat tum kya jano:
Karachites Right Now ⛈️🌧️#KarachiRain pic.twitter.com/JmUGHU8Rsd

— عاقد (@iamaquid) July 29, 2019
People were lauding the traffic wardens for controlling the traffic:
Salute to these traffic gaurds taking full responsibility to control and lookafter for people endangering themselves ❤🇵🇰
#KarachiRain#KarachiRain pic.twitter.com/kSOi1UNoL2

— Hasnain Jaffri (@MrHasnainJaffri) July 29, 2019
If the word perfection was summed in a video:
Rain, Long drive and Vital Signs… #KarachiRain pic.twitter.com/11zJabOQd5

— Aania Shah (@AaniaShaw) July 29, 2019
That's how deprived we've been:
its been 14 hours and rain didn't stop yet
karachi wala be like . #KarachiRain pic.twitter.com/bhRno8Q0pt

— smile cz you look beautiful (@CzLook) July 29, 2019
People shared how they were enjoying amazing kachoris!
Ye barish aur highcourt ki kachori🤤🤤 majani life 😍 #raininkarachi #Karachiweather #karachirain pic.twitter.com/EL3AaaW7OA

— Adnan Alam 🇵🇰 (@AdnanAlams) July 29, 2019
There were some heart breaking revelations…
Aur phir yun hua k ups band hogaya, networks chale gaye aur humaari baat adhoori reh gai.💔
#KarachiRain

— Usama (@iusamav) July 29, 2019
Truth has been spoken!
Sometime Karachites visit sea view and sometime sea view itself comes to thier places #karachiweather #karachiRain pic.twitter.com/AhIB4XmzBy

— Muhammad Abbas 🇵🇰 (@AbbasOfficial12) July 29, 2019
People were calling it an angry rainfall:
Angry Karachi monsoons:
1: 1944
2: 1967
3: 2006
4: Today pic.twitter.com/hnkIYYBvIH

— Nadeem Farooq Paracha (@NadeemfParacha) July 29, 2019
The rain had them all thinking:
Without Rain nothing grows, learn to Embrace the Storms of your life!!!#rain #karachirain @PakistanNature @pid_gov @pakistan_fhm @dawn_com @telenorpakistan @etribune @Pakistaninpics @Karachi @NikonPakistan @NewsweekPak @ProPakistaniPK pic.twitter.com/LRE8GzvCLu

— Harris H. Qureshi (@dr_hhq) July 29, 2019
There were some genius ideas, google?
Alongside traffic congestion indicators, google maps should come up with water level indicators for different routes, believe me it will be extremely helpful @googlemaps @AliHZaidiPTI #KarachiRain

— Ahmad Paracha (@minderbinder23) July 29, 2019
People did not forget PTCL and their broadband service 😂
Whoever made this, you are a legend. #KarachiRain pic.twitter.com/J4xkbm2uQf

— Abeera (@AbeeraMR_) July 29, 2019
Karachi: hello ji!
Karachi, is that you? #KarachiRain #karachiweather pic.twitter.com/HgTQnSgZMH

— Jibran T. Siddiqui (@jibransiddiqui) July 29, 2019
And while many offices called it a day off, others had to go:
Karachiites rn 😂#KarachiRain pic.twitter.com/amV7JIGtYJ

— Kashaf (@kashaf_ilyas) July 29, 2019
Nibbis on the roofs!
Nobody:
Karachi Nibbas after a Rain:Sun wo tere samne wali chat pe wo ladki kn thi?#KarachiRain pic.twitter.com/8l4hIGBvJd

— Faizantion (@faizantion) July 29, 2019
Hum bhi yehi soch rahay hain:
#KarachiRain since 5 hours pic.twitter.com/7OBfDNudDT

— ماریہ (@xyzmariaa) July 29, 2019
Bus yaheen maar khata hai Karachi:
Karachi-ites when it first starts to rain: 'Hooray!' 'Allah ka shukar hai!' 'How romantic!' 'Chai, pakora time!'
Karachi-ites after it rains for more than 15 minutes and they realise the city has no infrastructure to deal with this:
😳😭😳😭😳😭😳😭😳😭😳😭😳 #KarachiRain

— Nida Kirmani (@nidkirm) July 29, 2019
Oooof, nothing!
Show me Something more beautiful then this.❤️#KarachiRain 🌧️ pic.twitter.com/4HXmLbOzGs

— Omer Alvi (@Omeralvi_) July 29, 2019
Somebody made this mesmerizing slow-mo of the rain drops falling in all their glory:
Karachi Right Now #KarachiRain pic.twitter.com/P1E5Y5SQnT

— Shahzaib Khan (@iamShahZzzaib) July 29, 2019
Take. Our. Money:
We need this in Karachi right now!#KarachiRain#karachiweather pic.twitter.com/ybdZbo6bfX

— Fasih Uddin (@Fasih_Uddin) July 29, 2019
Kisi haal mei khush nai hotay: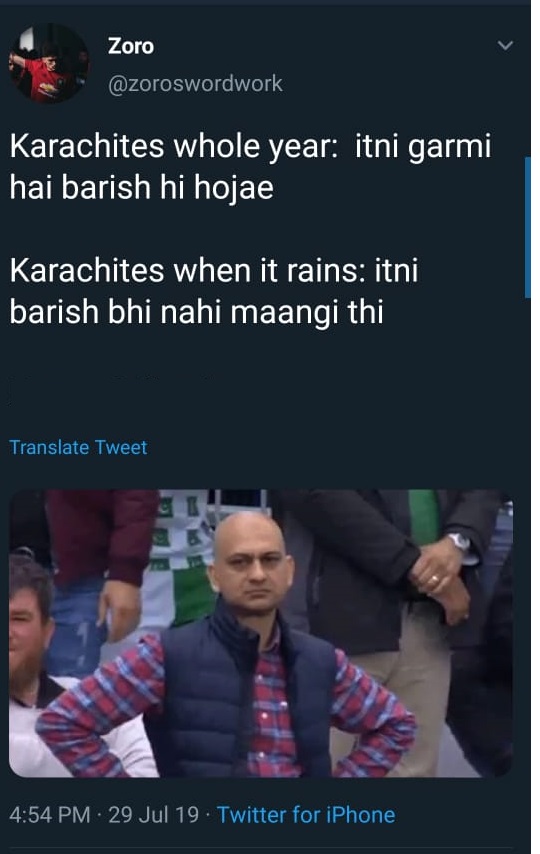 People were loving every bit of it:
Nothing better than a soothing long drive during rain. The much-needed #RainInKarachi for the last several hours. Loving the #KarachiRain. Stay safe everyone and enjoy the pleasant #KarachiWeather. pic.twitter.com/OeHIJiVyvU

— Wajahat Kazmi (@KazmiWajahat) July 29, 2019
People were creating awareness for others:
Every school in karachi must cover electric poles near their schools due to possible rains in next few days. This is acutally the duty of #KE but those irresponsible culprits are waiting for incidents to be happen. @KElectricPk #KarachiRain pic.twitter.com/gCsMc29N4U

— Arshad Rahman (@kool_sun) July 26, 2019
Baat toh sach hai…
Jitni baarish karachi seh sakta tha utni tou sirf do ghantay mai hi hogayi hai. Ab enjoyment khatam aur museebat shuru. Traffic, bijli ghayab aur har jagah paani.

— nma (@namaloomafraaad) July 29, 2019
People were concerned:
As much as I love the rain, that love is always tainted with the knowledge that someone somewhere in this city will die because of live wires and poor sewerage systems. #KarachiRain #MomentOfSilence

— Zeina Toric-Azad (@zeinatoricazad) July 29, 2019
Love the city or hate it, it is one of the happiest cities when it's raining and despite all the hardships we go through during the rain, this city yearns for rain!