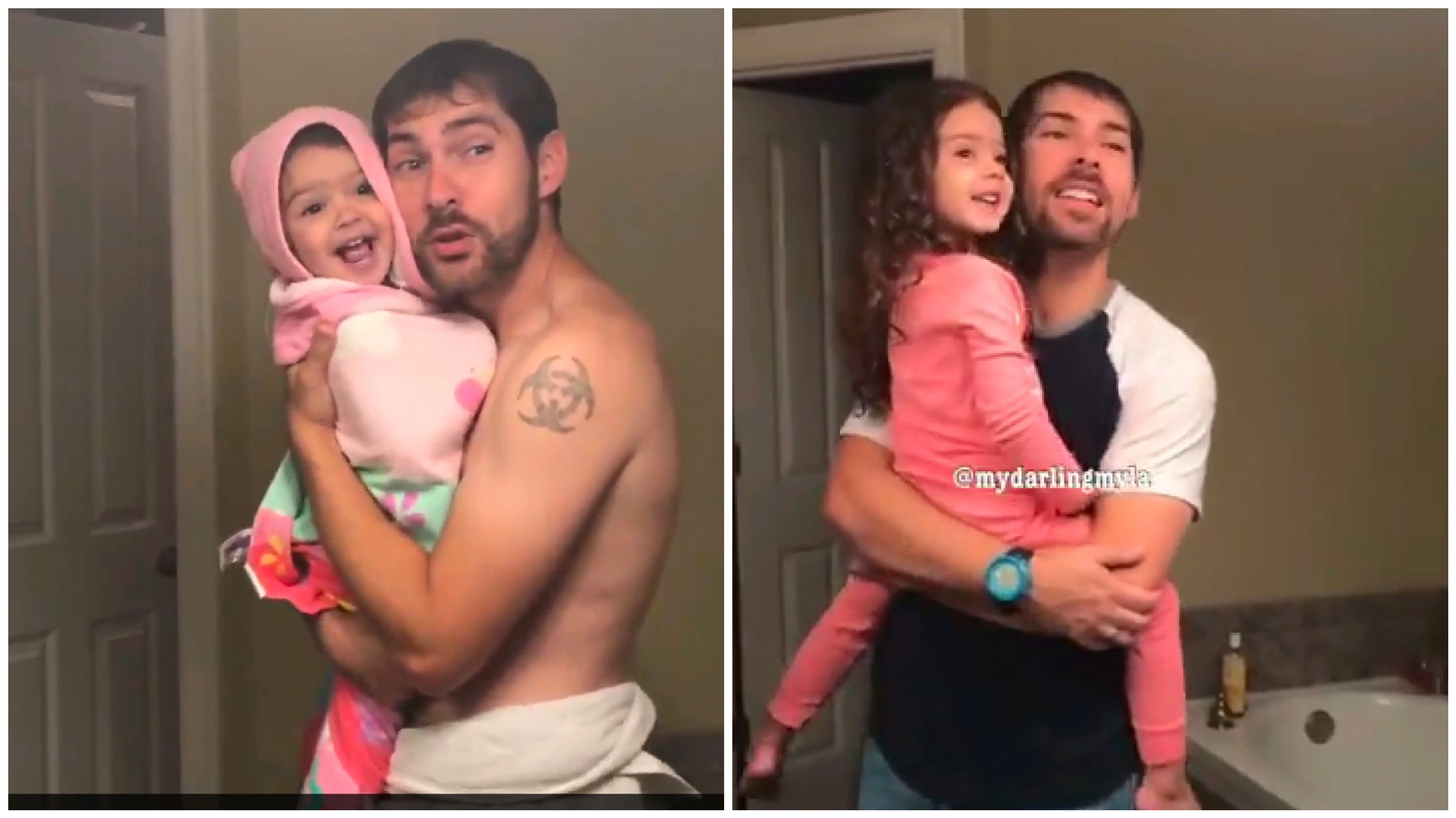 I mean, we're automatically going to assume that you live under a rock in the sea like Spongebob if you didnt come across one of the cutest father daughter duo lip syncing to Maroon 5 last year. I still see it on my social media at times even today! But just in case you haven't seen it, embrace yourselves for the cutest video on the internet!
A little post bath lip sync battle the other night❤️
Myla is one heck of a lip syncer😂@adamlevine @maroon5 @TheEllenShow

Follow us on Instagram: @mydarlingmyla

Follow us on YouTube:https://t.co/lVYzucizY9 pic.twitter.com/w16gkhe7Yk

— Trina Wesson (@TrinaWesson) October 8, 2018
I mean, how cute is that? The expressions of the little Myla, wrapped up in her towel in daddy's arms, it just melts our heart. As the video went viral last year, Myla and her dad decided to celebrate it by recreating the same video after exactly one year and honestly, we can't get enough of it either!
https://www.instagram.com/p/B3PrN9GgzZj/?igshid=1jhpqy673mdp0
And when you reach the end, you'll notice that Myla now has a baby brother Sawyer and its been a crazy journey!
And the internet is just melting with love!
WE KNOW RIGHT?
OMG THE ENDING THE ENDING IM- pic.twitter.com/eu1oXcFaxS

— Raúl G💜 (@inf_akashi) October 5, 2019
Bruh, just the truth!
When she hugged him omg pic.twitter.com/G8FWDwb9SK

— Paula Gonzalez (@Paulavgonzalezz) October 5, 2019
People shared how thier video actually inspired many to have kids:
Your original video got me pregnant 🤷‍♀️😬

— lil bby✨ (@omfgitsdulce) October 6, 2019
People were living for the sequel:
She's adorable. Thanks for the sequel!

— Sassy (@Sassy_101010) October 5, 2019
2 videos and there were tons of requests already!
THIS IS SO CUTE!! LOOK AT HER ALL GROWN UP, TIME FLIES REALLY!
MAYBE A MOM-SON VIDEO NEXT PLEASE❤️

— Aniket Deshpande (@aniket0608) October 5, 2019
Us too…
i… i just need something like this pic.twitter.com/XwYOjqR2n2

— jen (@stuckoncalum) October 5, 2019
And guys, there's not just Myla who can lip sync but her little brother Sawyer is really catching up with the lip sync battles too!
And Myla has been catching up on some new choruses as well:
And she's not just daddy's princess, but she also has her mother wrapped around her pinky!
Don't they grow up too fast? Let us know in the comments section if you agree!