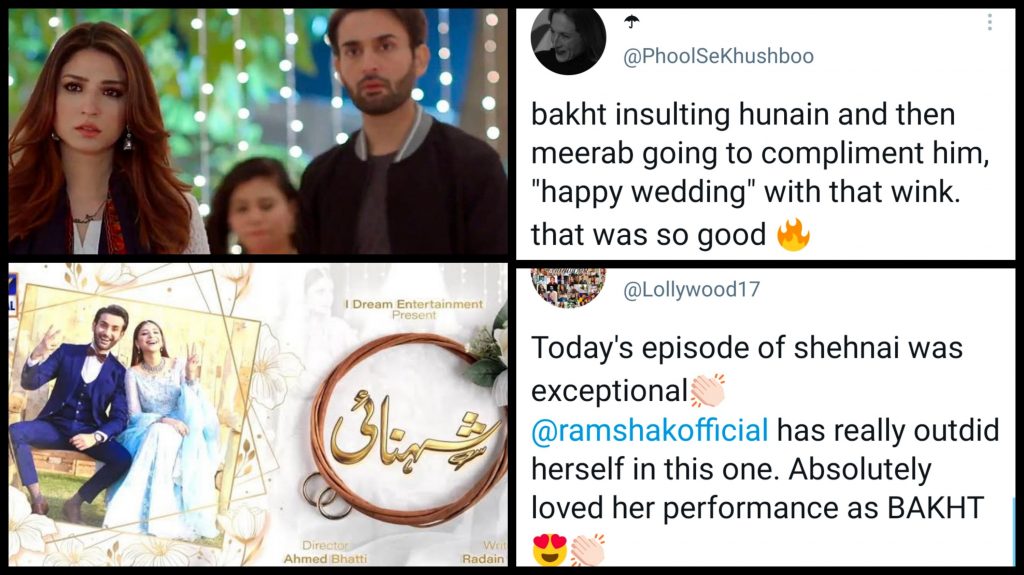 If there's one drama that we're loving, it's Shehnai! Starring Ramsha Khan and Affan Waheed as Bakht and Meerab, the rom-com is one you shouldn't miss. Exploring the very relatable themes of joint family system, jaidaad issues and arranged marriage, the drama has proven to be an absolute hit.
And while fans have been loving the entire cast, it's Ramsha's character Bakht that's become the talk of the town after the episode last night where we see Bakht finding out that the love of her life getting married to someone else and what followed, blew our mind!
And we're not the only ones who loved Bakht's fierce side, here's what the fans have to say:
Bakht rocked😜
Whole family shocked 🤐👀#RamshaKhan#Shehnai@ramshakofficial pic.twitter.com/3m5xNUSo6o

— little''tweets🦋 (@Bts_taehyung111) April 8, 2021
Our favourite scene!
bakht insulting hunain and then meerab going to compliment him, "happy wedding" with that wink. that was so good 🔥#shehnai

— r. (@PhoolSeKhushboo) April 8, 2021
People were rooting for Ramsha:
#Shehnai was so satisfying! This is what a lying, cheat deserves. @ramshakofficial @affanwaheed14 were brilliant. Great execution by director #AhmedBhatti and writer @radain_shah @abdullahseja #PakistaniDramas #RamshaKhan #AffanWaheed pic.twitter.com/kthCJ7mQQh

— Mahwash Ajaz 🇵🇰 (@mahwashajaz_) April 9, 2021
Fans couldn't stop lauding Ramsha and Affan:
Today's episode of shehnai was exceptional👏🏻@ramshakofficial has really outdid herself in this one. Absolutely loved her performance as BAKHT😍👏🏻@affanwaheed14 is a stellar performer🤩💯
Affan and Ramsha look adorable together😍✨#Shehnai #affanwaheed #ramshaKhan #ARYDigital pic.twitter.com/56wogw6VAY

— Lollywood (@Lollywood17) April 8, 2021
Us too, we love the two together!
Meerab is Such an Adorable Being 🥺🤍
I am Loving This Pair 🖤#RamshaKhan #AffanWaheed #Shehnai pic.twitter.com/9dplRAqLp3

— 𝔉𝔢𝔯𝔬𝔷𝔢𝔎𝔥𝔞𝔫𝔣𝔬𝔯𝔈𝔱𝔢𝔯𝔫𝔦𝔱𝔶❥︎ (@zaa_admirez) April 8, 2021
The scene where Bakht confronts Hunain won the internet!
Us after every episode of Shehnai:
Today's episode was so good ❤️😍 #Shehnai

— 🌻🐥 (@Tejasswipictur1) April 8, 2021
Jo baat hai!
@ramshakofficial beauty with talent ❤️🌸🙌 https://t.co/A13m29NxUq

— عباس شاہ🌸💐🌎 (@the_abbasshah) April 8, 2021
People were living for the fierce Bakht!
Insha Allah Duniya jahan bimariyan lagengi .. Keedi padenge tumhe 🔥

Woho @ramshakofficial on fire 🔥 Whata powerful performance Ramsha nailed it man. #RamshaKhan #Shehnai pic.twitter.com/NL8GHbNlaI

— Confused Soul 🍃 (@ConfusedMulgiii) April 8, 2021
Haha, woh toh hai!
She's Ramsha Khan for a reason:
She carried all those scenes so beautifully ❤ anger emotional devastation Perfect @ramshakofficial ❤#Shehnai pic.twitter.com/kpZ50Y9fXP

— Confused Soul 🍃 (@ConfusedMulgiii) April 8, 2021
Fans were desperately waiting for the next episode:
#RamshaKhan @ramshakofficial now waiting for next episode😍😍#Shehnai amazing drama pic.twitter.com/ed3xr1NNhm

— M SHARJEEL NOOR (@MSHARJEELNOOR10) April 8, 2021
Am really eager to know why bakht changed her decision & why she didn't confess the truth cause she is so damn fearless… Tik Tik Tik …
Waiting for next Thursday @ramshakofficial #Shehnai

— Confused Soul 🍃 (@ConfusedMulgiii) April 8, 2021
I think we all agree!
i love her❤️❤️😘
she is soo cute😍💓#RamshaKhan #Shehnai pic.twitter.com/CVaHacC8OC

— 𝐹𝑖𝑧𝑧𝑎♡︎ (@ayezasangel) April 8, 2021
Are you keeping up with Shehnai? Let us know in the comments below!