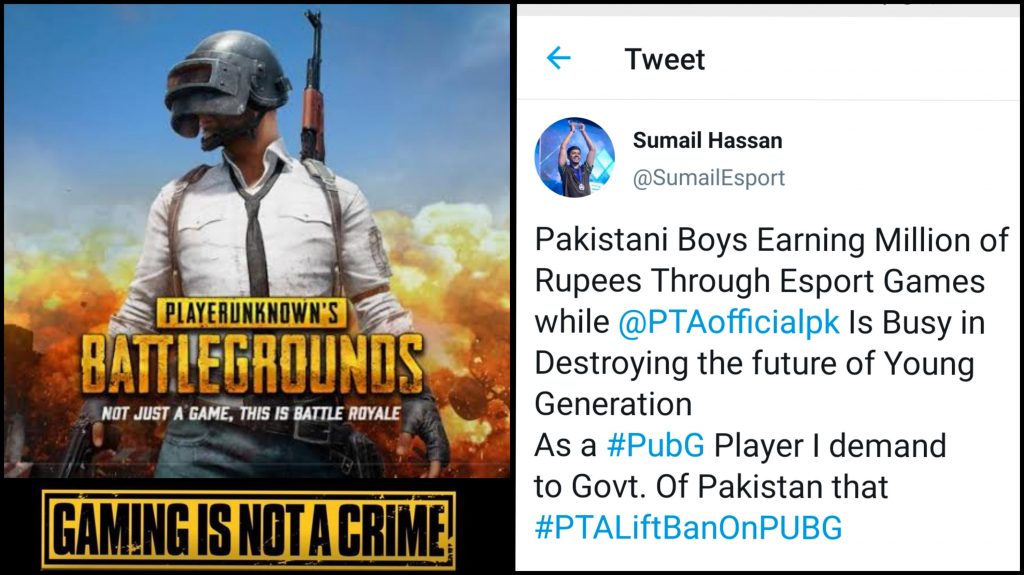 Gamers all over the country were upset after PTA decided to temporarily ban the popular multiplayer online battle game PlayerUnknown's Battlegrounds (PUBG) a few days back.
Not happy with the move, people took to Twitter to trend the hashtag #PTALiftBanOnPUBG and very soon it became the top trend on Twitter, with people giving their piece of mind on the ban:
Pakistani Boys Earning Million of Rupees Through Esport Games while @PTAofficialpk Is Busy in Destroying the future of Young Generation
As a #PubG Player I demand to Govt. Of Pakistan that #PTALiftBanOnPUBG pic.twitter.com/up64r7yLHl

— Sumail Hassan (@SumailEsport) July 9, 2020
People were throwing shade at Fawad Chaudhry for not caring enough:
You were about to take Pakistan into world of science and technology but afraid of small games… I thought you were the only minister who care abt public but politicians are all same @fawadchaudhry

Dear @ImranKhanPTI youth ll remember u in next elections#PTALiftBanOnPUBG https://t.co/w1s80Bftw6

— Sassy Girl… (@Siiiaaaa) July 9, 2020
People urged that the ban was a setback for E-sports in Pakistan:
#PTALiftBanOnPUBG
Pubg should be unbanned in pakistan to give Success to Pakistan Esports gamers to show the world our talent.@ImranKhanPTI@PTAofficialpk

— Muhammad Ali (@Muhamma73898518) July 9, 2020
People were waiting on the ban to be lifted:
Waiting for news about pubg Mobile unbanned.#PTALiftBanOnPUBG pic.twitter.com/cG25rcCxb9

— Haroon____official (@Haroongilloffi1) July 9, 2020
People were sharing how gaming is not a crime:
Plzzzz Gaming is not a Crime.😒😒.Itx a passion 👍🤩🤩#unbannpabginpakakistan#PTALiftBanOnPUBG pic.twitter.com/5X5OLwWdcq

— MozeenaAli (@Baby83245263) July 9, 2020
Many agreed how banning the game altogether is not the solution:
#PTALiftBanOnPUBG ban is not a solution pic.twitter.com/aJdSujcYAj

— Owais Khan (@OwaisKh88580070) July 9, 2020
People were REALLY upset!
Who did this🤷‍♂️😂😂😂#PTALiftBanOnPUBG pic.twitter.com/ldlsGEkXW7

— خان (@Immaya00) July 9, 2020
Some believed that parents should take care of children themselves:
Gaming Is Not A Crime.Parents Should Take Care of Their Children's.

#UNBANPUBG #PTALiftBanOnPUBG @PTAofficialpk

— нαمmι (@callme_hammi) July 9, 2020
People were arguing how gaming was a source of income for many:
#PTALiftBanOnPUBG
Dear @PTAofficialpk
and @ImranKhanPTI
gaming is not a crime any how. Many of the youngster are earning through it bd supporting their families. Banning a game is not an option, and it doesn't even any section of our law. #PTALiftBanOnPUBG @ZakaWaqar

— Faizan (@Faizan54909789) July 9, 2020
Many shared how it will destroy careers:
I want to Appeal You @PTAofficialpk For UNBAN PUBG.There are many Player Who Are Representing Pakistan internationally Through Pubg and Many Gamers Have Entertainment Gaming Content on Youtube and many People have careers on this game. You will destroy their careers ! #NOPUBGBAN

— XC Pakistani (@PakistaniXc) July 1, 2020
Some had questions:
What if ban of PUBG increases the rate of suicides in Pakistan of all those players who invested their everything in the game ? 🙂

Who'll be responsible then 🤔

— Khan Ka Spahi (Tiger) (@MUAKLohaniPTI) July 1, 2020
Spot on!
#PubgBanNaManzoor pubg has already implement the feature to restrict the paying time of those under 16 to maximum 2 hours a day. Parents can set that feature from settings. Banning pubg is not the answer, mental health awareness is.

— Bucky 'StarFish' Barca (@BuckyTalks) July 1, 2020
Some wanted tiktok to be banned instead:
Go n ban Tiktok coz it is spoiling our generation ..pubg is just a source of entertainment

— hajra (@hajraaslam) July 1, 2020
People were threatening to boycott PTA:
We want our right back .. we want pubg .. unbanpubg or we will boycott PTA #PUBGKHOLOBANCHOR #PTALiftBanOnPUBG @ImranKhanPTI

— Zuhair (@Zuhair27446614) July 8, 2020
Many were livid at the opportunities being taken away from them:
#PTALiftBanOnPUBG
Instead of creating opportunities for youngsters, they are removing the existing one. pic.twitter.com/fwvzyQZzJM

— Hidayat Khan (@Hidayat35705387) July 8, 2020
People were sharing what life has been feeling like for them without PUBG:
#PTALiftBanOnPUBG
Without pubg life 😭 pic.twitter.com/20dxBG2gBU

— Pubg lover (@QurbanA05674049) July 8, 2020
What are your thoughts on the ban? Let us know in the comments below!