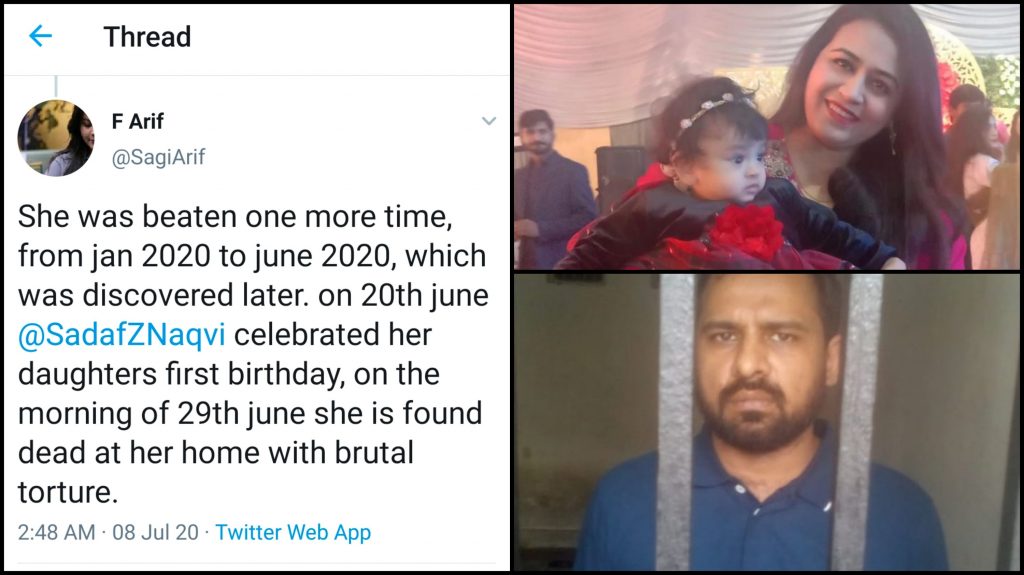 Sadaf Zahra Naqvi, wife of journalist Ali Salman Alvi, was found dead at her house on 29th June and her family thinks she was tortured to death.
Mother to a one year old baby girl, Sadaf Zahra Naqvi's untimely death has raised questions on women suffering domestic violence in Pakistan. As told by her friend, here's how her story unfolds:
I am gona tell the tragic tale about my dear friend @SadafZNaqvi , how she was trapped into marriage by a thug , who killed her in the end. His name is @alisalmanalvi . #JusticeForZahra #AliSalmanAlviMurderer #Thread #auratmarch #DomesticViolence #domesticabuse pic.twitter.com/ATXk0yIiHr

— F Arif (@SagiArif) July 7, 2020
Her friend shares how intelligent and smart of a girl Sadaf was:
All the evidence are provided by her sister @SMahvish and thing that she told me . @SadafZnaqvi was a wonderful girl, bright, smart and ambitious. She was responsible towards the society, politically activated, aware and woke. #JusticeForZahra #AliSalmanAlviMurderer

— F Arif (@SagiArif) July 7, 2020
She met her husband, Ali Salman Alvi, a journalist by profession through twitter:
she met @alisalmanalvi on twitter. Ali Salman was a journalist who saw a beautiful, responsible strong woman with a stable family background and decided to trap her for marriage. She wanted children, a house of her own and a stable life, which by the way was her birthright.

— F Arif (@SagiArif) July 7, 2020
And got married to him despite family's resistance:
Despite her families resistance , @SadafZNaqvi married @alisalmanalvi . But she never knew this mistake would take her life.
Ali Salman is a journalist, social media activist who is famous on twitter .

— F Arif (@SagiArif) July 7, 2020
With only 7 months into the marriage, Sadaf caught her husband cheating:
just after 7 months of marriage sadaf found out that @alisalmanalvi is blackmailing women for money using different twitter IDs. She found emails and receipts of money sent to ali salman . on confrontation salman apologized by saying it was an old chapter that he needed closure pic.twitter.com/WeMJM6hCI9

— F Arif (@SagiArif) July 7, 2020
Like many other woman, she chose to let it go!
considering it was just the beginning of her married life Sadaf choose to move forward. She never knew that @alisalmanalvi is a trained blackmailer, womanizer and criminal minded person who will not only take all her money but also kill her.

— F Arif (@SagiArif) July 7, 2020
But 5 months later, she found him cheating again:
A year into the marriage @SadafZNaqvi found out once again that @alisalmanalvi was dating a women in #Islamabad .
She confronted him again, warned him and told him politely to mend his ways. pic.twitter.com/dOBv1jJdLd

— F Arif (@SagiArif) July 7, 2020
But @alisalmanalvi is a sick #Mafia, who thrives on social media as champion feminist , but traps and blackmails women for money in actual . He operates 100s of account some of which sadaf found about#JusticeForZahra #AliSalmanAlviMurderer #auratmarch #DomesticViolence

— F Arif (@SagiArif) July 7, 2020
As she gives birth to a beautiful baby girl, she thinks it might change her husband:
Following year sadaf becomes a mother of a beautiful girl. Now she assumes that her husband will change since he is a father. but soon after the delivery , She finds that @alisalmanalvi is flirting with his ex girlfriend . pic.twitter.com/XroirLJzHv

— F Arif (@SagiArif) July 7, 2020
But it all goes in vain:
When sadaf confronted him with evidence he made up a story that she needed consolation as she was alone . sadaf was a new mother, post operation she was bed ridden as she also went through a miscarriage and was on bed rest. couldn't do much apart from just warning him pic.twitter.com/3UVv8yPV2L

— F Arif (@SagiArif) July 7, 2020
Thinking of her daughter, she gives the man another chance:
She didnt wanted her daughter to live without a father may be that was the reason she choose to stay back . but once again some months forward she catches @alisalmanalvi man doing live video chat with a woman. she goes furious and decides to leave him for good. pic.twitter.com/r9T3oVVxIZ

— F Arif (@SagiArif) July 7, 2020
But soon finds him cheating again:
this time its dec 2019, when she discovers these chats. to these chats , @alisalmanalvi admits that he pleases women for pleasure. pic.twitter.com/AntmO12XdA

— F Arif (@SagiArif) July 7, 2020
On confronting her husband, Sadaf gets beaten up, shocked and broken, she leaves his house:
same evening sadaf is beaten by @alisalmanalvi brutally . for a couple of days she remains in a state of shock. She couldnt believe that this could happen to her. she goes silently. #JusticeForZahra #AliSalmanAlviMurderer #Thread #auratmarch #DomesticViolence #domesticabuse

— F Arif (@SagiArif) July 7, 2020
Her husband begs for forgiveness and promises never to touch her again:
@alisalmanalvi acts as if he has done a mistake . Begs and begs and begs and brings her home . She decides to give it one last chance for her new born daughter, she didnt want her to have her first birthday without her daughter. pic.twitter.com/liPZvCRXft

— F Arif (@SagiArif) July 7, 2020
On 20th June, she celebrates her daughter's first birthday and 9 days later is found dead:
She was beaten one more time, from jan 2020 to june 2020, which was discovered later. on 20th june @SadafZNaqvi celebrated her daughters first birthday, on the morning of 29th june she is found dead at her home with brutal torture.

— F Arif (@SagiArif) July 7, 2020
During the 3 years of her marriage, Sadaf caught her husband red handed multiple times:
During 3 years of marriage, Sadaf caught @alisalmanalvi blackmailing women for money, flirting and pleasing women for money. She was planning to move out soon after her daughters first bday, but he didnt gave her that chance#JusticeForZahra #DomesticViolence #alisalmanmurderer

— F Arif (@SagiArif) July 7, 2020
But it was only in January that she started sharing her findings with her family:
It was after jan that she actually started talking to her family and showing evidence to her sister @SMahvish , who is now fighting for justice.
It is important to serve justice to sadaf by defeating a blackmailing mafia like @alisalmanalvi , else he would be out on streets

— F Arif (@SagiArif) July 7, 2020
And her friend thinks the guy's family will spin it off as suicide:
just by proving either his insanity or framing sadaf's murder as suicide , hunting for women again. His family will hide his history and find someone again to be killed. @SMahvish needs support @SadafZNaqvi needs justice
and @alisalmanalvi …needs to leave this world.

— F Arif (@SagiArif) July 7, 2020
Asking for support she urged people to demand justice for Zahra and within a few hundred retweets, #JusticeForZahra became the top trend in Pakistan:
Sometimes I feel the whole world should burn down to ashes in shame for the things it has done & is doing to women, who create life & keep it going!

Shame on Patriarchy, shame on men who actively or silently uphold it, shame on you!#JusticeForZahra #AliSalmanAlviMurderer https://t.co/oCHQOcpOfG

— Arooj Aurangzaib (@AroojAurangzaib) July 8, 2020
Too late!
we think when someone is vocal & knows about the harms & ills of this world they also have the means to protect themselves from them. but that protection DEMANDS societal & state support & intervention. he is in jail. but shes in her grave. we are too late #JusticeForZahra

— Mehar (@curlistani) July 8, 2020
People were praying for justice:
Remember this face!
Blackmailer
Manipulator
Predator
Murderer
May justice be seen to be done!!#JusticeForZahra pic.twitter.com/molyzYgJMl

— khadija siddiqi (@khadijasid751) July 8, 2020
A divorced daughter is better than a dead daughter:
Heartbreaking reading this now. Stop telling women that they should tolerate abuse. Nothing is more important than being able to live a life with dignity, & children exposed to abuse—including verbal & psychological—are also traumatised for life. Break the cycle! #JusticeForZahra https://t.co/k2Qt2eDeFv

— Nida Kirmani (@nidkirm) July 8, 2020
It's not easy:
It's easier said than done to walk out of an abusive relationship. Women stay bse they are under pressure from parents, family & then kids tie them down. They hope he'll change one day. Still, life isn't a bed of roses for those who manage to break the shackles
#JusticeForZahra pic.twitter.com/ZWRqAd3z0A

— Asma Ali Zain (@asmaalizain) July 8, 2020
People wanted the husband to be taught a leason:
These men need to be taught a lesson! This case must be investigated further. Women have to stand up for themselves and say no to physical or emotional abuse… and we must show our support and help bring justice to this case. Enough is enough! #JusticeForZahra pic.twitter.com/xOGcGKipuq

— Faizan iqbal (@pindiboy107) July 8, 2020
Replying to people who were questioning the development on the case, Rawalpindi police shares that they had arrested the journalist the same day:
Rawalpindi Police is on it, a case was registered on 29-6-2020 against nominated accused; Ali Salman Alvi and he was arrested the same day. Investigation is underway in supervision of SP Potohar. Frequent follow-ups are taken by CPO Rawalpindi. Merit and Justice will be ensured. pic.twitter.com/P4jkXZPSAc

— Rawalpindi Police (@RwpPolice) July 8, 2020
People were hoping the police doesn't succumb to pressure:
It is hoped that good officers of @RwpPolice will not be influenced. They've arrested the accused. FIR mentions signs of torture on body. The racket of extortion & blackmailing of women also needs to be investigated to bring the GANG to justice.#JusticeForZahra pic.twitter.com/UZSpe2AlHd

— Arshad Sharif (@arsched) July 8, 2020
I hope with good officers like @DrTajikSohail leading @RwpPolice investigations will be on merit &the murderer brought to justice. The GANG of blackmailers of women linked to him who enjoyed extortion money would also be apprehended as partners in crime#JusticeForZahra pic.twitter.com/lwK2nDisEz

— Arshad Sharif (@arsched) July 8, 2020
What are your thoughts? Let us know in the comments below!