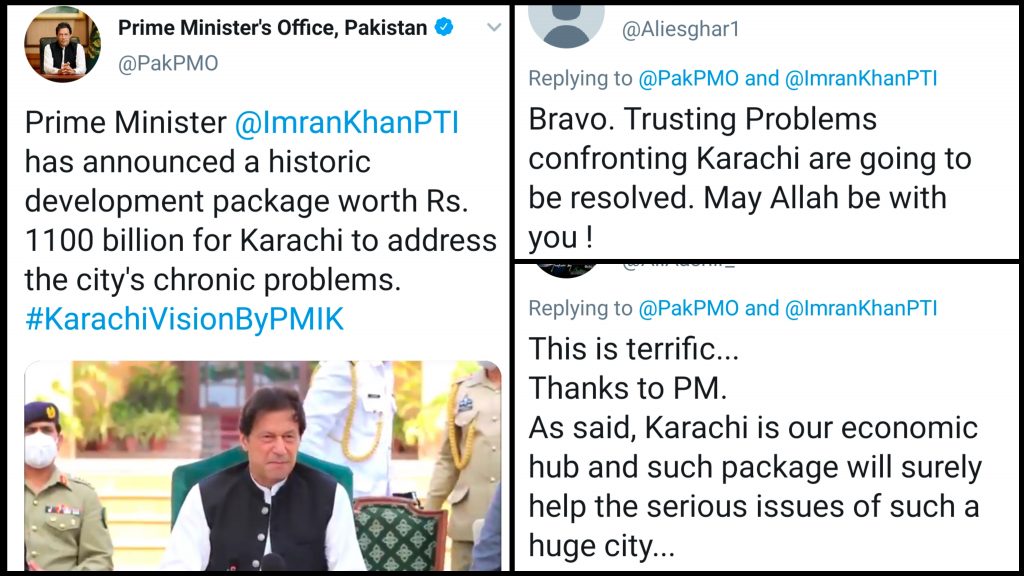 On a visit to Karachi to assess the situation after devastating rains, PM Imran Khan announced a package worth Rs. 1100 billion for the development of Karachi under the city's transformation plan.
Prime Minister @ImranKhanPTI has announced a historic development package worth Rs. 1100 billion for Karachi to address the city's chronic problems.#KarachiVisionByPMIK pic.twitter.com/CK6KqONqmo

— Prime Minister's Office, Pakistan (@PakPMO) September 5, 2020
And the news has left the Karachiites ecstatic and full of hope!
News of the Day .. 🌚#KarachiVisionByPMIK pic.twitter.com/biti484v1J

— Syeda Trimzi (@TrimiziiiSyeda) September 5, 2020
People were appreciating his efforts:
Worth appreciated, Mr. Prime Minister. May Allah give you the courage & strength to materialize this well-devised, ambitious yet attainable #transformationalplan #KarachiVisionByPMIK in years to come. Your persistent follow-up is a must to help avoid red-tapism & other hiccups.

— Shahzad Ali Gill (@shahzadaligill) September 5, 2020
People were thanking him for the initiative:
Thank you so much our Dear PM Imran Khan ALLAH PAK apko hameshan apne Hifzo Aman mei rakhay acho seehat lambi zindagi de ameen suma ameen

— Jennijoy (@Jennijoy6) September 5, 2020
People were hopeful that this would greatly help Karachi:
This is terrific…
Thanks to PM.
As said, Karachi is our economic hub and such package will surely help the serious issues of such a huge city…

— Ali Aashir (@AliAashir_) September 5, 2020
People were living for it!
Believe me this press conference is an ice breaker, I feel so glad to see IK doing efforts for my city with the help of Sindh Govt. Today I see a Leader in him which was missed since his selection as PM. Tbh I always wanted PM to sit with CM and collectively resolve the issues.

— MEI BAAGHI HOO (@AzadInsaan) September 5, 2020
Others wanted the PM to also take notice of K Electric's incompetence:
PM IK should also take notice of incompetency of K Electric. No electricity since 11:00AM even when the PM in Karachi. Many areas have been kept without electricity in the name of maintenance.

— Yasser Y. (@YasserS99) September 5, 2020
People were waiting to see the results:
This poor,innocent metropolis was announced numerous packages in the past till now but this city kept on watching it's powers-that-be devouring it's share. let's see what's new now?

— Mohammad Tahir Khan (@Tahir_TWITTTER) September 5, 2020
They sure do!
Actions speaks louder than words. Unless things started to happen on ground no one would believe you. It requires actions rather than empty press briefings and photo shots.

— Ahmad Hussain (@ahmad_axp) September 5, 2020
Aameen!
Bravo. Trusting Problems confronting Karachi are going to be resolved. May Allah be with you !

— Aliesghar (@Aliesghar1) September 5, 2020
People were excited!
👏👏 @ImranKhanPTI https://t.co/NIkgLb3apO

— Syd Moon (@Moon2Rise) September 5, 2020
The city that generates the most revenue:
Karachi ke liy barha package,Thanks PM Imran khan sb. https://t.co/7qgrDfh3a3

— Muhammad Amin Junaidi (@Muhamma98903391) September 5, 2020
Some couldn't believe it:
Seriously 😳 https://t.co/pFrNPRuuIp

— Imtiaz A.Shaikh (@ImtiazAShaikh1) September 5, 2020
Fingers crossed:
Let's see if he could actually implement what he says.
Hope for the best. https://t.co/kRDfV8VdAq

— Shaheer (@hmshaheer) September 5, 2020
People were calling it a golden day:
A golden day in history of Karachi as Prime Minister @ImranKhanPTI announces the historic package of 1.1 trillion which will transform Karachi . Federal and Provincial Gvt to work together for betterment of Karachi #KarachiVisionByPMIK https://t.co/KmOU27izM7

— UMAIR KHAN (@BeingUmairKhan_) September 5, 2020
What do you think about Imran Khan development package for Karachi? Let us know in the comments below!