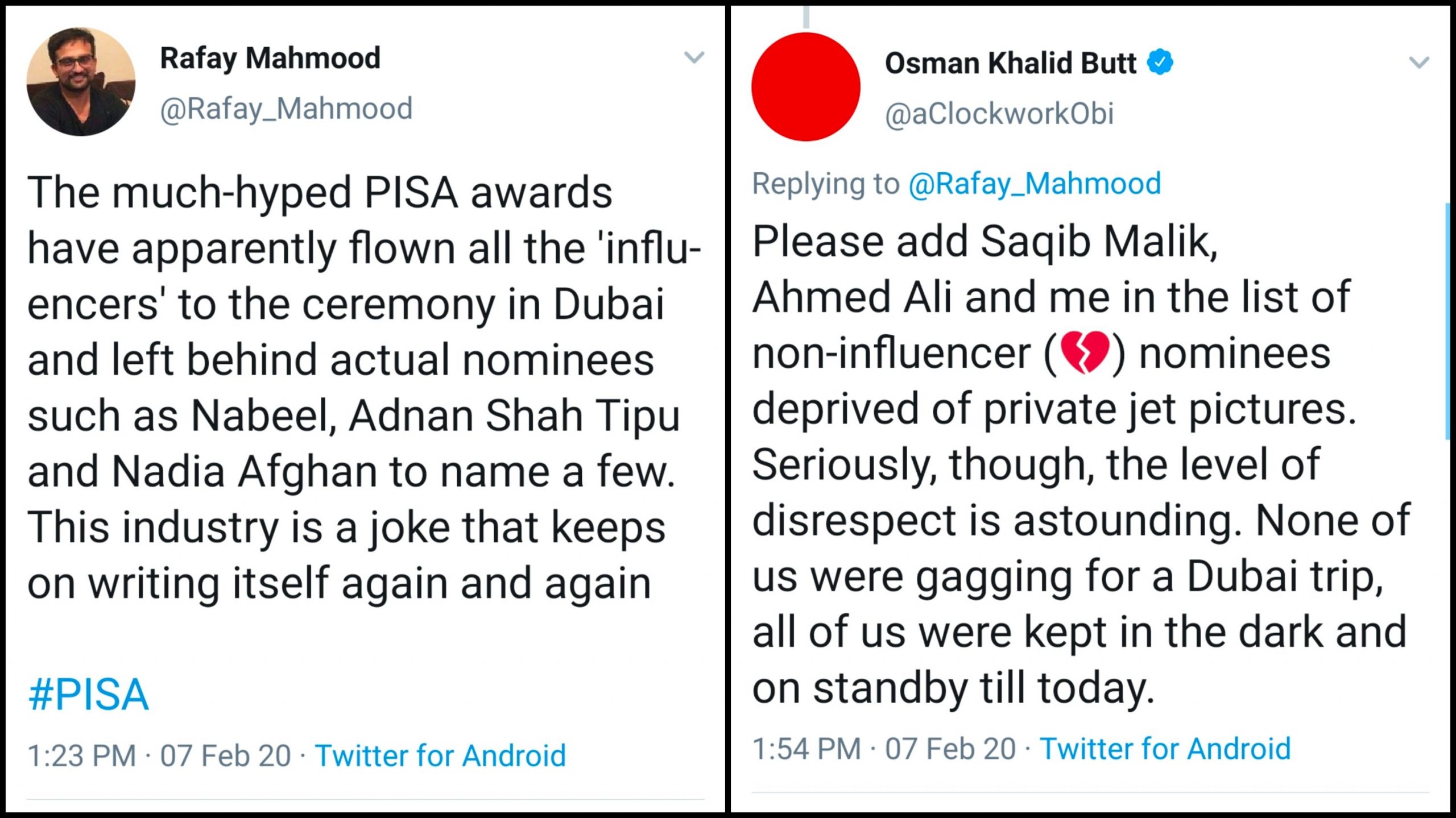 If you're on insta, chances are you've been seeing pictures from the Pakistan International Screen Awards, a new awards ceremony that came into being this year only. And with the new ceremony, came tons of mismanagement and ghosting which has left many disappointed!
The controversy arose when celebrities like Nabeel Zafar, Osman Khalid Butt, Nadia Afghan, Ahmed Ali Akbar, Ali Safina and Usman Mukhtar were contacted via Body Beats PR company and were promised to be flown to Dubai. They even had these celebrities send in their documents and reschedule their work commitments to attend the ceremony. However, as the awards came near, the PR company completely ignored them, calls were unanswered and they were left confused, only to find out that the management had already flown the celebrities to Dubai via a private jet which was supposed to be transporting awards and the camera equipment.
Disappointed at how things had taken a turn, many celebrities took to social media to share how they felt used as their names were used to promote the ceremony and most of them had actually cleared away their schedule to attend the awards.
The much-hyped PISA awards have apparently flown all the 'influencers' to the ceremony in Dubai and left behind actual nominees such as Nabeel, Adnan Shah Tipu and Nadia Afghan to name a few. This industry is a joke that keeps on writing itself again and again #PISA

— Rafay Mahmood (@Rafay_Mahmood) February 7, 2020
Nadia Afgan shared how she felt betrayed and lied to:
https://www.instagram.com/p/B8RHnlBB0Z5/?igshid=1kksow2npttw0
Nabeel Zafar took to Twitter to share how he found this insulting to him and his peers:
— Nabeel Zafar (@nabeelzafar2008) February 6, 2020
Osman Khalid Butt also threw shade at how some very odd nominees were flown to dubai:
Please add Saqib Malik, Ahmed Ali and me in the list of non-influencer (💔) nominees deprived of private jet pictures.
Seriously, though, the level of disrespect is astounding. None of us were gagging for a Dubai trip, all of us were kept in the dark and on standby till today.

— Osman Khalid Butt (@aClockworkObi) February 7, 2020
C'mon guys, they were traveling together – these pictures are harmless.
What about how 10 odd nominees (maybe more) were taken for a ride by the organizers of PISA, lol.

— Osman Khalid Butt (@aClockworkObi) February 7, 2020
Ahmed Ali Akbar also shared with fellow colleagues how they did not even have th decency to answer calls:
Or had the decency to answer calls or call back

— Ahmed Ali (@AhmedAliAkbar) February 7, 2020
Usman Mukhtar took to Twitter
1/3 While I appreciate our industry growing beyond the bounds of our country and spreading our art across the world, I will not appreciate me or my peers being treated with no respect. I was approached by the PISA team and agreed to attending the awards.

— Usman Mukhtar (@MukhtarHoonMein) February 7, 2020
2/3 They asked me for a video message that they used. Eventually they were completely out of the picture and continued using my videos and content to market their show. I did ask them to remove it as I wouldn't be attending anymore, but they did not care.

— Usman Mukhtar (@MukhtarHoonMein) February 7, 2020
3/3 No disrespect to any of the beautiful people who are at the show. To reiterate, all of us can easily afford a trip to Dubai and it's not about that. This is just to ensure the future award shows that happen are not as disrespectful and mismanaged.

— Usman Mukhtar (@MukhtarHoonMein) February 7, 2020
Ali Safina took to Facebook to share how he felt disrespected:
Jimmy Khan too shared how the count of his insta followers didn't let him make the cut:
Add me to the list. Nominated for the song of the year but I suppose dont have enough insta followers to make the cut. Haha! #jokeindeed

— Jimmy Khan (@itsjimmykhan) February 7, 2020
Yasir Hussain too gave his 2 cents on how PISA should be more cautious and how the celebrities on the other hand let the matter go:
The event that took place in Dubai last night was an absolute disaster in itself to begin with. From what was to begin at 5pm, actually b10 pm at 10pm and therefore the award ceremony had to be cut short because of the hefty fines that the venue charged them for exceeding the promised time.
Another issue that people had was with the so called jury. The jury vastly consisted of Dubai socialites who barely know a thing or two about our industry. Apart from Omair Alavi and Javed Sheikh, everyone else seemed irrelevant. And what's even funnier is that Omair Alavi was left behind too!
They didn't take us to #PISA … we had our own party! pic.twitter.com/YAuDB2ikYu

— Omair Alavi (@omair78) February 7, 2020
What do you think about PISAs? Let us know in the comments below!