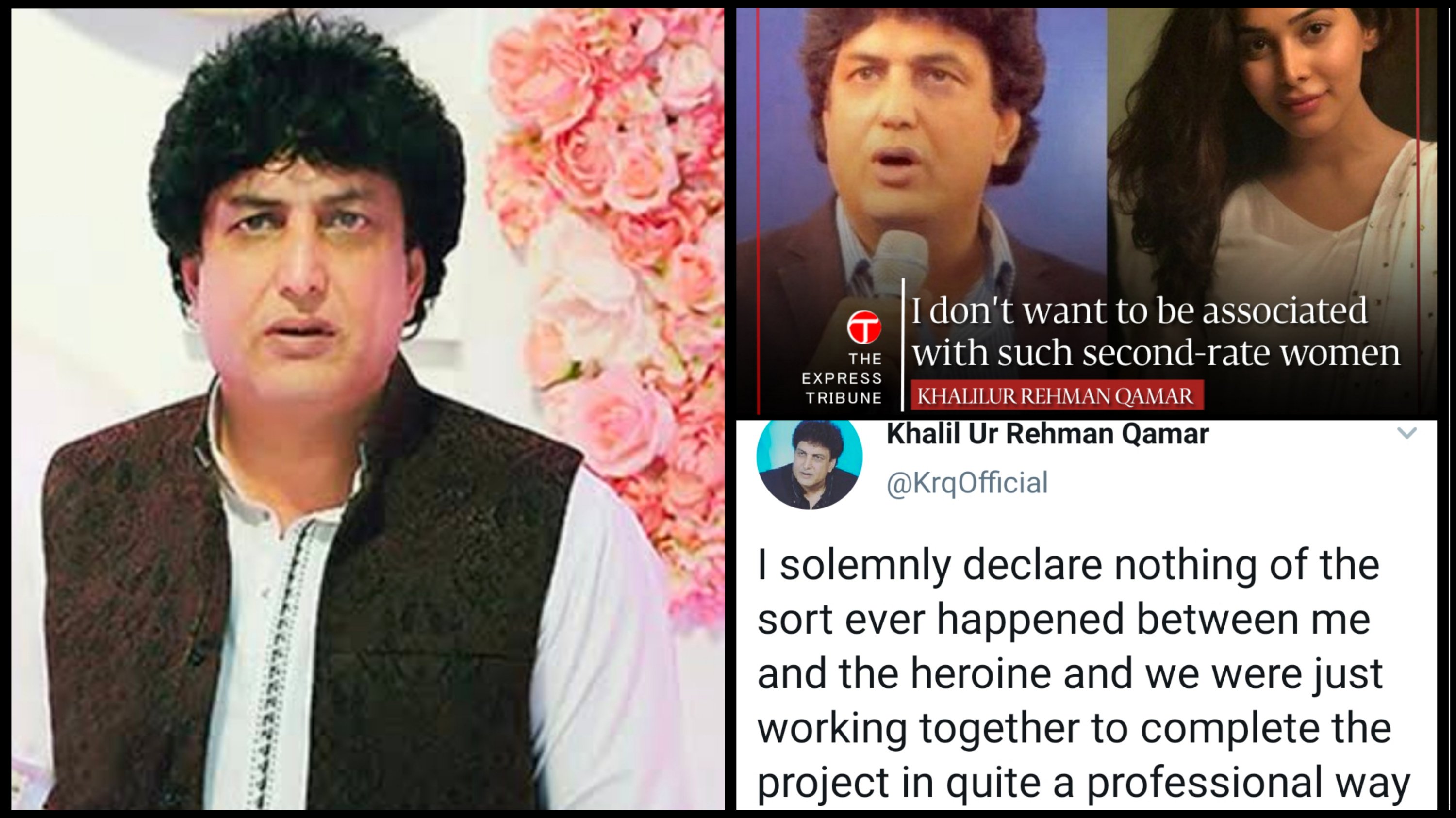 There were rumours floating around that Khalil ur Rehman Qamar and Eshal Fayyaz have been married. Eshal released a video on social media denying the rumours.
In a conversation with The Express Tribune, Qamar also denied the rumours and was quoted to have said the following:
"I strongly reject all such rumours as sheer propaganda. I am happy and satisfied in my life and also request everyone spreading these claims to not associate my name with such second-rate women," said Qamar in a rather condescending tone – Express Tribune.
The statement gathered quite the attention and the internet was absolutely furious!
Take issues that women face, dramatize them and make money and fame from them. But discredit a woman in real life, by saying she's a loose girl or a second-rate woman. If hypocrisy had a ass, it would look like his face 🍑 https://t.co/tsR8pQZ67X

— Ali Gul Pir (@Aligulpir) January 13, 2020
People were calling him a disgrace:
I don't know what else will take for people to realise he is utterly sick and has nothing good or appropriate to offer to our society. I am sick of this man and his face let alone his work. He is a disgrace. https://t.co/R2EQyYso2N

— Sheeshu 🍃 (@ithesheeshkebab) January 13, 2020
Some wanted the channels to hire better writers:
Channels like @Humtvnetwork and @arydigitalasia etc need to stop enabling toxic men like Khalil ur Rehman Qamar by hiring them as tv writers.

You can't make dramas like #Udaari and #Damsa on one hand while enabling mysogyny on the other. Hire better writers with better values. https://t.co/obs9YDZ7r2

— Hamna Zubair (@hamnazubair) January 13, 2020
Some weren't surprised:
And then people ask me why I don't watch Meray Paas Tum Ho or why I don't like him.
It's beyond my comprehension that so many people love his work, find him deep and intellectual when this is the tone he has for women, just because they are women! https://t.co/yxAoPLecuY

— Ayesha Naseem (@ayeshamnaseem) January 13, 2020
Some were calling him misogynistic:
Calling someone a "second-rate woman" is not just rubbishing marriage rumours- it's being a misogynistic pig whose ego only keeps getting bigger because the entire country is happily consuming the first-rate garbage he wrote 🤦‍♀️ https://t.co/MGFy6uzuPz

— Durr e Sameen Mirza (@DsMirza) January 13, 2020
when we create memes out of shit dialogues like 'do takkay ki larki' and celebrate misogyny within his dramas. what do YOU think is gonna happen? the dialogues are obviously stemming from this man's brain. https://t.co/Fn9d7cMW6Z

— sarah.jpg (@SarahKaSaraah) January 13, 2020
We're curious too!
Who rates women? State Bank or is there any other regulator ?? https://t.co/13irAqTbGs

— Jahanzad (@Spinning_Soul) January 13, 2020
Many were calling out on MPTH fans:
And hes being glorified for his drama. Same language has reportedly being used there.And our masses are drooling over those petty "dialogues". https://t.co/D2s51nJ9Oz

— RajaAther (@RajaAther12) January 13, 2020
People were appalled at his language and tone:
"Such second rate women"… and then you guys ask why we have a problem with him. Look at his language and tone. https://t.co/8ImffDn067

— AHI (@aamnaisani) January 13, 2020
Some shared how he represents majority of the men in the country:
https://twitter.com/NazranaYusufzai/status/1216759855995858945?s=19
Some wanted him to be respectful:
Second rate ????
Popularity does not give you credential to label anyone according to your own standards. Learn to respect !!#MerayPaasTumHo #khalilurrehmanqamar #respect https://t.co/S3MRAxxhda

— Ali (@queer_ali) January 13, 2020
People were calling him a 'doh takkay ka admi:'
Meri dil se dua hai ke iss DO TAKAY KE ADMI ke Paas Koye Aurat Na Ho. https://t.co/CbWNj5IsUJ

— Leena (@Leena_Ghani) January 13, 2020
Some had advice to offer:
Here's a lil advice from Tupac "A Woman Brought You Into This World. So you Have No Right To Disrespect One …" https://t.co/pV9IZojWkP

— ChaiNotCoffee (@ChaiNotCoffee) January 13, 2020
Some were genuinely confused why he chose to tarnish the woman's repute:
wow 2nd class woman ?? But why wld he pass such a comment while he cld hv simply denied the news. https://t.co/RpbzITqEBj

— Durrani (@iamDurrani1) January 13, 2020
Someone please teach Khalil ur Rehman Qamar some manners. He is downright disgusting, you had several other decent ways to negate the rumour why tarnish a woman's repute? pic.twitter.com/06Hq6lV1mN

— Ramsha Saghir (@ramsha_saghir) January 13, 2020
And while everyone was calling him out on his language and tone, Khalil ur Rehman took to Twitter to accuse the news publication of misquoting him:
The News Given by @etribune made by a very stupid guy who wanted to insult Heroin of my film kaaf kangna quoting me to have said ( 2takky ki larki ) is absolutely baseless and fauls.
In contrary (2/2)

— Khalil Ur Rehman Qamar (@KrqOfficial) January 13, 2020
He also added what he actually thinks of Eshal Fayyaz:
I would rather say she is very respectable hardworking girl and I always admire her professionalism i cannot even think about saying such ugly words about such a respectable girl
Shame on the guy who made this news and disseminated !(1/2)

— Khalil Ur Rehman Qamar (@KrqOfficial) January 13, 2020
And people still weren't sold:
Sir, actually baat ye hai k aap hain jhootay. And ap k interviews bohat hain which would corraborate the VERY SAME FUCKING STATEMENT. So ffs, shut it. https://t.co/XIjBUOiJ9i

— Rida (@RidaLodhi6) January 13, 2020
So #KhalilurRehmanQamar is saying he didn't say all those horrible things about that one actress. I think I'll believe him since he's always been so vocally proud of saying all the horrible things he's always said about women in general.

— Humeira Ajaz Kazmi (@humeirakazmi) January 13, 2020
What do you think about this issue? Let us know in the comments below!