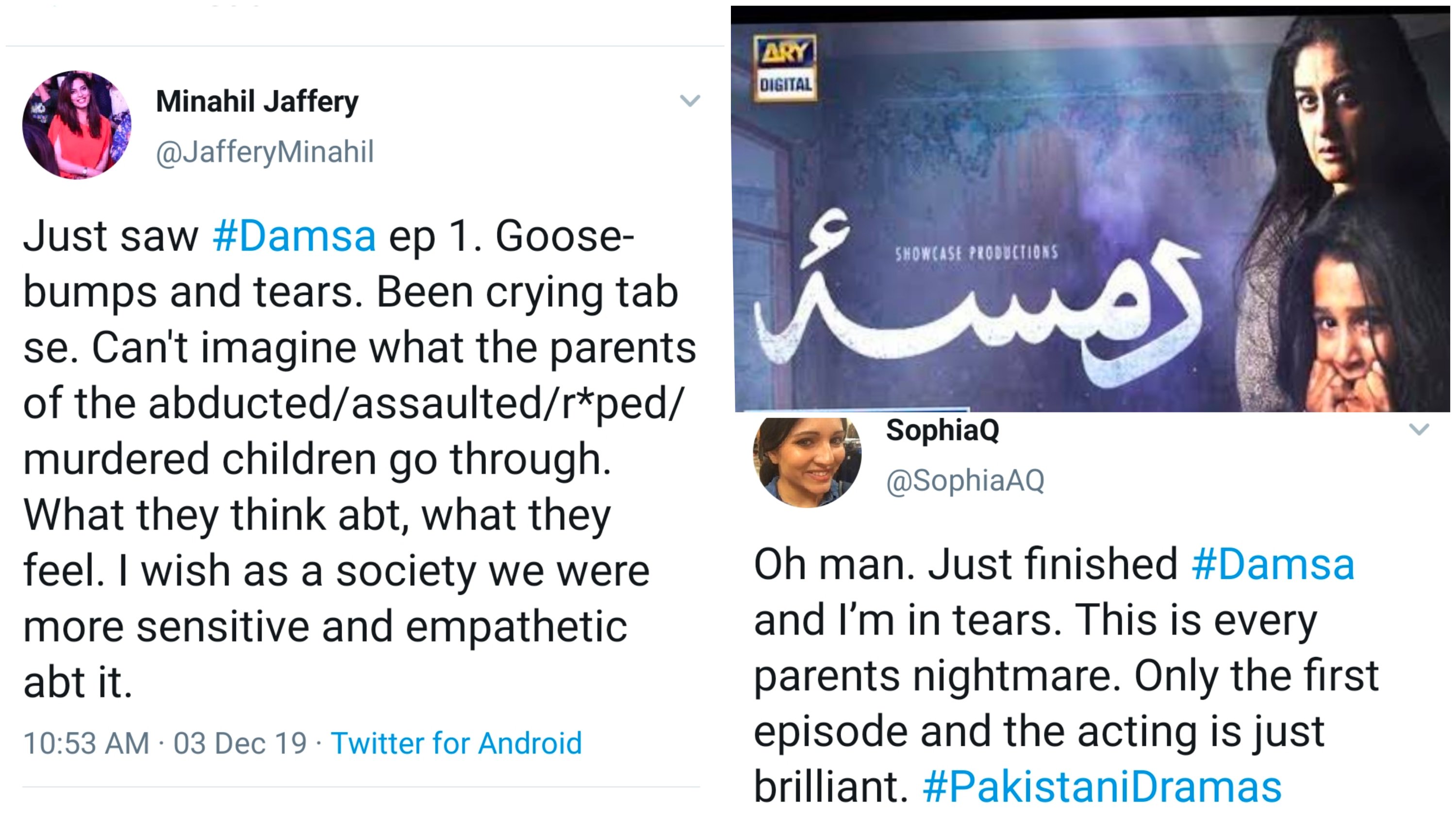 As the recent lot of dramas is exploring the themes of love, divorce and friendships, Damsa is the latest ARY production and perhaps the most heart wrenching of them all. It explores the theme of child trafficking in Pakistan and in the light of recent events, its a drama everyone should be watching.
Featuring Nadia Jamil and Shahood Alvi in pivotal roles, the first 2 episodes have gotten everyone talking about it!
Oh man. Just finished #Damsa and I'm in tears. This is every parents nightmare. Only the first episode and the acting is just brilliant. #PakistaniDramas

— SophiaQ (@SophiaAQ) December 2, 2019
People were lauding Nadia Jamil for her brilliant acting:
Nadia baji u #Nailed it
Its #Epic #performance!
In 1st episode de scene whn #Damsa kidnapped infront of ur eyes…most powerful n heart-rending scene. It's #TRUE #Depiction of those parents which go through tht trauma!Love U ❤#MyWonderWomen @NJLahori #Damsa#ChildTrafficking pic.twitter.com/OYaDRDO2w0

— Sundas Shabab (@SundasShabab) December 3, 2019
A scene that will break your heart:
#Damsa
This scene makes me cry😥…..@NJLahori pic.twitter.com/j8xVeW93ls

— Lion Man (@ASADALIALVE1) December 3, 2019
People were sending prayers to all the mothers dealing with similar situations:
Heart wrenching💔 i have no words to appreciate u MAM❤ #Damsa is just goosebumps, the most harsh moment how real victim's mother are suffering this sitiuation, ALLAH PAK sb maon ki mdad kre, or kisi ko aisa dhuk na dhekaen, Great work @NJLahori 🙌😭 pic.twitter.com/LguOxAq6tm

— 𝑮𝒖𝒅𝒂𝒊𝒊𝒊 𝒀𝒐𝒖𝒔𝒂𝒇𝒛𝒂𝒊🥀🖤 (@miss_gudai) December 3, 2019
Some were relating it to the recent events happening all over the country:
Nail biting intensity
It's accurate time of telecast #Damsa bkz whn v almst on daily basis dealing wid dis kind of situations.Child trafficking,Child abuse,karo kari,Vani.Reportd cases of assaults n kidnapng so our society needs 2 spread awareness n educate de masses!@NJLahori pic.twitter.com/NR4bkAPOMF

— Sundas Shabab (@SundasShabab) December 3, 2019
We've become so insensitive towards others' problems. Seeing the news of children getting abducted or sexually assaulted every day in the newspaper doesnt affect us. We've gotten so used to seeing and hearing such stuff. This isn't right. Makes me so sad. And guilty. #Damsa

— Minahil Jaffery (@JafferyMinahil) December 3, 2019
Novelist Humeira Ajaz shared how she was scared to watch the drama:
I'm scared to watch #Damsa. What if I can't stomach it?! I know that's a very selfish emotion to feel when children everyday have to go through real life horrors that I'm too chicken to even watch in a fictional setting…the least we can do is give them a voice, talk about it!

— Humeira Ajaz Kazmi (@humeirakazmi) December 3, 2019
But Nadia Jamil assured her that the drama gives solutions as well:
I will be watching it with you. And feeling the same way. But it gives solutions. Damsa gives solutions we can all use… All us women. Us mothers. https://t.co/sIjbW7XnyS

— Nadia Jamil (@NJLahori) December 4, 2019
People were all praise for the script, the direction and the acting:
Brilliant brilliant brilliant script with some powerful message #Damsa #Arydigital well done to my pyari @NJLahori ❤️❤️ https://t.co/QxZzulaxtU

— nazish zeb (@nazish67248727) December 4, 2019
Zulm ki inteha:
Drama damsa show true reality of this society 💔💔💔etna zulammmm akhir kb tak 😢😢😢😢

— Zara Khan (@ZaraKha70349478) December 3, 2019
The drama also shows the 'thana culture:'
#Damsa this drama Is the real representation of our thana culture system … I can fee the pain

— Aisha Zahid (@aishazahid_c) December 3, 2019
It gave us all goosebumps:
Just saw #Damsa ep 1. Goosebumps and tears. Been crying tab se. Can't imagine what the parents of the abducted/assaulted/r*ped/murdered children go through. What they think abt, what they feel. I wish as a society we were more sensitive and empathetic abt it.

— Minahil Jaffery (@JafferyMinahil) December 3, 2019
People were amazed at the direction:
Being a mother and how loving someone the way Areeja loves Damsa can change a person. It's the kind of love that puts everything else at risk.. Quite amazing. #Damsa @NJLahori 👏 pic.twitter.com/IinN7GKNRk

— 𝗧𝗮𝗿𝗶𝗾 𝗠𝗮𝗵𝗺𝗼𝗼𝗱 𝗥𝗶𝗾 (@RiqMahmood) December 4, 2019
People were lauding Nadia Jamil for executing her role to perfection:
Doesn't feel like you're acting in this. You feel the pain. It all comes from your heart. Whatever you go through as a mother of #damsa in the drama, it resonates with everyone watching it. They can feel it too. The resilience. You're amazing. And someone with a heart so pure ❤️

— Minahil Jaffery (@JafferyMinahil) December 4, 2019
People were really up to watch the drama to empathise with parents who go through such tragedies:
I am not a regular drama watcher. Watch 1 or 2 episodes, here and there of random plays & lose interest.

But seeing #Damsa I think I will ride it out this time. I want to know how parents cope with just tragedy of life.

— Dr. Chand Rana (@DrChandRana1) December 3, 2019
Nadia Jamil herself tweeted out how a lot of people we're scared to watch and yet agree its true:
Sad so many people feel they cant watch Damsa because its "depressing". Yet they accept the society Damsa mirrors. You may not have courage 2 watch but have courage 2 raise children in this jungle. Stand against lawlessness that ruins lives of 2 many children. Damsa is a solution

— Nadia Jamil (@NJLahori) December 4, 2019
She further continued to tweet how every child you see on the streets has a story:
Every time you see a child on the streets, remember the first episode of Damsa.
No child is born to be a beggar or slave.

If you think it's depressing it's only because you haven't thought of a solution or a way to make that child's life easier.

Start being part of a solution

— Nadia Jamil (@NJLahori) December 3, 2019
Are you watching Damsa? Let us know in the comments below!