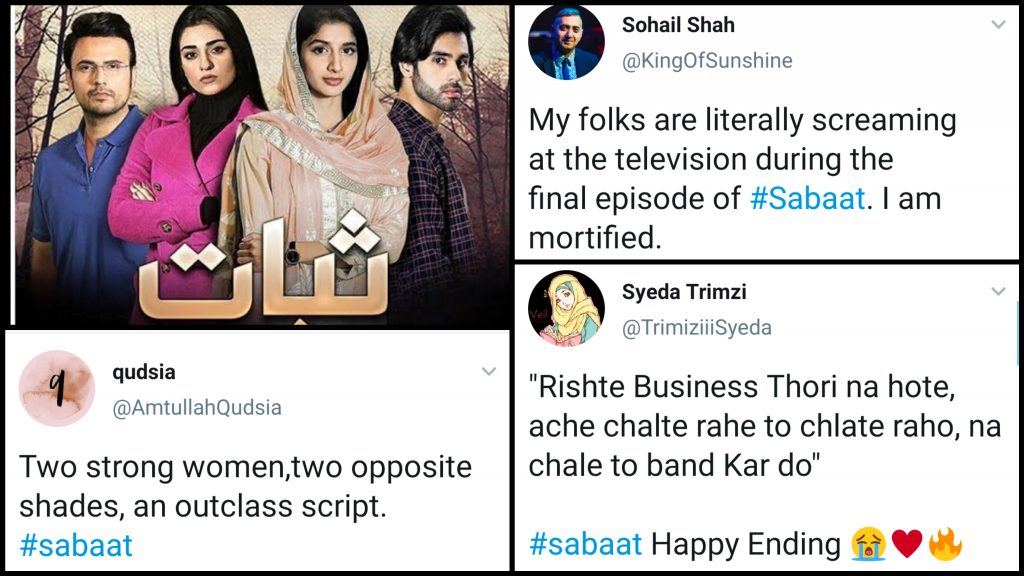 After weeks of seeing Anaya suffer at the hands of Miraal, Sabaat finally came to a bittersweet end, with happy reunions and lessons learnt.
What started off as a slow paced drama, quickly became a favourite as it picked up pace, and fans have a lot to say about the ending:
Two strong women,two opposite shades, an outclass script.#sabaat

— qudsia (@AmtullahQudsia) October 26, 2020
It was an ideal ending for many:
I hope 2020 ends as happy as #Sabaat

— Sheena J. M. (@sheenapyaari16) October 26, 2020
Yes!
And the moral of this drama is "Fear the grip of Allah". #sabaat 🔥#Lastepisode pic.twitter.com/Po4Irf8x7u

— siyab Fatima (@Siyabfatima) October 25, 2020
People were moved by Dr. Haris' words:
Such a Postive words!🥰💫#Sabaat @MukhtarHoonMein #SarahKhan pic.twitter.com/zsEk86wC40

— ℛ𝒾𝒻𝒶.🕊 (@irifaaxoxo) October 26, 2020
Haha, we take our dramas very seriously!
My folks are literally screaming at the television during the final episode of #Sabaat. I am mortified.

— Sohail Shah (@KingOfSunshine) October 26, 2020
Dr. Haris quickly became the favourite husband in the country:
I think every girl deserves a husband like him #sabaat pic.twitter.com/MwWTsLJnMk

— صفات نورعین احسانی🏳🌍 (@sifatehsani) October 26, 2020
Big shout out to @MukhtarHoonMein, who got the worst of an otherwise good script, yet held his own and completely won everyone over with his solid performance in the last episode. Left everyone hoping for a companion like Dr Haris. #sabaat

— AHI (@aamnaisani) October 25, 2020
Absolutely!
Indeed behind every strong Girl there is a supportive mother and sincere friends💞#Sabaat pic.twitter.com/SvPGL8d3zt

— Sana Jawed (@sana_foodie) October 26, 2020
Exactly!
Jb marrd na insaafi krta hai or sb mil k aurat ko smjhaaty hain k muaaf krdo etc etc. So why not men forgive women too?? I have no objection at Haris forgave Miraal and saved his relation by every means!👌 infact its a thing that our typical society needs to understand..#Sabaat

— mesmerized 🌼 (@Bisma933) October 26, 2020
People had reservations on Dr. Haris' character:
So, #Sabaat came to an end yesterday. The writer deserves applause for writing a brilliant script with thought-provoking dialogues. However, I believe that the producers EXPLOITED @MukhtarHoonMein 's popularity post Anaa.

— 🦋 (@Defiant14701875) October 26, 2020
There were lessons learnt:
Four lessons learned from #Sabaat
1.The important role of parents and grand parents in our lives
2.Choose your friends wisely
3.Being rich or poor doesn't matter
4.Good things come to those who wait.

— Basma Sadaf (@basma95x) October 26, 2020
People loved the way Sabaat handled sensitive issues:
Bravo @MawraHocane and ameer jilani and special praise for writer and director of #sabaat to present such a pleasant drama on screens. The sensitive things are handled very nicely in Sabaat and OST is love too 👏

— Muhammad Basit (@mbasitazeem) October 27, 2020
Little Ibrahim won thousands of heart!
Ibrahim has all my heart 💖🥺#sabaat pic.twitter.com/HTF2hvSR3U

— Tahreem🌸 (@tweetsbytahreem) October 25, 2020
The most iconic dialogue!
" Rishte business thori hote hein ke acha chalta rahe to chalate raho, bura chale to band kardo "
Words by Dr.Haris ❤️#Sabaat pic.twitter.com/33sPjFAOLf

— Haلa (@HalaAyoub786) October 25, 2020
People were in love with the ending:
Finally the best ending….A perfect, decent, self-respecting story one of my favorite….Loved the Ending…❤#sabaat pic.twitter.com/VlMxIldDXA

— Umama (@Umii998) October 25, 2020
People wanted more dramas like Sabaat to be aired:
Dear Entertainment industry,
Our society want to see this kind of Positively and storyline. I appreciate the writer(Kashif A)for writing such a powerful message for Girls and boys how can they both put effort to understand each other and to stand on her/his Decision.#sabaat pic.twitter.com/qUKwLGxyuR

— J. (@awwwsweetii) October 25, 2020
Haina 😡
If *Aastin Ka saanp* had A face .#sabaat pic.twitter.com/OChEjiMg3b

— Haلa (@HalaAyoub786) October 25, 2020
No one could have played Miraal better than Sarah Khan:
All the episode was awesome but I just love the ending, specially this scene was awesome the way miraal eyes speak🙂💕#miraal #sabaat pic.twitter.com/V1U66R4kzL

— Malika tweets (@malikaaijaz) October 25, 2020
People were already missing the drama:
I loved #Sabaat. Even though it had a few flaws, still way better than most of the content airing right now. @MawraHocane deserves so much appreciation for her performance. She was just perfect. I'm going to miss Anaya Aziz, such an inspiring character.

— 𝐧𝐢𝐦𝐬 (@thatgirlnims) October 25, 2020
Some thought the drama had ended on a weak note:
#Sabaat ended on a super weak note. Disappointed that a tv show that had such a strong start & extremely positive themes completely fell apart at the last episode and looked like a shoddy attempt to cleanly tie everything up so audiences could move on.

Detailed review up soon. pic.twitter.com/ZizTBAq19a

— Mahwash Ajaz 🇵🇰 (@mahwashajaz_) October 25, 2020
Plot twist of the year:
Ameer just gave a trivia that Ibrahim was a baby girl 😂😂😂#sabaat pic.twitter.com/24zVWwWFGv

— Activist (@spreadlaughters) October 25, 2020
How did you like the ending? Let us know in the comments below!