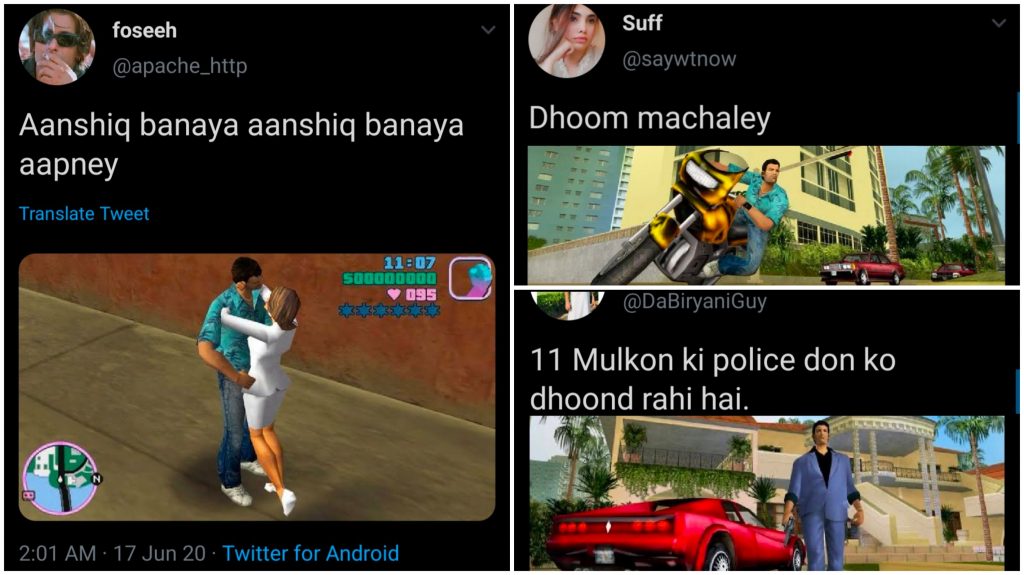 Lockdown and quarantine has had Pakistanis turning to their favourite games, one of them being the iconic Grand Theft Auto that we've all tried playing at some point!
And this time, they're coming up with hilarious songs to go with the situations and we just can't stop laughing 😂
Aanshiq banaya aanshiq banaya aapney pic.twitter.com/dotHKsCDXn

— foseeh (@apache_http) June 16, 2020
Everyone's favourite 'dhoom machaalay' song had it's moment too!
Dhoom machaley https://t.co/CF2LRV9R1q pic.twitter.com/qgFAbzxYam

— Suff (@saywtnow) June 17, 2020
💔💔
Haray haray haray , hum to dil se haray….. https://t.co/IoSzFDKitm pic.twitter.com/yQdL8r3h0B

— ⚜️ (@destroyed_af) June 17, 2020
Tujhay jeena hai, mere bina 😭
Bhula dena mujhe, hai alvida tujhe. https://t.co/rNLFvMKB8d pic.twitter.com/iuZOQkz5uD

— ADIBA (@notabida) June 17, 2020
Ali Gul's Wadeiray Ka Beta fits so aptly!
Wadere ka beyta, wadere ka beyta! https://t.co/t5XO6GjGF0 pic.twitter.com/YA9QcuEVHa

— Umar Nazir (@UmarNazir94) June 18, 2020
Magar don ko pakarna mushkil hi nai, na-mumkin hai!
11 Mulkon ki police don ko dhoond rahi hai. https://t.co/GqImH9MM2r pic.twitter.com/rR6OCDA5eR

— Hammad (@DaBiryaniGuy) June 17, 2020
Stop hitting us right in the feels 😭
Tou phir aaoo mujh ko satao https://t.co/Q5curVYBPt pic.twitter.com/uFO6hCspC0

— Umar Nazir (@UmarNazir94) June 18, 2020
Yar 😂
Dil kar dariyaaa beh hi gaya https://t.co/vsLT0WrK9v pic.twitter.com/7XeX1ve7Cc

— Laiba (@blueewhale_) June 17, 2020
Haye 😭
جگ سُونا سُونا لگے،کوئی نہ رہے جب اپنا۔۔۔ https://t.co/2IFI00OCGe pic.twitter.com/QGaGwuc9pR

— Ashar (@ashries97) June 18, 2020
Chalo ishq larayein sanam 🙃
kisi disco main jayein… kisi hotel main khayein https://t.co/ZzWtgdIQeq pic.twitter.com/Gx5LF2ic4g

— tum hi toh hoe (@hooorainriaz) June 18, 2020
Ooof!
Disco diwanay. https://t.co/srjNgU7ZtB pic.twitter.com/9s9Hu1JYrS

— Usama. (@idcusama) June 17, 2020
Teraaaa meraaa rishtaaa puranaaa:
Bechain din mery .. bechain rat hai https://t.co/4wYgNIk3Yu pic.twitter.com/n1q0LwHDSi

— smol (@AlokaaPratha_) June 17, 2020
Abrar ul Haq for the win:
Aaja ni beja cycle ty …. https://t.co/cuoQzYhiNs pic.twitter.com/QjmLyy9phx

— gæ (@mech_freak) June 17, 2020
😂😂😂
Aaaaaa kabhi khushi kabhi gham Aaaaaaaaaaa kabhi khushi kabhi gham https://t.co/2aE89DaaDU pic.twitter.com/zqnd12Q1WU

— kainaataltaaf (@kainaataltaaf) June 17, 2020
Kahan se laatay ho tum loug?
Nayak nahi, khalnayak hon mein https://t.co/BUdNB30uxA pic.twitter.com/9Iyr4oQjqp

— Ins-e-yazdan (@BaeBuss) June 17, 2020
Ae waada farahmosh main tujhsa toh nahin hoon~
Mein doob raha hun abhi dooba toh nahi hun https://t.co/Rb5tvDeXiO pic.twitter.com/JqnI5nPOgQ

— سبیکا (@beekaboo_) June 17, 2020
Kaisay jiya tere bin 😂
Terayyy binn main yunn kesayyy jiyaaa…. https://t.co/HudCBmUssD pic.twitter.com/XUtM000FrC

— Tahaha.🐍 (@xXxTaha_tension) June 17, 2020
Bolo na, bolo na 👀
Rothay ho Tum tum ko kesay mano piyaaaa , boloooo na https://t.co/LjH54nCNfG pic.twitter.com/t3iqxJCWek

— hahaha (@fakihawajihaJvd) June 17, 2020
What was your favourite scenario? Let us know in the comments below!