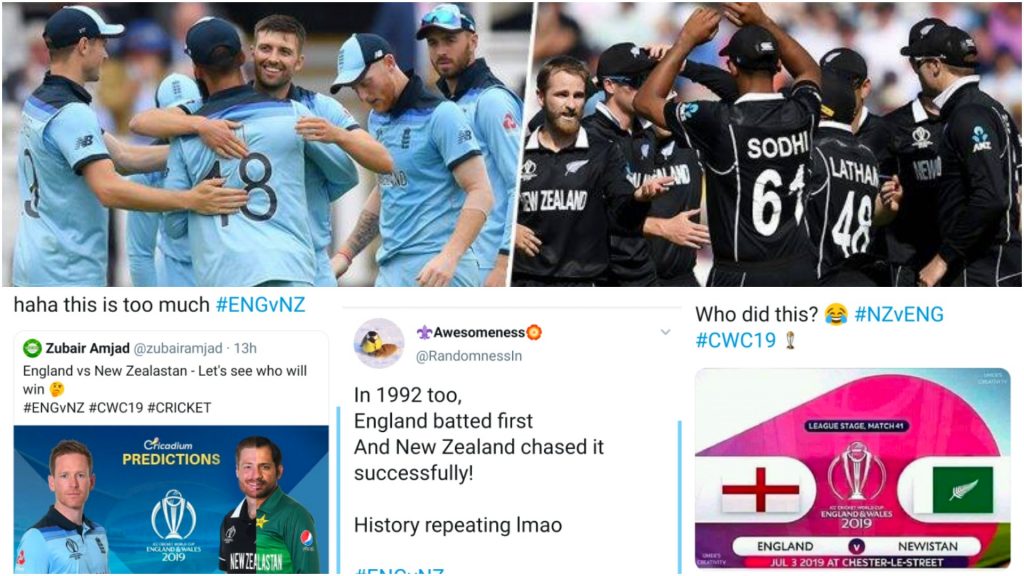 It's one of the most important matches today for Pakistan. And even though the match is between England and New Zealand, it will decide the fate of Pakistan qualifying for the semi-finals. And the netizens have been really excited, some are #TeamNewZealand, some are busy making memes while some have pulled out the 1992 game plan and strategies: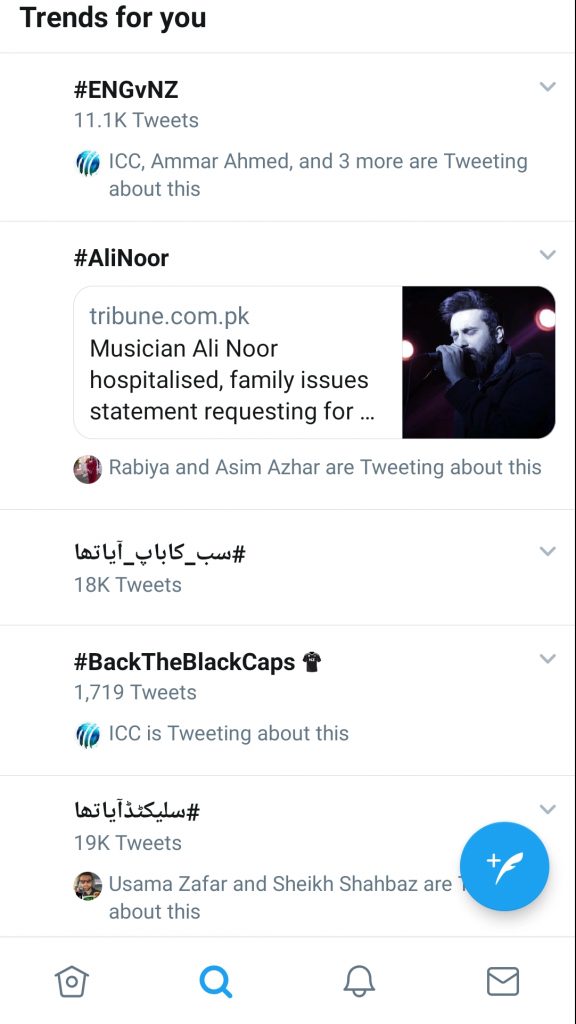 And if you still don't know why NewZealand winning this match is so important, then here you go:
#Your guide on whom to cheer in #ENGvNZ

If Eng wins, Pak knocked out, irrespective if they win vs Ban. Ind v Eng semis

If NZ wins, and then Pak wins; Eng is knocked out. NZ, Pak qualify. Ind v NZ semis

If NZ wins, and then Pak loses, then Eng qualifies. Ind v NZ semis

ENGvNZ

— #hafiz muhammad areeb uddin sheikh🇵🇰 (@muhammadareeb_7) July 2, 2019
Precisely!
KAL PAKISTAN KA QUARTER FINAL ENGLAND OR NEW ZEALAND KE DARMIYAN HOGA #ENGvNZ #CWC19

— Ayesha Guptill 🇳🇿 (@chaichaiye) July 2, 2019
Well hello there!
Pakistanio… Say hello to a new friend 😀😀 #CWC19 #ENGvNZ pic.twitter.com/OuMTAvVTVF

— 𝓜𝓾𝓱𝓪𝓶𝓶𝓪𝓭 𝓐𝓺𝓲𝓵 𝓡𝓪𝔃𝓪 (@CHAqilRaza) June 30, 2019
* performs wuzu and pulls out the jai-namaz *
Skipper has taken the charge guys, no need to worry anymore. Just grab your jai.namaz and tasbeeh and also dil dil new Zealand jan jan new Zealand😁#ENGvNZ #NZvsENG #CWC19 #INDvsBAN pic.twitter.com/xFObKa0FKY

— Aatish (@ws599) July 2, 2019
Someone even pulled out the 1992 World cup stats and we're secretly praying he's right:
mere Pakistanyo🇵🇰 ghabrana nahi.
Every thing is going according to plan.
In 1992 World Cup England🏴󠁧󠁢󠁥󠁮󠁧󠁿 was beaten by New Zealand🇳🇿.#CWC19 #INDvENG #ENGvNZ pic.twitter.com/uSgeflkGQJ

— Bilal Ahmad Dourani (@BADourani) June 30, 2019
Even Salman Ahmed is a believer:
Synchronicity? Only time will tell. #CWC19 #INDvENG #ENGvNZ pic.twitter.com/5ZDM32bYad

— salman ahmad (@sufisal) June 30, 2019
People have been sending prayers:
I hope and pray New Zealand play to kill the match tomorrow and grab that semi final spot straight away by the win. Insha'Allah! #CWC19 #ENGvNZ

— Hassan. (@mhamirza) July 2, 2019
Anddd, there were memes:
#Pakistan to #Bangladesh right now:

LET US WIN CONVINCINGLY ON FRIDAY AND THEN WATCH👇👇👇#INDvBAN #BANvIND #CWC19 #WeHaveWeWill #TeamIndia #ViratKohli #Dhoni #RiseOfTheTigers #SarfarazAhmed #ENGvNZ #NZvENG

😂😂😂😭😭😭 pic.twitter.com/MgCW7redEf

— Think Out Loud With Saboor (@thinkloudsaboor) July 2, 2019
Yaaaaaas!
#ENGvNZ 🏏- England & NewZealand have encountered eight times in an ODI WorldCup in which England won 3 while Kiwis were victorious in 5 matches. What more good news for Pakistan cricket fans is that since WC1983, NZ has won everytime they met England in WC ie five in a row.✌🏻

— Arfa Feroz Zake (@ArfaSays_) July 2, 2019
Hahahaha, yar:
Our hopes be like:#ENGvNZ pic.twitter.com/jPUMQNalgS

— Danish Kaleem (@danesh_kaleem) July 2, 2019
New Zealand tum humara dost ho!
Pakistan to every New Zealand team member #CWC19 #ENGvNZ pic.twitter.com/W474yquBP3

— Yawar Hayat (@iyawarhayat) July 2, 2019
Uh oh…
#WeHaveWeWill
Pakistan broke winning streak of New @BLACKCAPS
Pakistan supporting New Zealand in #ENGvNZ
New Zealand: pic.twitter.com/ldbBRHcwhk

— Mohammad Ammar (@MAmmar_pk) July 1, 2019
Sari scheme bataday bhai:
As we have stacked all our hopes on Newzeland now. So, let's pray Newzeland wins the toss & bats 1st. Puts up a big total, Guptill will have to fire 4 that & the other opener too. That's the best senerio for NZ's win & Inshallah they will win. #EngvNZ #NZvENG

— Akmal (@Akmal4PAK) June 30, 2019
Hmmm, a win-win situation?
99% of the Pakistanis supporting NZ for tomorrow's match but imagine NZ getting out for 150 odd and ENG chasing it down in 22 overs 🤔

NZ's NRR to get worse than PAK 😃#NZvENG #ENGvNZ

— Saad 🇵🇰 (@iSaadAwais22) July 2, 2019
People warned the New Zealand team to take care of their diet…
Don't you dare to eat pizza burger or any crap fast food before the match @trent_boult #ENGvNZ #NZvENG

— Farwa Boult (@farwaa_zaidi5) July 2, 2019
Haha, the real deal:
Who did this? 😂 #NZvENG #CWC19 pic.twitter.com/7cPNIP04Pd

— A (@__02097) July 2, 2019
I guess we'll have to wait and watch:
New Zealand won by 7 wickets (with 55 balls remaining) against England during 1992 World Cup 😲

Can history repeat on Wednesday? #ENGvNZ #CWC19 #JoshJagaDey pic.twitter.com/0gW3ZYErpa

— Cricket Pakistan (@cricketpakcompk) July 1, 2019
As the match is about to start, people can't stop but compare England batting first in 1992 as well:
In 1992 too,
England batted first
And New Zealand chased it successfully!

History repeating lmao #ENGvNZ

— ⚜️Awesomeness🏵 (@RandomnessIn) July 3, 2019
Who do you think is going to win the match today? Let us know in the comments below!