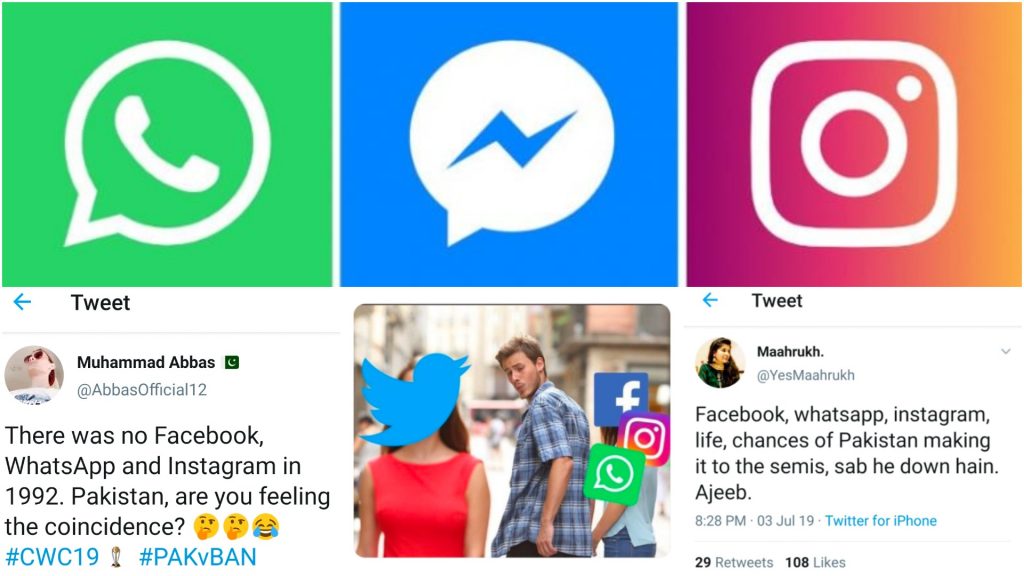 Being the social media babies that we are, the glitch that had Facebook, Instagram and WhatsApp down annoyed tons of users all around the world. People thought their internet service was down, some thought their phones were acting up and some thought their routers were dying. And while Facebook, WhatsApp and Instagram were down, Twitter came to the rescue of many!
Twitter is where it's at always lol 🙂 #facebookdown

— FK (@faisalkapadia) July 3, 2019
Absolutely!
Everyone at this moment#instagramisdown #facebookdown #whatsappdown pic.twitter.com/CfqYhyc5RM

— KASHAN (@KashanAl11) July 3, 2019
The real tea though:
WhatsApp na chalnay say itna pareshan kyu ho rahe ho tum sab? Waisay bhi sabkay messages ignore he karnay hotay hain waha.

— Rey (@Reyaanshoukat) July 3, 2019
People thought it may have been Imran Khan 😂
Imran Khan Jin cheezo ko down karna hy wo kar nahi raha WhatsApp Facebook or Instagram down kar deta hy har baat py

— S Y E D A L i (@aaaaallllliiiio) July 3, 2019
Have you filed your taxes yet?
From now onwards usage of media messages on whatsapp and Facebook can only be accessible by Filers.

Government of Pakistan 🇵🇰

— Muhammad Ahsan (@AhsanMisbah) July 3, 2019
Oooof * cries *
Facebook, whatsapp, instagram, life, chances of Pakistan making it to the semis, sab he down hain. Ajeeb.

— Maahrukh. (@YesMaahrukh) July 3, 2019
Bus kardoh yar:
There was no Facebook, WhatsApp and Instagram in 1992. Pakistan, are you feeling the coincidence? 🤔🤔😂 #CWC19 #PAKvBAN

— Muhammad Abbas 🇵🇰 (@AbbasOfficial12) July 3, 2019
Oh boy * sweats profusely *
When Insta and WhatsApp goes down and you realise you may have to learn how to communicate face to face with humans again..

— AQIB MAJEED HINGORO (@Aqiboo2) July 3, 2019
Ab toh call karni hi paregi!
Javaria just sent a message saying she loves me and I can't reply saying I love her back because WhatsApp got down at the wrong time…

— Ibrahim (@IamIbrahimKhan) July 3, 2019
Couldn't have described it better!
How i feel without Whatsapp , instagram and facebook#instagramdown #facebookdown pic.twitter.com/hVLEe3fBOk

— Ayaan ALvi (@Ayaanalvi2) July 3, 2019
Inteha ho gayi intezaar ki~
Waiting for Facebook Instagram and WhatsApp to get fixed ! #whatsappdown #WhatsApp #facebookdown #instagramdown pic.twitter.com/gk954fKJBU

— Muhammad SufyAn (@MuhammadSufyAn_) July 3, 2019
Many had some deep realizations:
Finally realised there's actually nothing to do in free time other than social media. #Facebookdown #WhatsAppdown #Instagramdown

— Palwasha Sikandar (@palwasha_s1) July 3, 2019
Hahaha, yar!
Worlcup se hum bahar huwe hain, soogh pori duniya manarhi hai 🤔😂#CWC19#whatsappdown #facebookdown #instagramisdown

— Myrah Ahmed (@BeLikeMyrah) July 3, 2019
People were living for Twitter:
ShoutOut @Twitter for almost never going down. You're 1 "edit tweet" buttonaway from being the best SocialMedia site #facebookdown #whatsapp

— Arsalan ارسل (@Arsi_lion) July 3, 2019
Believe it or not but I actually cleaned my room last night…
Now people will get time for at least their pending works#facebookdown

— Sharifa younus (@sharifa_younus) July 3, 2019
Haye, the pain in this tweet >>>
#instagramdown hai #facebookdown hai Whatsapp bhi down hai bas koi bachi down nahi hoti 🙁

— Ice Cube (@its_humzaaaa) July 3, 2019
Some discovered a whole new world around them:
Seeing the world first time…
Hello#whatsapp#instagram#facebook#twitter#facebookdown#whatsappdown#instagramdown pic.twitter.com/k8gHYRSeJw

— M Umer Siddiq (@whoumersiddiq) July 3, 2019
People had ideas:
Facebook, Instagram, WhatsApp having image loading issues globally. Please visit your neighbors and friends personally to show them your pics and inform them what are eating today.

— Sami Sheikh (@I_SamiSheikh) July 3, 2019
Qaumi mashghala: if it's not working, restart it!
Adhe se ziada mulk ab tk Apne Routers, Mobile Data or Cell phone's Restart kr chuke hain😂😂🤔#WhatsaapDown#FacebookDown#InstaDown

— ا س ا م ہ (@usama_sale3m) July 3, 2019
But hey, let's not forget Snapchat!
Snapchat still works.
Go waste you time there 😜 #FacebookDown #instagramdown

— HasanAly (@i_H45H) April 14, 2019
What did you do while these apps were down? Let us know in the comments below!