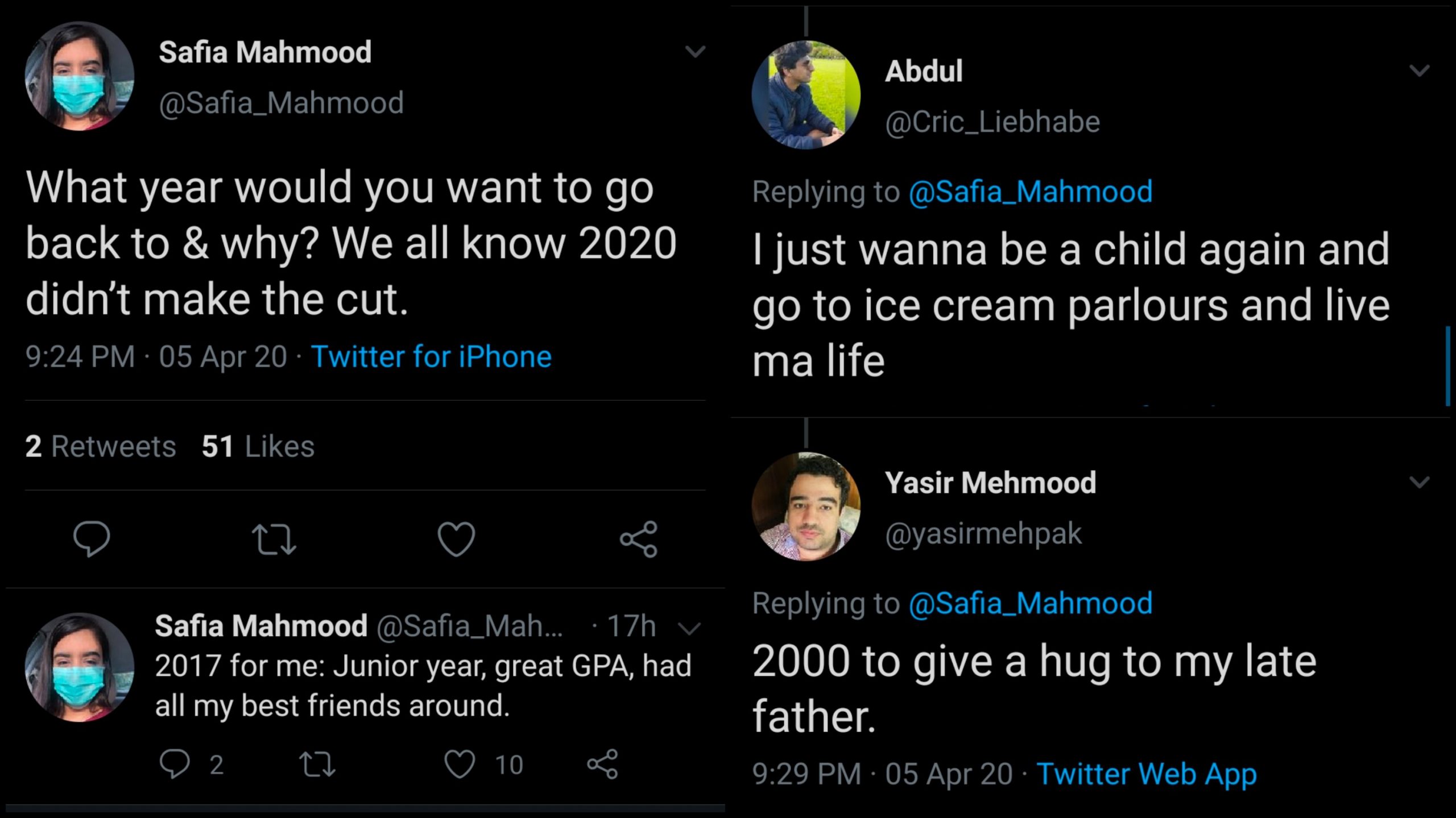 Entering the third week of being locked down, the nation can't help but reminisce about the good times they've had in all these years! Some are busy going through their wedding albums, some through their family albums and some going over the memories they've made, in short, everyone's been missing their routine life!
And amidst the gloomy lock down, this girl has everyone wanting to go back to a certain year in their life:
What year would you want to go back to & why? We all know 2020 didn't make the cut.

— Safia Mahmood (@Safia_Mahmood) April 5, 2020
And people have the most heart warming reasons:
2018: Gold medal, bagged dream job, shifting back with parents

— Sameena E. (@SameenaERana) April 5, 2020
We miss our friends way too much now!
2017 for me: Junior year, great GPA, had all my best friends around.

— Safia Mahmood (@Safia_Mahmood) April 5, 2020
I'm sure most of us would do anything for that one last hug:
2000 to give a hug to my late father.

— Yasir Mehmood (@yasirmehpak) April 5, 2020
We've forgotten what life was before smartphones:
2005-06 Before social media and even smartphone became a thing,the wonderful days where we can watch a test match for 5 straight days without constant notifications and cell phone staring,it was very peaceful,and tension less than today fast paced world

— Usman Ajmal (@usmanajmal296) April 5, 2020
Okay there, big plans!
I'm going to the year bitcoin started, buying up as much as I can. Fast forward to today, I'm on my 500 ft yacht on the Atlantic safe from corona, getting bitched out on Twitter for only donating .00025% of my wealth to help fight the crisis https://t.co/3y9gj4qyT9

— Arhum (@arhuml92) April 5, 2020
Some wanted to go back and do what they loved:
2010: I wanted to choose Mass Com but ended up in engineering 🤦. I've somehow moulded my engineering into media, but things could have been different.

— Taimoor (@RjTaimoor) April 5, 2020
Some missed travelling:
2016 – fairy meadows🤸‍♀️💗

— Zayn (@Since9teen99) April 5, 2020
Same 😭
I just wanna be a child again and go to ice cream parlours and live ma life

— Abdul (@Cric_Liebhabe) April 5, 2020
Some wanted to go back to their university life:
Year 2001, Best year in university

— Amir Zafar Khan (@ChAmirZkhan) April 5, 2020
If only that was possible!
2009, with the same mindset I currently have. https://t.co/5rHLB6NvIa

— بلال (@Iambilalyunas) April 5, 2020
Some were just done!
1993 when i wasn't born. https://t.co/c43QXyodNP

— افضال 🍁 (@MuhammadAfzaal8) April 5, 2020
1994. because i was not born. https://t.co/gYNaVzuhAq

— yellow (@notyellow) April 5, 2020
1998, because I wasn't brought into this world then. https://t.co/mAwIkTq0hA

— zainie (@leviosaaa0) April 5, 2020
The good life!
2011 – chess and table tennis all day long! https://t.co/XOWSRsodOB

— Jamy (@thjamy) April 5, 2020
Some wanted to go back and try focusing on what they should have:
2010 – Want to go back, so i could focus more on my studies, and learn music. I wish.

— Sameer Siddiqui (@SenatorSameer) April 5, 2020
When you made big goals:
2017: That year I met thousands of people from all over the world. Talk with them for hours. Every new story gave me hope that life is beautiful and made a goal that i will travel world in my life. Actually i want to live college with people around the world. https://t.co/F9NO3S0cx4

— Paid troll of Imran khan. (@Jackass96619088) April 5, 2020
Jo baat hai:
2015 because that's when I thrived academically and made my parents proud Basically good grades are only thing that make Brown parents happy https://t.co/2qBExRCxei

— Fatima 💫 (@EnigmaticFamy) April 5, 2020
Some were pretty okay with 2020:
I like 2020 https://t.co/O225MjkRgZ

— Hooman Ish (@eldestsyndrome) April 5, 2020
Some just wanted to move forward:
I just wanna move forward fam… life's been too tough. I'd like to believe better times are written https://t.co/82PpNevDAO

— Soha (@SohaTazz) April 5, 2020
If given the chance, what year would you like going back to? Let us know in the comments below!