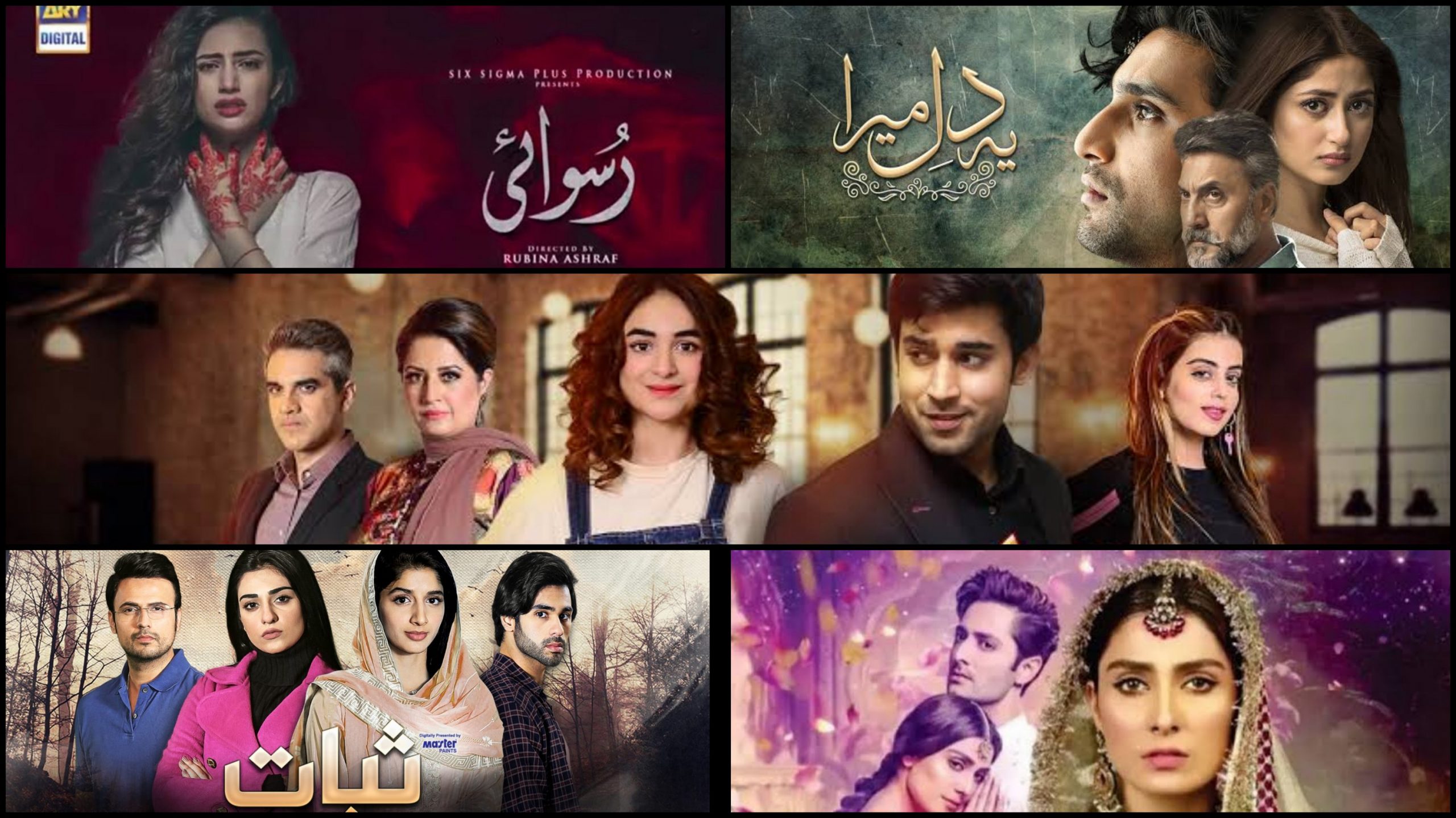 Pakistani dramas have been a godsent during the lock down, with some of the most iconic dramas on repeat, there are tons on-air at the moment which have been collecting rave reviews from the tweeple and critics all over the country, and we're here to narrow them down to the top 5 dramas that people just can't stop talking about!
YEH DIL MERA
A romantic thriller that's in a league of its own is keeping fans on the edge with every passing episode as things finally start to fall in place! The drama is like no other and has fans invested in it since the very first episode!
Can we all appreciate how fantabulous job are doing Adnan and Zarnish in Yeh Dil Mera ❤
The whole cast has been chosen so perfectly 👌🏻 #YehDilMera

— Honey… (@honeytweets) April 3, 2020
Precisely!
me stealing an oscar so I can give it to ahad for his performance in yeh dil mera
pic.twitter.com/EdIV2vjRh7

— ɴᴏᴏr (@nxpapillon) April 1, 2020
Ahad Raza Mir at his finest!
Ahad Raza Mir better be getting all awards and recognition for Amaan. He is bloody brilliant!!… This scene was so real, so raw. *goosebumps*#YehDilMera #YeDilMera pic.twitter.com/aoYZKGPYZN

— SabahatMS (@SabahatMS) April 1, 2020
SABAAT
With just the first two episodes being aired, the drama has gathered quite the following already with it's refreshing storyline:
#Sabaat is a breath of fresh air! What a beautiful & thoughtful show. Sarah Khan is killing it as Miraal. Waiting for Usman's character!

— Misha (@theoryofmish) April 5, 2020
People have been in love with the script!
Anyone else notice what a FINE script #Sabaat has ? Ameer & Mawras characters dont fall immediately in love She actually says acha sorry go away , He doesn't immediately go into obsess revenge / attraction mode & backs off Mawra's parents poke fun at her speeches its so normal

— Sadaf Haider صدف حیدر (@tomtomatoe) April 6, 2020
Needless to say, people are really looking forward to Sabaat!
Sarah Khan as Miraal is blowing me away so far. She's so controlled in showing her power! This show is really surprising me with how good it's so far #sabaat

— Tujhbinnahilagda (@splendeurr) April 5, 2020
PYAR KE SADQAY
If there's one drama that almost everyone is enjoying watching, its Pyar Ke Sadqay! With Yumna Zaidi and Bilal Abbas Khan in pivotal roles, they have outdone themselves portraying the young, vulnerable and naive protagonists and the internet is in love with them:
The point is Abdullah and Mahjabeen are so naive and innocent that you get worried seeing Sarwar playing mind games with them and you feel like going inside your TV/ mobile screen to protect them 😭❣️ #PyarKeSadqay pic.twitter.com/wbJ5pCd7cm

— მოἶ (@Amaya_dvn) April 3, 2020
The entire cast is bringing their best!
#PyarKeSadqay is giving me life at the moment. Bilal, in particular, feels godsend in these grim times. Such brilliant acting by all the actors including Omair Rana, Yumna Zaidi, Atiqa Odho, and Gul-e-Rana.

— Vigil Auntie (@shaistapatel) April 6, 2020
Something we don't see that often:
The thing I'm loving so far about #PyarKeSadqay is that it doesnt just focus on Abdullah and Mahjabeen as a couple but as individuals as well…their chrctr development and relationship development are equally exciting to look forward

— lish (@folishba) April 2, 2020
RUSWAI
Ruswai tells the gruesome tale of a rape victim and how it takes a toll on her life, it shows the real issues portrayed just the way they're dealt with in this country.
Ruswai drama deserves soo much appreciation man 👏🏽👏🏽👏🏽

— Warda (@WardaDotDot) April 4, 2020
Take cues, women!
I have decided that I'll make my future husband watch Khaas and Ruswai before marrying him. If I get the slightest hint that he's anything like Ammar or Salman, he'll be cancelled for good. You all are advised to do the same

— Ifrah Maskan (@ifrahmaskan) April 1, 2020
The grim reality of our society:
Ruswai is a great example of people being attracted to mentally stable women.

When Sameera was going through a hard time, battling depression and ptsd her husband abused her and left her instead of being by her side.

When she pulled herself out of it, suddenly everyone was back

— ᴹᵒᵗʰᵉʳ ᵒᶠ ᶜᵃᵗˢ (@meow_gnificent) March 31, 2020
MEHARPOSH
Imagine breaking records with just the first episode, that's Meharposh for you! Featuring a stellar cast, the drama revolves around Mehru whose life turns upside down as she gets married due to a meager misunderstanding and it had the audience going crazy!
Sania Saeed, Iffat Omer & Rehan Sheikh are the reason I'm going to watch #Meherposh 💕
And yes Ayeza-Danish pairing too … maybe. #mehrposh

— Natasha Kundi نتاشا کُندی (@NatashaKLondon) April 4, 2020
Yes please!
I liked #Meherposh but Sania Saeed and Rehan Sheikh stole the show. Loooooved them.

Can we have more happy and loving middle-aged couples in our shows plz?

— Adambaizar (@adambaizar) April 4, 2020
People have been ecstatic to watch the real life couple starring together:
The chemistry between Shah jahan and Mehru is awesome So happy to see Ayeza Khan & Danish Taimor back in the play after a long time..
The first ep was so good❤
Honestly every drama youre in is amazing👌@Ayezakhan_ak#Meherposh
SBHT Meher Posh pic.twitter.com/g4SMZJy6EF

— Asif Khan (@Khansahb_28j) April 5, 2020
What dramas have you been keeping up with? Let us know in the comments below!