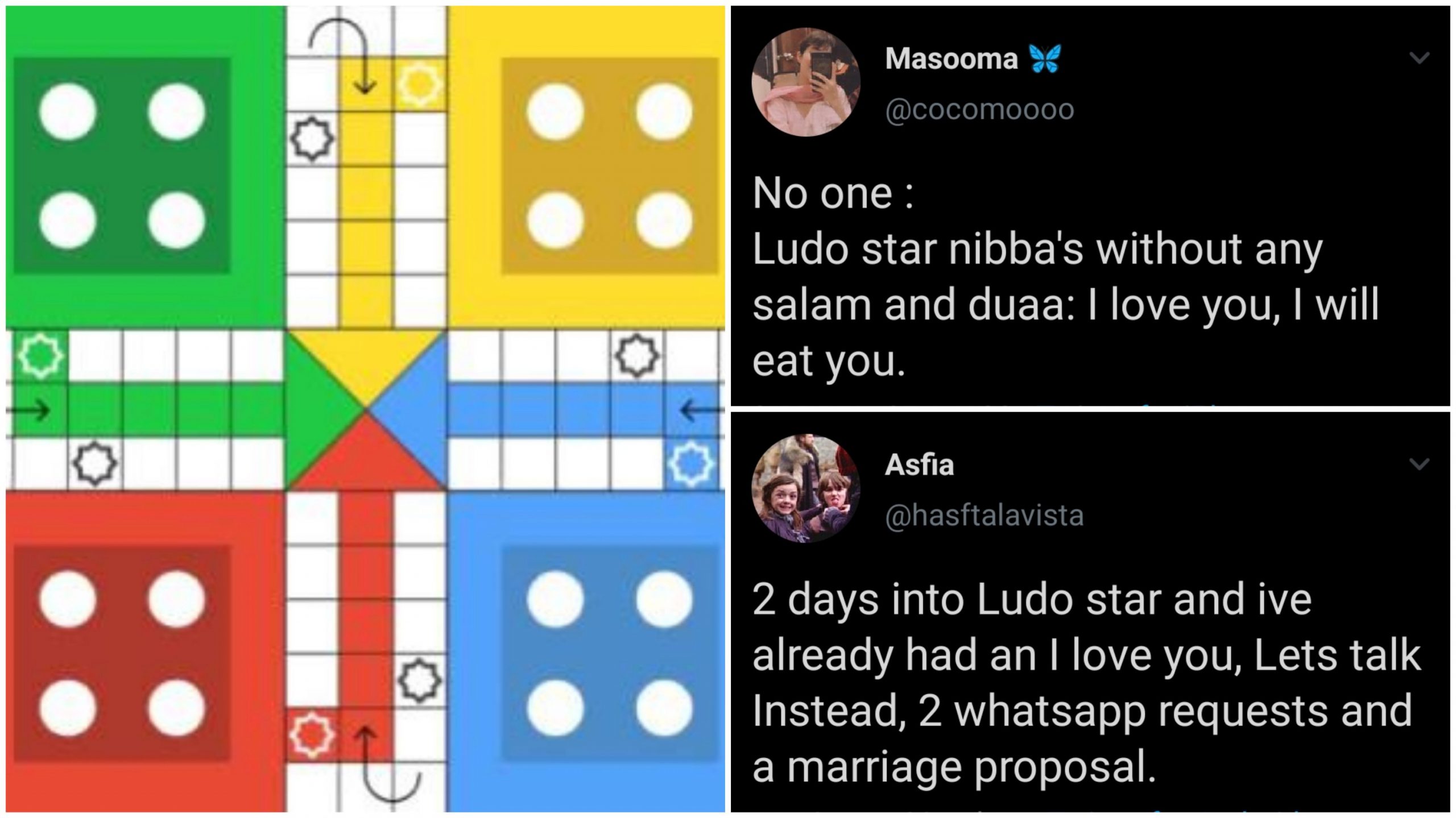 Quarantine life has us all looking for ways to kill boredom and the internet has rekindled their love for Ludo with people re-installing the Ludo Star app, and their experiences so far have been nothing short of hilarious!
When your dice rolls to 6-6-5 consecutively in #Ludo :#Memes #ludoking pic.twitter.com/QlEHRwsKZl

— Oh O Jane Jana™ (@_snehaswami) May 6, 2020
There was a meme for every situation!
When your friend does not kill your last goti in #Ludo pic.twitter.com/Ibxsu1o4lj

— Zarir Mehta (@98th_russian) May 6, 2020
Confidence ho toh aisa!
No one :
Ludo star nibba's without any salam and duaa: I love you, I will eat you.

— Masooma 🦋 (@cocomoooo) April 7, 2020
Humaray sath toh nai hota aisa!
Winning Ludo without getting killed#QuaratineAndChill #ludo #COVID19 pic.twitter.com/chBJNQN8Rs

— hemsnapped (@hemsnapped) May 6, 2020
Never a dull moment in Ludo:
I got 3 pakistanis saying "i love you" when I played ludo today. If you ever feel unloved or lonely, just play LUDO STAR ⭐️ 😂

— Lida Afghan (@LidasEyes) May 1, 2020
Literally our face when we kill someone's pakki goti:
#lockdown #Ludo
Me after cutting my friend's pakki goti in ludo pic.twitter.com/TLWJ53xcP5

— pranav singh (@ok_pranav) May 6, 2020
Tharak ka koi ilaaj nai:
No one:

Literally no one:

My friend to every girl in Ludo..#Ludo pic.twitter.com/2TU59cQCwN

— REHAN HANIF (@Rehan5Hanif) May 7, 2020
Hum toh doobeinge sanam, tumhain bhi lay doobeingein!
#Ludo 4 player atrocities 😂😂😂 pic.twitter.com/m3QRQEOpkT

— Massss (@rim_maas) May 4, 2020
It's biz-nesssss!
When others When you kill
kill your tokens others token pic.twitter.com/t0lGPDV7lS

— Aditi (@Aditiiiiix) May 5, 2020
That sukoon!
#ludo Nothing can give you more happiness than kiling pakki goti in ludo. pic.twitter.com/BsVbsY88fD

— Ripunjai Gaur (@RipunjaiG) May 2, 2020
Uhhh…
I have said "I love you" to every man I've played Ludo Star with this morning. Raj5441 hates me

— bo$$yp@ntz (@mladycovington) April 16, 2019
Every damn time!
Friend:- breakup hurts the most

Me:-kabhi ludo mei ek wrong move se sab goti udi hai?? 😭#Ludo

— गफाडी बाहुन (@DawadiTrilochan) May 6, 2020
Speaking in Ahmed Shah: Aisa toh nai hota hai 😡
When you have only need one to finish your Goti, but your friend in, no time, finishes all his gotti's and win the game
Me :#ludo#LudoStar pic.twitter.com/cz57d6o8xq

— Haris Qayyum (@HarisQayyum15) May 4, 2020
Hahahahahaha 😂
When she invites me to play #Ludo .
Me in my mind: pic.twitter.com/OM1j6WpAVp

— pradip SidHeart💓 (@engineer_sala) May 4, 2020
Dil ka haal:
Desh me lock down
Ludo me luck down#ludo #lockdown

— Clever Idiot (@CleverIdiot10) May 1, 2020
Kashif meine apki goti nai maari:
#meme #Ludo #StayHome
14years nibbi – after not cutting her boyfriends pakki goti in ludo
Be like- pic.twitter.com/8jTqCg9n34

— Mudit (@Mudit73889560) May 5, 2020
Well, now you do!
Didn't know #Ludo was an inspiration for this song. 😂 pic.twitter.com/7wEIrEu7k9

— BALA GB (@balagb17) May 6, 2020
Okay this has gone way too far!
You know this aunty really throw down when playing #ludo pic.twitter.com/kGd2M4VR9a

— Abu Ayah (@azadar72) May 7, 2020
Ummm?
For all the #Ludo lovers.
🤣🤣🤣🤣 pic.twitter.com/GAOOixguBW

— Himanjali Gautam (@sweetnyasa) May 1, 2020
Ya Allah, 6, 5 nai ayein iske!
Ludo players😂#MEMES #ludo pic.twitter.com/7z5MPeOoQl

— Prachi Rana (@thechilllhouse) May 4, 2020
'It's your day today!'
2 days into Ludo star and ive already had an I love you, Lets talk Instead, 2 whatsapp requests and a marriage proposal.

— Asfia (@hasftalavista) July 23, 2017
We stan the idea though!
After the lockdown ends and after we defeat corona virus, the colleges and schools should start 'LUDO STRATEGY CLASSES' 🙏#lockdown #Ludo #LOCKDOWNDIARIES

— Marvellous Mrs. Memer (@marvellousmemer) May 7, 2020
I swear!
Ludo is a real stress buster, until there's only one of your token left and your opponent has three but still they somehow manage to win. Shit algorithm. #Ludo #ludoking

— Aayush Shah (@shahaayush_33) May 7, 2020
Desperate times call for desperate measures:
Playing #ludo with ☺️

Potato – @ShinDaa_
Tomato- @IndhuShekar
Onion – @lavi_myn
Capsicum – @saarika_gow pic.twitter.com/8i0ZE7SNnZ

— 🚶🏻‍♀️ (@ShinDaa_) May 8, 2020
Hum toh itne ghareeb hain ke humain pata hi nai hai themes ka 😂
Ameer log

Bahot bade ameer log

Phir ate hai LUDO me theme kharidne vale😂😂#Ludo #ludolover

— Harsh Golakiya (@DocProfessor2) May 7, 2020
We do!
Being playing a lot of #Ludo latetly, does anyone else see a Ludo Board in this Photos? 😊

📸 @totallytrashed | #Islamabad pic.twitter.com/IsUipibMwP

— Islamabad (@Islaamabad) May 3, 2020
Raise your hand if you can relate!
Ludo is new dating app.#Ludo #lockdown #tinder

— ~B A B Y P L U T O~ (@ATHARALIM1) May 8, 2020
How have you been passing your time during quarantine? Let us know in the comments below!