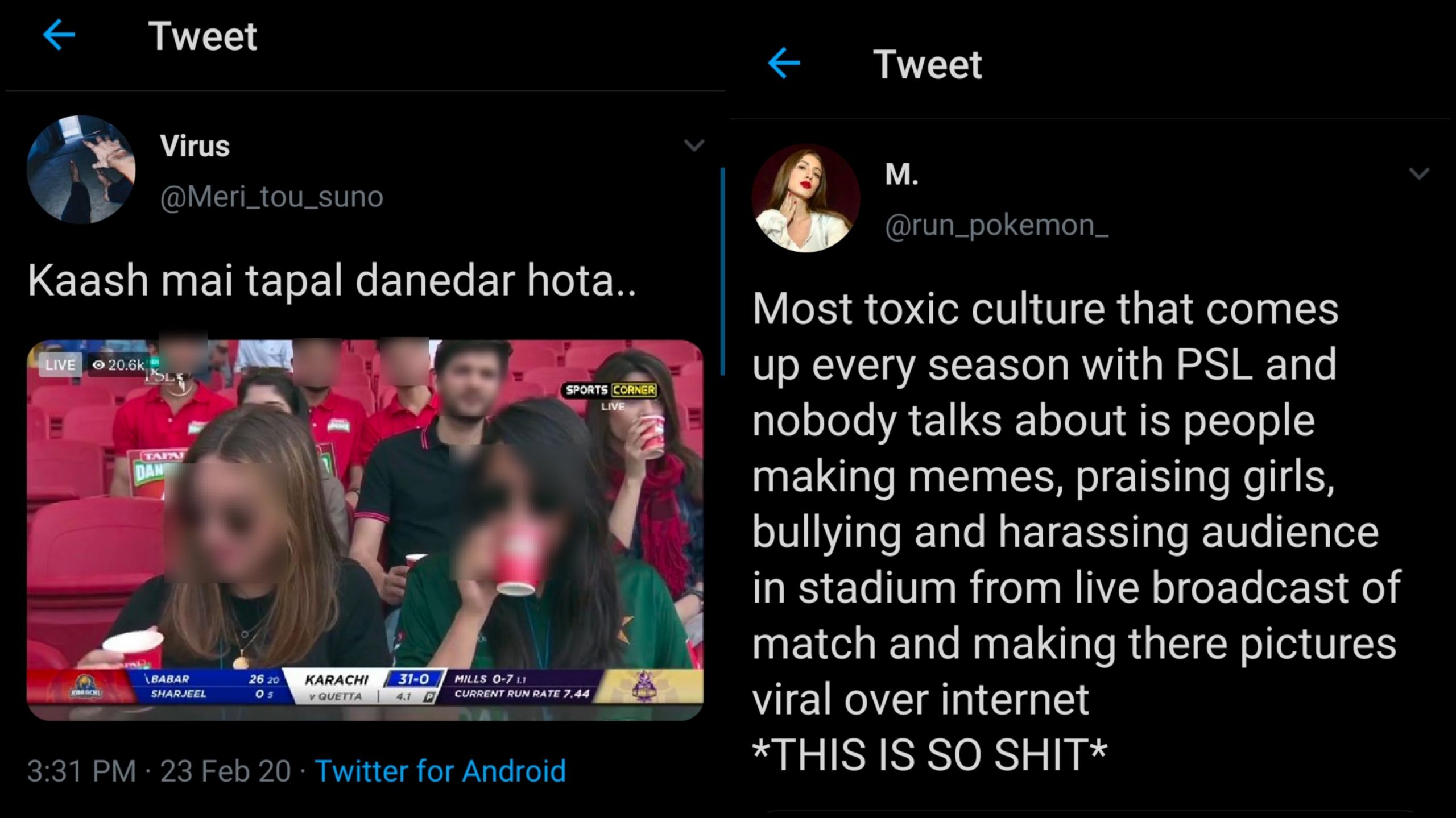 Imagine going to attend a match and having a good time, only to come home and realize that your pictures have been circulating on social media with the creepiest captions, that's PSL for girls. In am already toxic society, this perverse behaviour is the last thing we need.
Ever since PSL has begun, there have been an array of thirsty tweets popping up with every match, and the netizens are sick of it!
PSL season is a constant reminder of how tharki (and proud!!) pakistani awam really is

— NicoDiAlec 🌈 #saveshadowhunters (@NicoAngelochxh) February 24, 2020
People have been sharing absolutely crass tweets about the women in the stadium:
Kaash mai tapal danedar hota.. pic.twitter.com/uwBv685VVA

— Virus (@Meri_tou_suno) February 23, 2020
From colour to pigmentation, no one was spared:
Aunti Hands p Beauty Cream lgana bhool gi
Oh lagdi Lahore di aa😂 pic.twitter.com/3wvad4oeg3

— Haniirajput (@haniirajput) February 22, 2020
It's 2020 and people still think calling girls 'bachi' is acceptable:
Kia cute bachi h yarr pic.twitter.com/42fbZJ8IPP

— Haider (@lhoreQalander) February 24, 2020
But the bar was lowered from bachi to maal immediately in the very next tweet:
kia maal h yar ouffff

— Haider (@lhoreQalander) February 24, 2020
Sick of the toxic tweets, the netizens made it a point to call out on everyone who was involved:
Most toxic culture that comes up every season with PSL and nobody talks about is people making memes, praising girls, bullying and harassing audience in stadium from live broadcast of match and making there pictures viral over internet
*THIS IS SO SHIT* https://t.co/eibWav5O0G

— M. (@run_pokemon_) February 23, 2020
Absolutely!
Anyone posting pictures, without permission, of girls and boys watching PSL matches, should be in jail.

— Azam Jamil (@AzamJamil53) February 25, 2020
People made sure they came back with solid facts!
It's called hyperpigmentation and half the country has it on various parts of their bodies. pic.twitter.com/pUXRIHdwOV

— Virghoe ♍ (@la_vie_en_toast) February 23, 2020
People were upset that they can't even enjoy a match in peace:
Ever since PSL has started, there are pictures circulating of girls as well as boys sitting in the audience with thirst/desperate captions on it. How low our people can go? People can't even watch a match in peace? Is this Islamic republic of pakistan?

— Hafla (@Hafla_noor) February 25, 2020
Some spoke from their personal experience:
I asked my sister if she wants to go watch PSL and she said she doesn't want her picture with wierd captions on the internet and I felt that. She is a crazy cricket fan and she can't enjoy it in the stadium because of creeps like this https://t.co/J6CGZw8I4d

— Saad (@OverLord_Xd) February 24, 2020
Many suggested that the PCB management should set some ground rules for the camera men and the spectators:
Social media is a power to you but the trend of sharing pictures of girls from the PSL crowd with an unethical caption is not a good thing.@TheRealPCB should make some rules for cameramen and the social media users should also behave.
Otherwise the consequences can be fearful.

— Mr. Geek (@imMrGeek_) February 25, 2020
People were appalled at the open harassment:
You know your countrys in shits when men start openly making jokes about harassment. Or openly harass I mean…. https://t.co/NFLmjBh4Vj pic.twitter.com/bZFa9IbcYr

— anxietitty (@Cupcake4ever5) February 24, 2020
People were feeling sorry for the women:
Think about going to stadium with your family and camera man caught yall in the frame nd when you get back home your mother, sisters pictures revolving on internet with such captions… You guys are shitholes tbh… https://t.co/ea0wgp35f3

— Abdullah (@abdullah_tricep) February 24, 2020
Imagine going to a match to watch cricket and someone posts your photo calling you a cute bachi https://t.co/2gwLeRm8Hl

— Asam (@Asam__A) February 24, 2020
A very low blow:
Please refrain from posting girls pictures from PSL matches. It is really low, grow up. #PSL5

Cc: All page admins also

— UET's Einsteins 🇵🇰 (@uetseinsteins) February 24, 2020
People were disgusted:
It's disgusting to share people's photos with these remarks. https://t.co/Ac6wsMIJnA

— Fatima (@SNative00) February 24, 2020
It had many believing that men are trash:
Day by day we keep proving how men are trash. Pathetic and disgusting https://t.co/pPbKqP8KM8

— 6'3 tall (@ChiefShanks) February 24, 2020
Literally the worst thing to witness:
woman bringing another woman down on social media is the worst thing to witness https://t.co/DBBQRDKCEk

— Ahmed (@AhmedDamn) February 22, 2020
Girls were sharing how they would hate to have their pictures circulated like this:
Stop being a fucking creep. I'd hate my picture being circulated around with weird captions and so would any other girl, including your family. https://t.co/EV2yIuYnQ3

— Komal Salman (@komallsalman) February 25, 2020
Things people do for attention:
First he shows what a low life he is n then he enjoys the fame. Such is this social media. Exposing others has its cost. https://t.co/lByKEDHtoM

— The Knight Of Lucid Dreamsℹ (@MirrorMr) February 25, 2020
People were ashamed:
This is why Pakistanis don't deserve ANYTHING. You get good entertainment, you make fun of people. You get VIP sections, you encroach them and make life hell for everyone.

You're the scum of the scum. Ashamed of people like these, 90% of whom make up this "nation". https://t.co/z9uD9PtZXj

— Saad (@SaadNC) February 22, 2020
Many just wanted to put an end to the toxic meme culture:
Ffs stop posting random girls' pictures (from PSL) with your creepy bullshit.

Ajeeb chutiya qom!!!

— Maida Farid (@maidaFarid_) February 24, 2020
Some had legit concerns:
Guy posts photo of a random girl from PSL broadcast: 20 RTs

Keyboard jihadi quote RTs it with a moral lesson: 600+ RTs

How is this helpful to the girl whose photos are being shared?

— Owais (@RightArmFastt) February 24, 2020
And while many tweets are still out there, one of the guys who circulated a girl's picture earlier took it down and apologized:
I am sorry to the family of that girl whose picture I used for fun
I have deleted the tweet and I request everyone to remove her picture from their account

— Huzaifa (@huzaifaisingle) February 24, 2020
What do you think about this toxic open harassment culture? Let us know in the comments below!