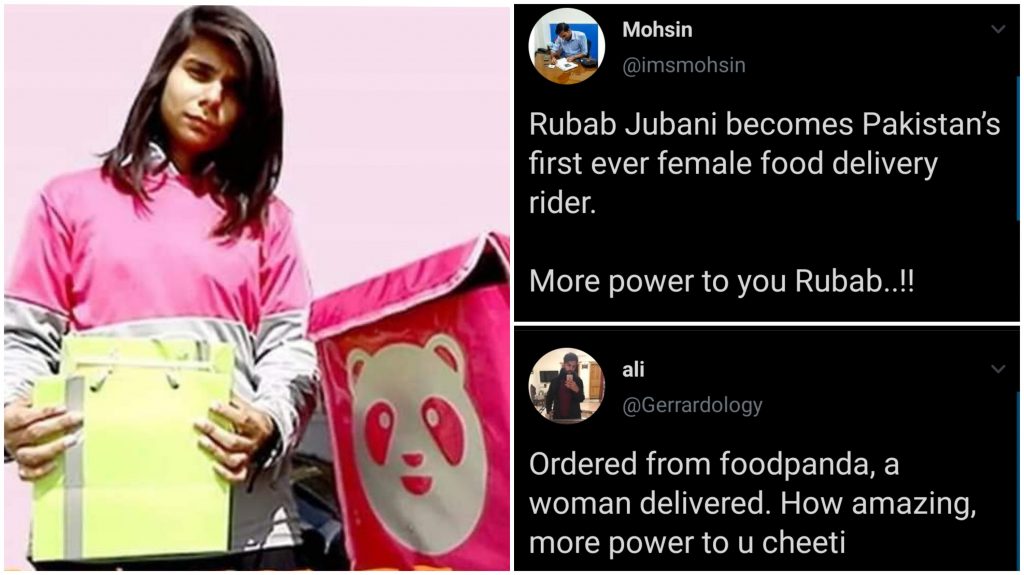 In a society that shuns the idea of women riding bikes and taking up jobs that have essentially belonged to men for ages, Rubab Jubani is breaking the stereotypes by being Pakistan's first female Foodpanda rider:
MashaAllah Great 👍👏

— A K (@LionPK007) June 8, 2020
She came to attention after a Twitter user tweeted about his he was surprised to see a woman delivering his food:
Ordered from foodpanda, a woman delivered. How amazing, more power to u cheeti

— ali (@Gerrardology) June 3, 2020
And the internet just can't stop loving her:
— Hot Potato Voice (@quinsy123) June 8, 2020
People were in love!
Rubab Jubani becomes Pakistan's first ever female food delivery rider.

More power to you Rubab..!! pic.twitter.com/MXSaRvPzpJ

— Mohsin (@imsmohsin) June 7, 2020
People were sending her more power:
More power to you girl🙌 https://t.co/3SGGskvHFh

— Syed Amar Kazmi. (@kazmisaaab) June 7, 2020
For some this was the first step to normalizing things like this:
ok its good but we should normalize things like that instead of making it a big deal. Jabhi kuch normal hoga. https://t.co/zYtV53TVEM

— Art x Hoe (@BugArt101) June 8, 2020
Aameen!
more power to theek hai but May Allah protect her from all evil in PAKistan ameen https://t.co/C1DOWCEfgz

— wiz (@wizxxo) June 8, 2020
Yaaaas!
LOUDER

— #MUSLIMLIVESMATTER (@juneoclock) June 8, 2020
Some were concerned about her safety:
Where it is a highlight, post dekh kr meray dil say oehli dua ye nikli k Allah apni hifazat main rakhay. Amin Because our social reality is a different and very dark story, laced with unspeakables. https://t.co/Zju8I5b7QA

— Libertas Aeternum (@NeverAeternum) June 8, 2020
Let's change it today and start tipping the riders:
More power to her but how could anyone like a job with minimum wage and on such unfair terms. And a job where most people don't even consider tipping their delivery rider. https://t.co/q9ThoWWTwi

— Ground Zero (@MTtquraishi) June 8, 2020
People recognised her and were amazed!
She my class fellow from grade 3 🤧❤ wow more power to you

— nashedi panda (@Wajeehahj) June 7, 2020
People were sending her tons of prayers:
Allah is ki khas hifazat Fermayn Ameen.

— Cheesecake (@ChaiChahiyeh) June 8, 2020
Some actually had useful suggestions for her protection:
I would advocate foodpanda to train and give her a license weapon for her protection. We are not an ideal society for working women. May Allah keep her safe from all sorts of hardships and trial.
Ameen.

— Aman-ul-haq (@haq_optimist) June 8, 2020
Isn't it amazing? Let us know in the comments below!