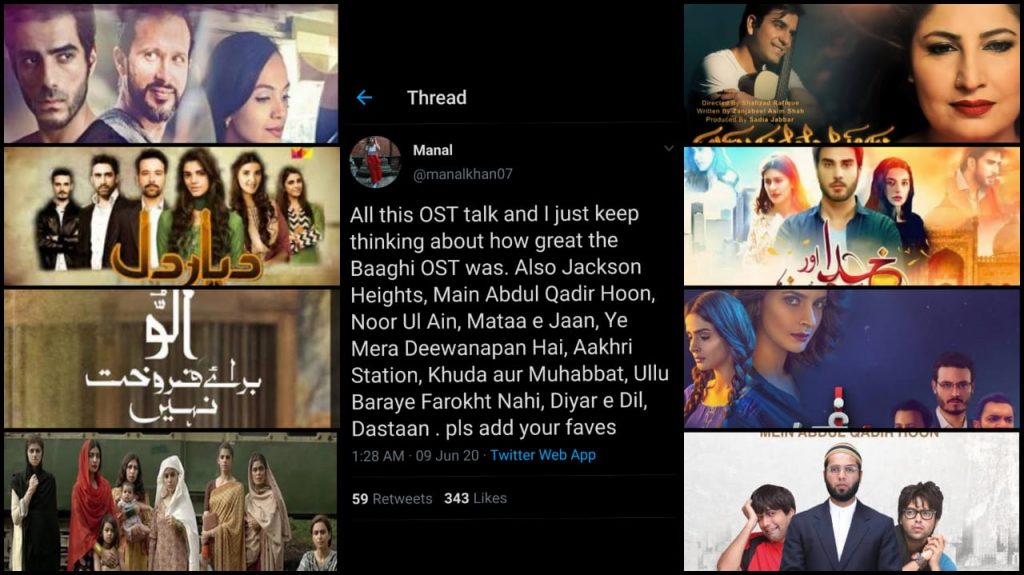 Even if the plot doesn't, drama OSTs stick with us forever, making them ever-so-green. And today the internet sharing some of their favourite OSTs, and while it may be a long list, it's worth the nostalgia!
All this OST talk and I just keep thinking about how great the Baaghi OST was. Also Jackson Heights, Main Abdul Qadir Hoon, Noor Ul Ain, Mataa e Jaan, Ye Mera Deewanapan Hai, Aakhri Station, Khuda aur Muhabbat, Ullu Baraye Farokht Nahi, Diyar e Dil, Dastaan . pls add your faves

— Manal (@manalkhan07) June 8, 2020
Aansoo was so iconic back then!
Aansoo (sorry this is early 2000s category but I am very old)

— nirmal (@DeTrop_) June 8, 2020
Omg, we love them all!
Rangreza
Numm
Man Mayal
Humsafar
Daam
Parosi
Deewana – qawali by Farid Ayaz
And all the soundtracks of those Scotland dramas.

— Bano (@BanoBee) June 8, 2020
Sang-e-marmar's OST was beautiful!
Dil e muztar, daastan, sang e mar mar, zara yaad kar, alif

— zoobia (@CosmicWonderrr) June 9, 2020
Haye, Dhoop Kinaray!
Dhoop Kinare, Teri Raza

— Turmoil in a karahi 🥘 (@halwaapoori) June 8, 2020
Oof, the Mann Mayal days:
Man mayal – QB , tere naal kiun laiyaa akhiyaa
Baaghi
Yaariyaaa- Geo
Dil-e-Muzter
Khudparast
Rangreza
Diyaar-e-dil

— Niba khalid (@nibakhalid06) June 9, 2020
Daam's OST is a gem!
Daam

— zainab🌙 (@zainabmsheikh) June 8, 2020
We remember it!
Hey Kavish did an amazing OST for Dareecha which I think is highly underrated.https://t.co/N3s1ixttKY

— Not-So-Wise Man (@NotSoWiseMann) June 8, 2020
Absolutely!
Ranjha ranjha kardi https://t.co/bBetPrBz8W

— اِک نقطے وچ گل مُکدی اے (@no_gravity26) June 8, 2020
Oh it sure was lit!
Deewar e shab's wasss 🔥

— Zarmeen Nadeem 🦚 (@Zarmeen1712) June 8, 2020
Whoa, kya yaad diladiya, Man-o-Salwa's OST was bomb!
Man-o-salwa's ost is amazing!
Man mayal

— blekh (@confused_af_) June 8, 2020
Iconic!
Tu mera nahe – merah naam yousuf ❤️
Nindiya rey – BEHADD OST ❤️

— Asr (@Asrrrra_) June 8, 2020
A drama we'll never forget!
Meri zaat zar e benishaan

— ђ (@sastifeminist) June 9, 2020
Cheekh has always been a personal favourite!
I love all of them but I really really loved Cheekh.

— Safina Nabi سفینا نبی (@soul_restlesss) June 9, 2020
Who remembers Des Pardes?
Aansoo, kabhi kabhi Pyaar mein, daes pardes, Meri zaat zar-e- benishaan, yaariyan

— Jahanzeb Khan (@Ja_Moh_Khan) June 8, 2020
❤❤❤
Cheekh OST
Dil moom ka diya OST
Alif OST
Khamoshi OST
Khaas OST
Yaariyan OST

— Asr (@Asrrrra_) June 8, 2020
Main Abdul Qadir Hoon was 🔥
Mein Abdul qadir hoon, yaariyan and cheekh

— Sheharyar (@sherYellow) June 9, 2020
Ooof, Abida Parveen's vocals for Shehr-e-Zaat!
Shehr-e-zaat, Ahista Ahista, Faisla, Nazr-e-bad are my top favs.

— Faryal Niazi (@FNiazi31) June 9, 2020
Both the OSTs were at the top of their games!
udari and
sadqay tumharay too!

— Akbar Jatoi Jalbani (@UshnaNaeem) June 9, 2020
Hain yeh silsilay, tanhaiyon ke~
Ye dil mera
Udaari
Ishq e Mamnoo
Hain ye silsilay
Sabaat
Alif

— Ayesha Kareem (@ayeshaa_kareem) June 9, 2020
Omg yes!
Went through all replies and no one mentioned Mastana Mahi's OST. SO DISAPPOINTED.

— Hasan (@koozagr) June 9, 2020
Can the list even be complete without Ehd-e-Wafa? We think not!
ehd e wafa!!!

— minahil (@minahiiillll) June 9, 2020
Khaani still is our jam 🤭
Oof the main Abdul qadir hoon ost was my JAM when I was like 12.
And then the khaani ost omg I loved it for a whole week lmaooo
Also meri zaat zarra e benishan was super nice but super depressing https://t.co/2Jzif2x2Cl

— why tho (@forevernotsure) June 8, 2020
Ooooof, all of these have a very special place in our heart!
Kabhi Kabhi Pyar Me
Thori Khushi Thora Gham
The Castle Aik Umeed
Ansoo
Ishq e Mamnoon (Original, not the RFAK version) https://t.co/73THuIPDxi

— مائرہ (@KharroosWayne) June 8, 2020
One of the most under-rated OSTs!
Aaj rang hai for Ullu barai farokht nahi https://t.co/16VEZJinSJ

— Omaid//VJD Ghar bhoo (@Omaidus) June 8, 2020
Brings back so many memories!
Mere aas paas. Atif Aslam and Hadiqa Kiani https://t.co/Sr0VyB377M

— ali (@thehistocrat) June 8, 2020
Did you favourite OSTs made it to the list? If not then comment them down below!