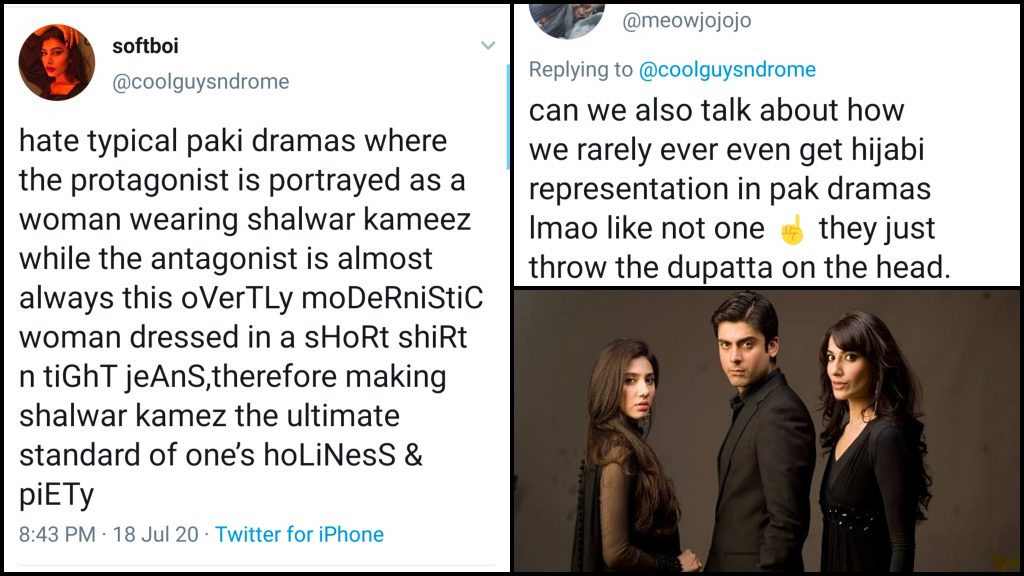 As much as we adore our drama industry, we're sick of seeing the characters being stereotyped over and over again.
One of the tweeps pointed out how Pakistani dramas have been stereotyping the female antagonists and protagonists in almost all their dramas and how it needs to stop:
hate typical paki dramas where the protagonist is portrayed as a woman wearing shalwar kameez while the antagonist is almost always this oVerTLy moDeRniStiC woman dressed in a sHoRt shiRt n tiGhT jeAnS,therefore making shalwar kamez the ultimate standard of one's hoLiNesS & piETy

— softboi (@coolguysndrome) July 18, 2020
And people couldn't help but agree!
Let me also add that soooo many times these antagonists are shown to attempt suicide as a means of manipulating the lead characters and this is incredibly disrespectful to people who suffer from mental illnesses. https://t.co/15TS2A2JYe

— Hiba (@Hibaah_yar) July 19, 2020
People were sharing the dramas that broke the stereotypes:
i loved akbari asghari bc it taught u not to judge someone by their looks, the one sister who was "modern" turned out to be the more honest one whereas the other sister used this same concept to appear holy in front of her parents but was actually lying all the time https://t.co/RIKa8z95aN

— humaira (@Humairabear) July 19, 2020
Some talked about how there's zero representation of hijabis:
can we also talk about how we rarely ever even get hijabi representation in pak dramas lmao like not one ☝️ they just throw the dupatta on the head.

— مريم 🎐 (@meowjojojo) July 19, 2020
Exactly!
Exactly, what a load of bullcrap. Normalise shorts one day, salwar kameez when mood calls for it, dress the next day and so on. That's normal, we wear what we feel like when we feel like. High time we overcome this need to analyse character based on outfits. https://t.co/TMwXBfvdYj

— Nida (@naamadaalikhna) July 19, 2020
Why?
ikr! So annoying! Why always the modern girl has to be the bitch in dramas?

— Rabia (@rabia_ejaz) July 20, 2020
People had more to add:
+ when they've served their narrative purpose i.e. bad woman (sara) vs good woman (khirad), the archetypal "bad woman" has nothing left to do but commit suicide (with none of the redemption that comes with self-immolation in, say, stories like padmavat) https://t.co/FxcyooSOUh

— comfortably dumb (@fifiishah) July 19, 2020
Some found the industry to be quite dated:
The writers/directors/costume department are so stuck in the 80's!

Even the content seems so dated https://t.co/hJhwKr8jaC

— username already in use (@shehzadkazmi) July 19, 2020
People were naming the dramas:
HUMSAFAR. https://t.co/k1GMp7qq7M

— m (@meemelif) July 19, 2020
Zindagi gulzar hai lmaooo https://t.co/IlGR7TfzDU

— Bitchara (@Gaiti_amir) July 19, 2020
Humsafar, sabaat, zindagi gulzar hai, dushman e jaab ugh theres just so many but i rarely see rich guys marrying girls from poor background 🤔

— چائے (@ChaiParast) July 19, 2020
Some think we are in dire need of better stylists:
We need better stylists with brains

— SKT (@taneerasbacha) July 19, 2020
There were many who agreed!
True that. Literally every single one

— Hiraa (@hirasayss_) July 19, 2020
yess! and they ALWAYS portray both sides.

— noor (@noorulainmehdi) July 19, 2020
Literally all of them

— Nayab Gohar Jan (@NayabGJan) July 19, 2020
And while many had their reservations, others gave justifications:
Every nation state needs an ideal woman citizen (and a man) to be portrayed so the binary of good wilful daughters & the bad women of the society can be maintained. https://t.co/ZuvFidKc6j

— Tooba ☭ 🍞🌹 #inshallahInqilaab (@Tooba_Sd) July 19, 2020
What do you think about Pakistani dramas stereotyping their characters? Let us know in the comments below!