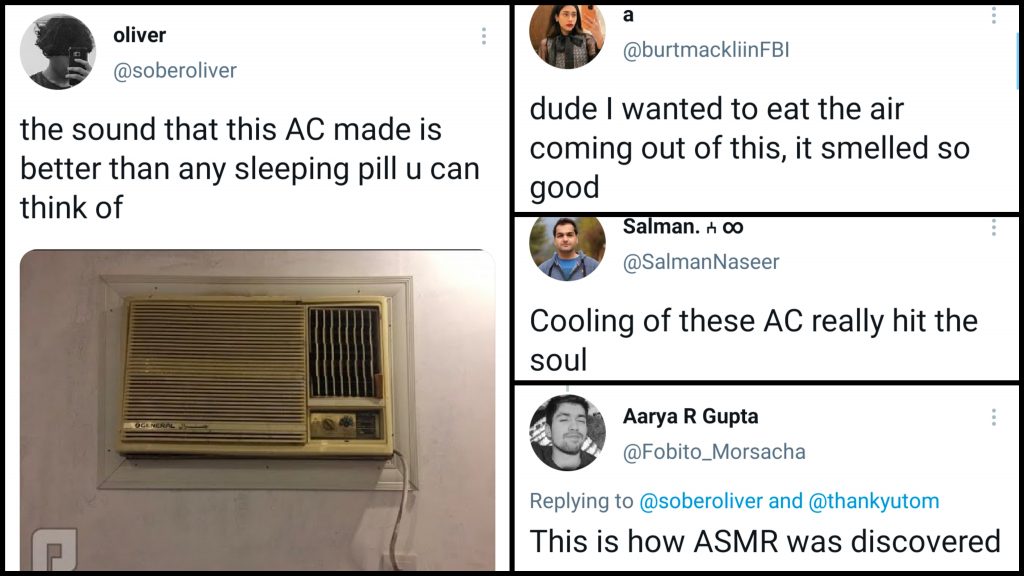 It's the time between late 90's and early 2000's, and you're all gathered in one room, fighting with your siblings to sleep nearest to the window AC and it's the best sleep you've ever had after a hot summer day! Does it ring a bell?
the sound that this AC made is better than any sleeping pill u can think of pic.twitter.com/43oeHNqywo

— oliver (@soberoliver) March 19, 2021
And today the tweeple are taking a trip down the memory lane after someone mentioned the iconic window AC:
That start up cold blast …used to stand infront of it to enjoy the moment 😄 pic.twitter.com/cRopjZnrZ1

— AF (@AfAysh) March 20, 2021
Haha, and the lecture from parents that followed after:
Yes true but after a month when this AC bills show up, it makes you sleepless that one might need double dose of sleeping pills 😛

— Mohib Wazir (@WazirMohib) March 20, 2021
Ah, our noses clearly remember!
And the smell of that cool blast!!

— Amina Bajwa (@aminabajwa) March 19, 2021
Haina?
Haddiyan thandi hojti hai is se.

— Tem. (@Fitayymoo) March 19, 2021
I know right?
This air literally smelled sweet and felt like summer

— . (@noomnoooom) March 19, 2021
Facts:
Might keep your parents up at night bcz of the bill.

— ء (@ShiftlessLad) March 19, 2021
Therapy!
Just looking at this pic makes me feel all woozy and relaxed

— Zahra (@ZaraxShaik) March 20, 2021
Because it brings Murree to you!
Having this ac and u don't need to go to murree

— Hassan_🌹 (@Kim_Dan26) March 20, 2021
😭😭😭
UFFF NOSTALGIA 😭😭😭

— CEO of Everything (@hadilonglegz) March 19, 2021
Jo baat hai!
This is how ASMR was discovered

— Aarya R Gupta (@Fobito_Morsacha) March 20, 2021
Most of us can!
I can feel this picture

— Ali Bhellar (@alibhellaar) March 19, 2021
Is it too much to ask for? 🥺
I just wanna shut the blinds, have a hearty meal, turn this bitch on and sleep on a Sunday afternoon during the Summer vacation https://t.co/aNaCDZyIid

— sterling (@UrNextDoorRaju) March 20, 2021
YES!
need a 10 hour youtube video of this sound https://t.co/kJKIKm5hcN

— yousef (@YNAmxn) March 19, 2021
Exactly!
These inverter AC's have nothing on this. This was elite. https://t.co/hRYzxAJ6nG

— Essa (@ItsSalahMate) March 19, 2021
Hehe, yep!
you just knew the room was about to be 🥶 🥶 🥶 https://t.co/3TnFv7GQUB

— R (@rizwan_h7) March 19, 2021
Lmao, extra topping!
The air out of this had an extra topping of oxygen https://t.co/jq2wek8MJV

— Saad Rathore (@saadjamil36) March 19, 2021
Bilkul!
The one hour of this AC is better than 4 hours of any split AC. https://t.co/WBOP7b0c0S

— Sameer Siddiqui (@SenatorSameer) March 19, 2021
Coma is the word, yes!
More like coma https://t.co/8CyqI7tgFt

— سٓعِيدْ!! (@ahmedsaeedam1) March 19, 2021
Same!
this unlocked a memory I didn't even know I had https://t.co/ArnYtklKTZ

— disturbed yaryoura (@Yarcastic) March 19, 2021
The true legend!
This fine creation gave us the best and most soothing sleeps of our lives. Absolute legend of the game. https://t.co/CffH9P3MFP

— sm (@kazraz_) March 19, 2021
We've all tried eating it at some point!
dude I wanted to eat the air coming out of this, it smelled so good https://t.co/8BiOU5aGp6

— a (@burtmackliinFBI) March 19, 2021
Hahaha 🤣
Cooling of these AC really hit the soul https://t.co/j5pAsOF6rm

— Salman. ⑃ ∞ (@SalmanNaseer) March 19, 2021
True!
Fighting over the vent was a territorial war https://t.co/eCz22aIONz

— Ahrar (@A_Star_Official) March 20, 2021
What do you remember about these AC's? Share with us in the comments below!