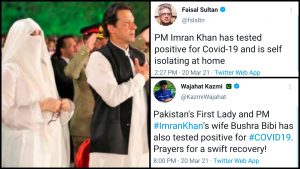 The pandemic and it's the third wave has taken over Pakistan too, and it has affected PM Imran Khan and his wife Bushra Bibi who have tested positive for corona today.
PM Imran Khan just had his first dose of the corona vaccine 2 days ago and the nation has been praying for the PM to get well soon!
Prime Minister #ImranKhan is a man with nerves of steel. He's been fighting all his life and shall get through this too. The whole nation is praying for his recovery and health. Get well soon skipper. pic.twitter.com/pxu6q5BqRB

— Abdul Qadir (@AbdulqadirARY) March 20, 2021
Molana Tariq Jamil too shared that he was praying:
I have come to know that Prime Minister @ImranKhanPTI has tested positive for COVID. May Allah grant him full & speedy recovery.

— Tariq Jamil (@TariqJamilOFCL) March 20, 2021
PM Modi too wished Imran Khan a speedy recovery:
Best wishes to Prime Minister @ImranKhanPTI for a speedy recovery from COVID-19.

— Narendra Modi (@narendramodi) March 20, 2021
Fellow politicians too kept their differences aside and wished the PM a speedy recovery:
Wishing @ImranKhanPTI a speedy recovery from COVID.

— BilawalBhuttoZardari (@BBhuttoZardari) March 20, 2021
Special prayers for the quick recovery of @ImranKhanPTI and his wife. May Allah Almighty keep whole Ummah safe from the dreadful #Covid_19.#ImranKhan

— Dr Tahir-ul-Qadri (@TahirulQadri) March 20, 2021
Yes, please!
If you have to send a Get Well Soon message to the PM, please SMS it to 7770 so that you can donate to SKMCH at the same time.

— Azam Jamil (@AzamJamil53) March 20, 2021
A lot of people were also spreading misinformation to support their anti-vaccine theories:
PM IK getting covid AFTER the first shot of vaccine makes it so convenient for conspiracy theorists to connect the two.

— Maryam (@maryamful) March 20, 2021
Ministry of Health also tweeted to clarify that the vaccine was not why he contracted the virus:
Prime Minister Imran Khan was not fully vaccinated when he contracted the virus. He only got the 1st dose and merely 2 days ago which is too soon for ANY vaccine to become effective. Anti-bodies develop 2-3 weeks after 2nd dose of 2-dose COVID vaccines. #VaccinesWork

— Ministry of National Health Services, Pakistan (@nhsrcofficial) March 20, 2021
People were also addressing the rumours and Whatsapp messages circulating claiming that he contracted the virus from the vaccine:
Covid-19 vaccine ke two dose hote hain and second dose ke two weeks ke baad vaccination ka asar start hota hai woh bhi 95%.
Please stop spreading fake news ke vaccination ke baad bhi corona ho rha hai.

— Komal Shahid (@ArmedWithWords) March 20, 2021
Was not planning to use this app for some days but I'm seeing so much misinformation being spread about the vaccine, vaccination process & all, I think I need to post a thread. Man, you wannabe woke people are so disappointing. You don't see how damaging your tweets & memes are.

— شمائل رضوان اعوان (@thatsadshamyl) March 20, 2021
Please be very careful how you frame your tweet on the pm getting first dose and then being diagnosed with covid. He may already have had it and also first dose not sufficient. Your careless wording may cause people to distrust the vaccine. Please be careful and responsible.

— Zarrar Khuhro (@ZarrarKhuhro) March 20, 2021
People wanted Imran Khan to take this opportunity to educate the anti-vax awaam:
out of all the times now like RIGHT NOW ASAP is the time for imran khan to come live & do awaam se khitab & tell everyone how the vaccine works & what happened with him is not because of the vaccine & this would REALLY help the vaccine drive survival PLEASE jani @ImranKhanPTI

— shaytani liberal (@iamkuds) March 20, 2021
People were sending messages of hope for the PM:
Dear #ImranKhan
This isn't the first time,
This won't be the last!
You've always faced challenges,
You've always fought!#GetWellSoon pic.twitter.com/2sCXoe37Zb

— Raja Faisal 🇵🇰 (@RajaFaisalPK) March 20, 2021
People were sharing how the vaccines work:
Imran Khan most probably had the exposure to Covid before getting vaccinated on Thursday. Also we need to understand that purpose of vaccines is to protect you from serious illness. Like helmets in cricket, you can still get hit on the head but the damage will be minimal.

— Mazher Arshad (@MazherArshad) March 20, 2021
The collective prayers and love from people were reminiscent:
As millions pray for Imran Khan it reminds me of my many '18 visits to SKMH children cancer ward. People of many ideologies from all over Pak had 1 thing in common: their heartfelt gratitude,their constant dua for Khan the philanthropist who provided free treatment for their kids

— Mehr Tarar (@MehrTarar) March 20, 2021
People from the entertainment industry too wished him a speedy recovery:
Wishing Prime Minister Imran Khan a speedy recovery. May Allah bless him with the best of health @ImranKhanPTI

— Humayun Saeed (@iamhumayunsaeed) March 20, 2021
Wishing our Prime Minster @ImranKhanPTI a speedy recovery. 🤲

— Ali Zafar (@AliZafarsays) March 20, 2021
Here's hoping that the PM and First Lady Bushra Bibi make a speedy recovery along with everyone else affected, and the rest start taking extra precautions and follow SOPs for their safety! Have anything to the story, do so in the comments below!