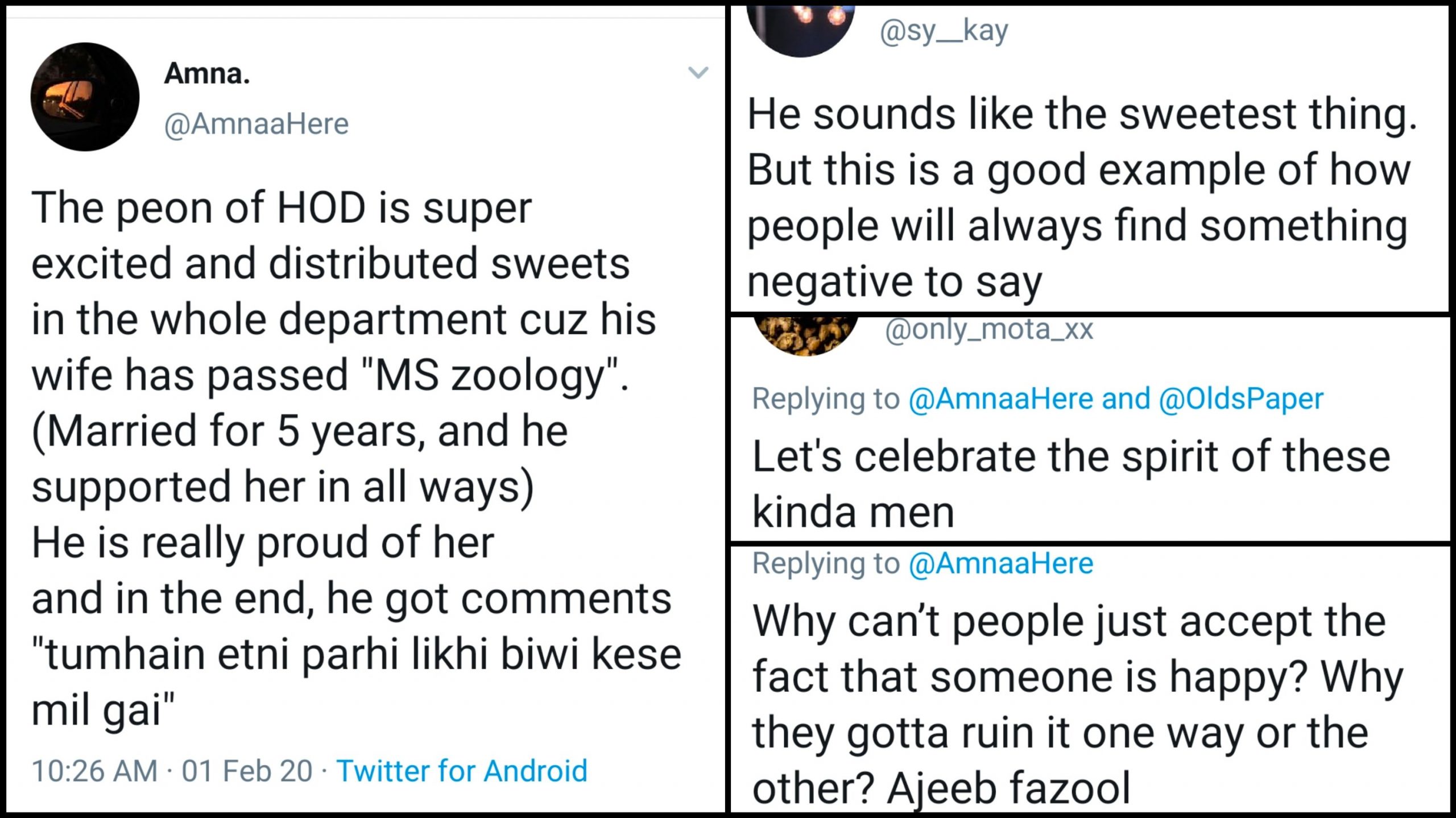 Rarely do we find wholesome content on Twitter, and when we do, we make sure to share it with everyone!
A girl on Twitter who goes by the name posted how the peon of her HOD was distributing sweets amongst everyone celebrating the success of his wife completing her Masters in Zoology:
The peon of HOD is super excited and distributed sweets in the whole department cuz his wife has passed "MS zoology". (Married for 5 years, and he supported her in all ways)
He is really proud of her
and in the end, he got comments "tumhain etni parhi likhi biwi kese mil gai"

— Amna. (@AmnaaHere) February 1, 2020
But people had the weirdest comments to give, taking away from his happiness:
His face faded for a second and then he said "haina, dekho dr hina b yehi keh rhi thi, hahaha"
That was the response. Bus.

— Amna. (@AmnaaHere) February 1, 2020
And this man's happiness is literally goals, however, the reaction he got from people was heart breaking and had the netizens furious!
Why can't people just accept the fact that someone is happy? Why they gotta ruin it one way or the other? Ajeeb fazool

— Hurma (@im_bored_loll) February 1, 2020
Jo baat hai:
He sounds like the sweetest thing. But this is a good example of how people will always find something negative to say https://t.co/81REwYZxGk

— S (@sy__kay) February 2, 2020
Some just couldn't believe the comments:
Yaar kya Yaar ajeeb

— Manahil Arshad (@Exitkidhrhei) February 1, 2020
People were sharing similar stories and it was heart warming:
Once an electrician came to my house to fix some fan and when he got to know that I was doing mbbs, he said "Meri BV bhi doctor hai, or ab voh keh rhi mujhe or zaida parhayi k liye england jana hai (prolly for FCPS) or mae usky liye paisy ikhtay karnay k liye ab 2 time job kr rha

— ghalib (@sochteyhainkuch) February 1, 2020
And this was one of the most wholesome act I've heard of. He wasn't even kidding he told me everything about her journey. Where she did her mbbs from, housejob and everything related.

— ghalib (@sochteyhainkuch) February 1, 2020
Soch soch ki baat hai:
Our electrician had a wife who had done her masters because people in rural areas educate their daughters too.

— Maliha. (@MalihaAbbasi) February 1, 2020
Kyun?
Na khud kisi ki khushi mn khush hotay hain na kisi aor ko khush honay daitay hain

— Brown Girl ✨ (@the_desi_dream) February 1, 2020
People were proud of the man:
Kitna galat krty hain log .. agr koi khush hain jese bhi hain .. aik sath hain.. I m proud of that man k ussne apni wife ki support ki n wo khush rahe hain saathh

— anmolliaquat (@enna_321) February 2, 2020
Waqayi!
Soch badalnay ki zrurat hai 🙂

— Mian Afaq Ali (@AfaqMian) February 2, 2020
And the difference is very clear:
And ladies and gentlemen That's the difference between a person with no higher education and jaahils mastered in jahalat https://t.co/MDLwpxu53X

— 𝔓𝔥𝔬𝔢𝔫𝔦𝔵 (@Alinalogy) February 1, 2020
The real kings!
Let's celebrate the spirit of these kinda men

— Black Blood Cell (@only_mota_xx) February 2, 2020
Sad indeed:
Sad. Our society and culture disgusts me sometimes.

— Dr. IK (@DrMIK7) February 2, 2020
People were lauding the man:
— Akram Jawed (@AkramJawed947) February 2, 2020
Dusron ki khushi mei khush rehna seekhein:
Hamari jahil qaum kisi ko khush nahi dekh sakti

— Hina Tabassum (@KhatriHina) February 2, 2020
We stan this reply!
He should have replied, "because we deserve each other."

Shitty people 😡

— Asterisk (@le1aveclesailes) February 1, 2020
Apt!
Loug aur unki ghatya baatein. https://t.co/QQDhDK753R

— Ayesha A (@Ayeshalangrial) February 1, 2020
People were appalled at the audacity:
How people have the audacity to even talk lile this is beyond me, should have distributed poison to them https://t.co/illbaMdGvj

— thot (@makhdeyruksha) February 1, 2020
When will our society stop focusing on the negatives:
I met a couple once because the girl was my mom's colleague, she has done her PhD and got appointed as DEO recently while her man is a clerk.
They're happily married 🌸💕 https://t.co/hwGepj7HeM

— Aisha (@obscured_minion) February 2, 2020
#NotAllMenAreTrash:
Phir yhi lrkiyan bolti ha men are trash . Blah blah https://t.co/TVNGI28j5B

— ارباب 🇵🇰 (@Pure_Pakis) February 2, 2020
Beshak:
جوڑے آسمانوں پر بنتے ہیں۔ https://t.co/cMWQuUuHv1

— Fuse (@realFuseReviews) February 2, 2020
💔
Kbhi khush ni hote log doosron ki khushi mai https://t.co/juhcQpvZxN

— Maheen Agha (@maheen_agha) February 1, 2020
Some were hopeless:
Shitty people inki soch ni bdalni ajeeb
More power for such great men!!

— JANNAT (@Coolest_potatoe) February 1, 2020
We stan a man who knows the importance of education! What do you think about this bittersweet tweet and people's reactions? Let us know in the comments below!