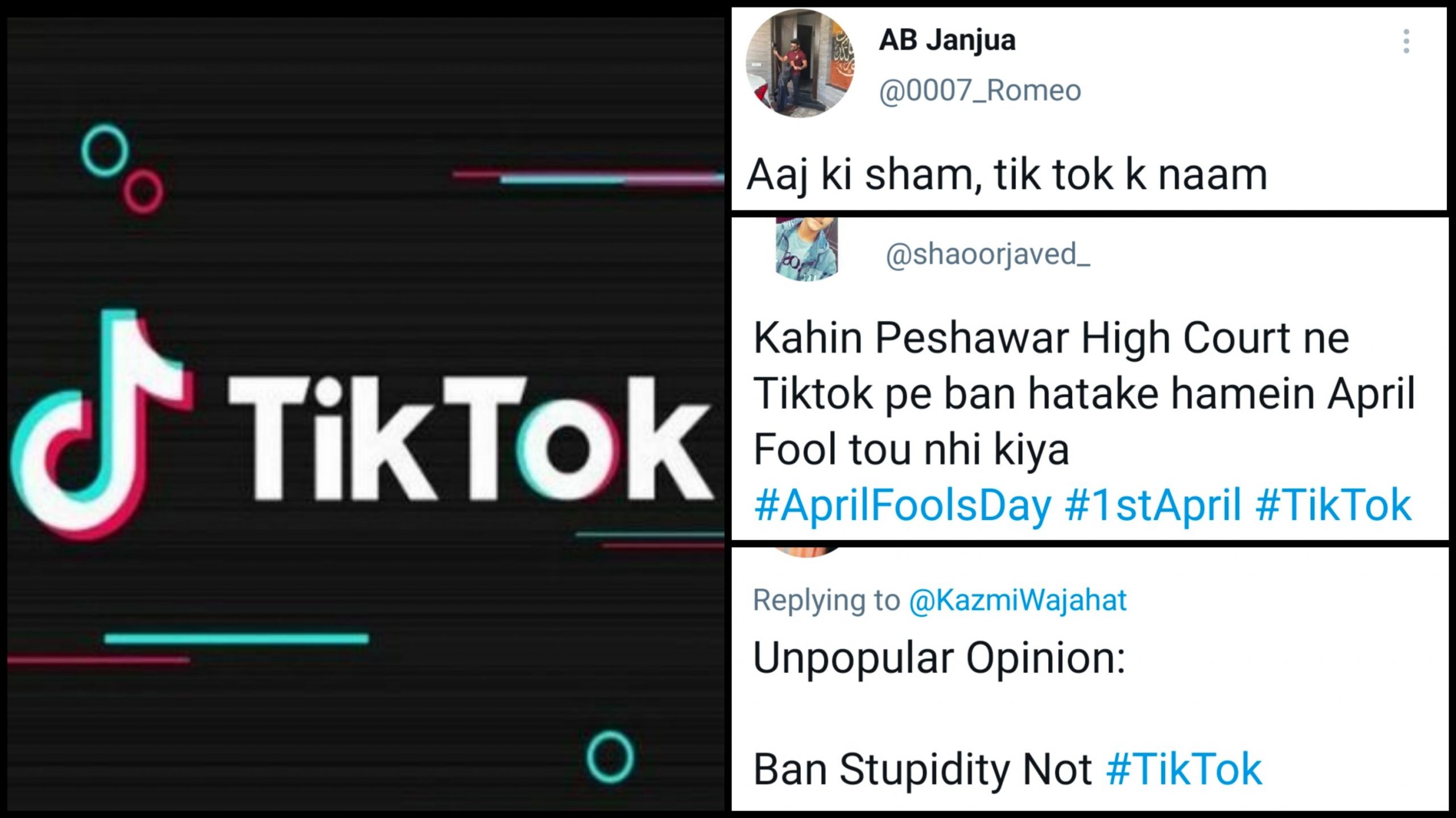 If there's an app that's always on the edge, it's Tiktok for Pakistan. Despite being banned several times in the past, the app continues to get unbanned. And the latest ban by Peshawar High Court is no different!
Pesh HC has suspended the operation of single bench judgement,ban on @TikTok_Paki has been lifted,my submission is lets be very careful while taking decisions that may effect Economic future of Pak,we need a framework to encourage int companies so to make Pak their investment hub

— Ch Fawad Hussain (@fawadchaudhry) April 1, 2021
And with the lift of the ban, people had a lot of opinions, some supporting the lift of the ban while some still want the ban to continue!
Totally agree with @fawadchaudhry #Pakistan needs to end ban culture
We need to find solutions rather than banning everything.

We are living in 21st century,Our judiciary needs to be very responsible while giving Judgments, bcz it is effecting Intl Investments in 🇵🇰@TikTok_Paki https://t.co/eWouyvRqmx

— Arslan Fida (@arslanfida) April 1, 2021
People felt the same way as Chaudhry Fawad:
Agreed. These things must be in the domain of the executive branch of government. One ban can affect market sentiments and every other initiative goes down the drain.

We must come to grips with the fact that it's nearly impossible to morally police SM now. Harness it. https://t.co/ZlHNiyPZJl

— Amir Zafar Khan (@AmirZKhanLawyer) April 1, 2021
People also took this opportunity to throw shade at the Peshawar High Court:
38,464 cases are pending in Peshawar High Court, involving murder robbery and many other criminal and civil cases of serious nature. But Priority was to lift the ban from tiktok. A nation priorities decides its future#TikTok

— Yusafzai (@virtualkhan) April 1, 2021
People had questions:
Heard the news that ban on #TikTok lifted by Peshawar High Court. I just wanna ask one question from honourable Peshawar high Court, "Kya kuch din ban lganay se be-hyai khatam ho gai?" 🤔 pic.twitter.com/8Pi19YREtK pic.twitter.com/eKxjb7ZLkE

— Abdullah (@Abdulla26557692) April 1, 2021
People were thanking the Peshawar High Court for the decision:
Shukria Peshawar High Court
Pakistan Hamesha Zindabad

— Shaheer Sialvi (PAK) (@ShaheerSialvi) March 26, 2021
Some were disappointed:
Peshawar high court lifted the ban on #TikTok
Le me to judges👇 pic.twitter.com/73p5oVGLQU

— Muhammad Afnan Wattoo (@FlyingPeregrine) April 1, 2021
Others wished this was an April Fools day prank:
Wish it's an April Fools prank by Peshawar High Court #TikTok #tiktokban pic.twitter.com/LoHjXiPPIL#TikTok

— #Umar Waqas (Digital Marketing Director #Pakistan) (@mumarwaqaas) April 1, 2021
People were wishing for the ban again:
— ⬇↘➡ ✊ = Hadouken (@TheAsifAli) April 1, 2021
🤷‍♀️
Ban Lagaw , Ban Khatam kro https://t.co/2t5tqz3clV

— Maaz Ullah Mishwani🇵🇰 (@maazkhan45685) April 1, 2021
People thought it was about time the ban was lifted:
About time https://t.co/xQ3TpVz2lp

— Maheen Humayun (@MaheenHumayun) April 1, 2021
Lol:
Aaj ki sham, tik tok k naam https://t.co/5IFkrmNZds

— AB Janjua (@0007_Romeo) April 1, 2021
People wanted content regulation rather than banning the app altogether:
There is no need to ban the app but there must be a guidelines for the users to follow,

— Ejaz Mehsud (@EjazBhaiMehsud) April 1, 2021
People were also calling out the courts and their inability to stick to a decision:
Lol what a drama is being set by our courts. They even can't take a decision regarding one app whether it should be banned or not.

— زوبیہ سدوزئی (@ZobiaKhan93) April 1, 2021
People found it to be a poor decision:
Poor decision

— Umair Nawaz (@Engr_UmairNawaz) April 1, 2021
People were sharing the reactions of Tiktokers:
My #TikTok friends right now😃 pic.twitter.com/sCSgRLIUCm

— Ubaid Ullah (@chandikha9) April 1, 2021
People were also calling out the authorities' failure to filter content:
Judiciary has making mockeries itself.. it had banned tiktok few days ago, now it lifts banned without any significant development to filter vulgar material…

— Umer Shehzad (@_umer_umer) April 1, 2021
😂
Choona lgany main mere Dost aj bhe Dosry number py hain.#TikTok pic.twitter.com/CUr9XA0sbL

— JahanZaib (@JahanZaibb_) April 1, 2021
People were sharing how a ban on apps is counterproductive to the growth of digital economy:
#TikTok ban lifted in Pakistan – for the 2nd time.

Blocking of apps by policy makers & judges with little knowledge of technology on the pretext of morality & obscenity is counterproductive to the growth of our digital economy, violates rights, & impacts livelihood of many. Stop

— Usama Khilji (@UsamaKhilji) April 1, 2021
What do you think about the lifting of the ban on Tiktok? Let us know in the comments below!