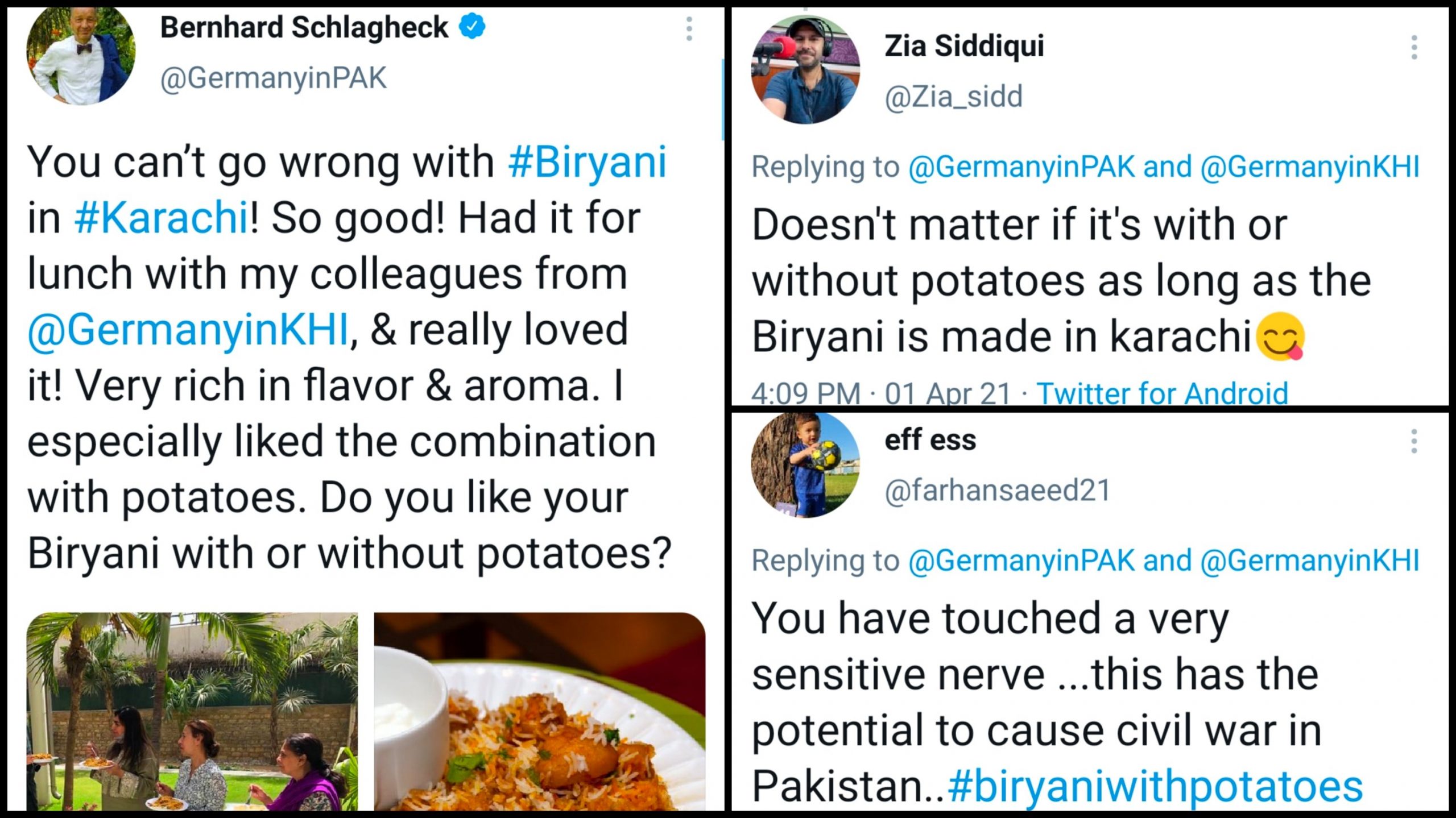 Karachi is known for its biryani, be it beef, chicken, mutton, channa or the saada biryani! Basically, the K in Karachi stands for King of Biryani and even the German Ambassador to Pakistan agrees!
You can't go wrong with #Biryani in #Karachi! So good! Had it for lunch with my colleagues from @GermanyinKHI, & really loved it! Very rich in flavor & aroma. I especially liked the combination with potatoes. Do you like your Biryani with or without potatoes? pic.twitter.com/CqvITePH5i

— Bernhard Schlagheck (@GermanyinPAK) April 1, 2021
And while he loved having biryani for lunch with his colleagues, he's sparked THAT debate yet again!
Karachi is biryani capital

— QJ👨‍💻 (@QaziJamil) April 1, 2021
Haha, too late!
Do not, i repeat do not open that Pandora's box. People will go to war on this potato debate.

Btw, Biryani is incomplete without potatoes.

— Ammar (@Ammar_Haider) April 1, 2021
True that!
No one can beat #Karachi biryani across the world indeed very delicious specially beef #Biryani with potatoes. 😋😋 pic.twitter.com/sbw7dly8E0

— Syed Arif 🇵🇰 (@loyalwarrior111) April 1, 2021
We take our biryani very seriously, okay?
You have touched a very sensitive nerve …this has the potential to cause civil war in Pakistan..#biryaniwithpotatoes

— eff ess (@farhansaeed21) April 1, 2021
Team biryani-with-aalu was at it!
H.E even though I'm from Punjab but i really do like Biryani with Aloo 🥔

— Rayhan (@DrRehanMirza) April 1, 2021
Agree…Karachi knows how to cook biryani 😊n with potatos is my taste 😍😍

— Saima Bukhari (@SaimaBukhari17) April 1, 2021
Biryani is NOT Biryani without the potatoes, well, at least for me.

— noor aawan (@noor_aawan) April 1, 2021
With potatoes https://t.co/Tau3LV6S5v

— Muhammad Ajmal (@the_ajmal) April 1, 2021
Please sir don't start this war of Biryani and the usefulness of potatoes in it 😫.

— Maryam Rashid (@iqbalmaryam3) April 1, 2021
Team no-aalu-in-the-biryani had its fair share of arguments:
Sir, the real biryani does not have potatos, since you started your career in pk from isb that where the violation of biryani started if u started from khi you would not even think of naming potato while eating biryani😁

— Nehle pe dehla (@yashan22) April 1, 2021
WithOUT potatoes please.
Would love to have it delivered for lunch. ❤

— Mazhar Hayat (@OfficiallyHayat) April 1, 2021
#KarachiKiBiryani I love beef with potatoes as well https://t.co/8PXIFVRR49

— Furqan T. Siddiqui (@furqantsiddiqui) April 1, 2021
With potatoes………… https://t.co/AYOlhBDI1P

— asim (@asimlodhii) April 1, 2021
Without https://t.co/8JwzMIOek3

— Naveedmughaleng Mugh (@naveedmughaleng) April 1, 2021
Without Potatos always.. Aalo wali b koi biryani hoti hy bhla! https://t.co/vDLzuNsQi8

— Wasim Jamshed satti (@pakipower_pti) April 1, 2021
Wait, whattttt?
Potatoes a must in a Biryani along with boiled eggs.

— AJ (@janclaudeakhtar) April 1, 2021
Why are we salivating already 🤤
Spicy beef biryani with potato, the beef should be with bones and lot of "rawaz" that is type of drppings

— Noman Ahmed (@nomansyedi) April 1, 2021
Hahaha, yes!
We already had a referendum over biryani with potatoes or with chicken. It was a draw. Don't foment domestic turmoil in Pakistan over such sensitive matters.

— M. Qasim Khattak (@KhattakQasim) April 1, 2021
Yeh bhi theek hai:
Some questions are too ridiculous to answer. https://t.co/So5HPKXU4G

— Muniba Kamal (@MunibaKamal) April 1, 2021
We have a winner!
Doesn't matter if it's with or without potatoes as long as the Biryani is made in karachi😋

— Zia Siddiqui (@Zia_sidd) April 1, 2021
With or without…. we need just biryani 😀

— Hussaan حسان (@Hayder_ium) April 1, 2021
How do you like your biryani? Let us know in the comments below!