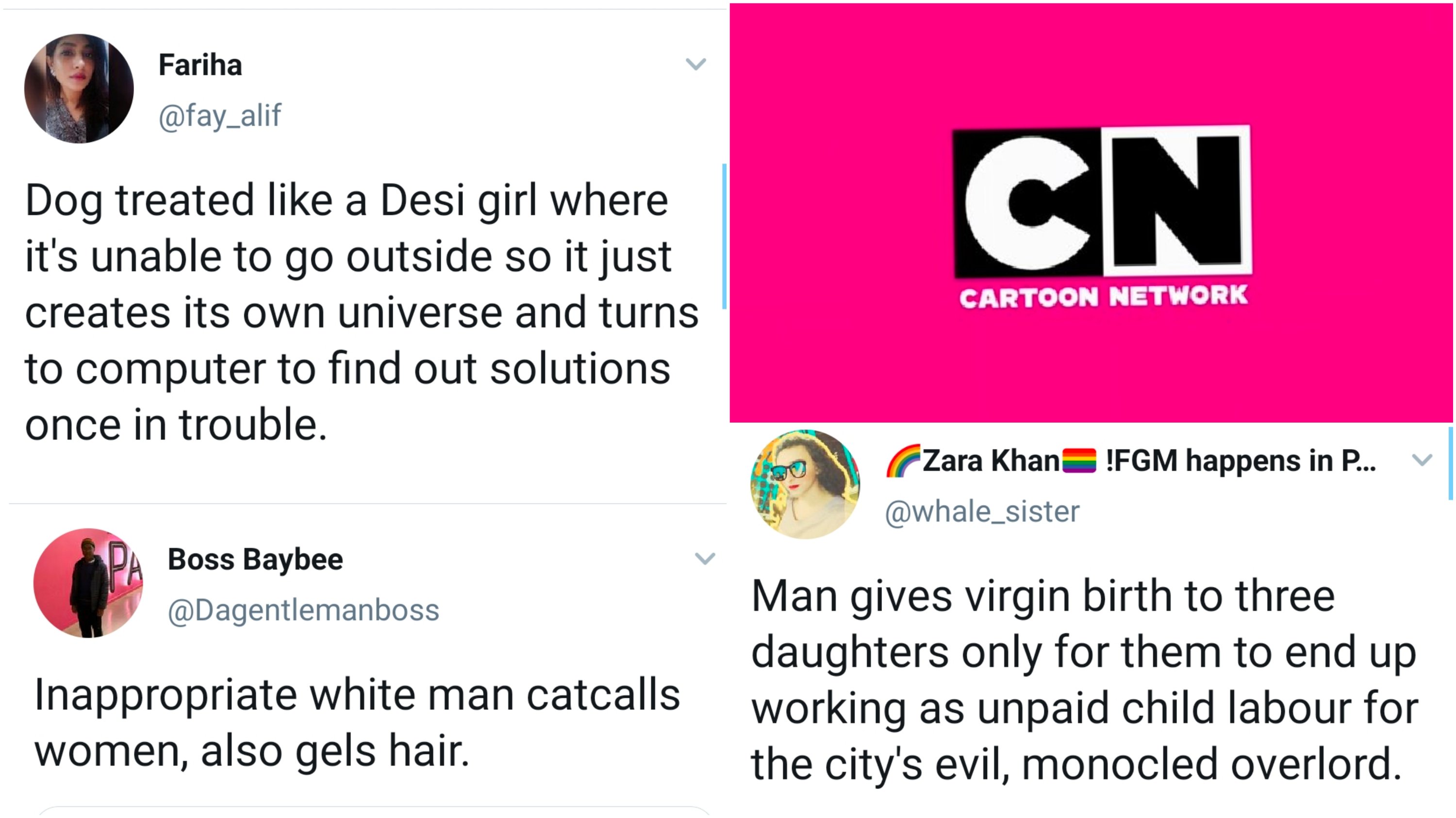 Cartoon Network has been a vital part in all our 90s kids lives, and we've witnessed some of the best cartoons, there, we said it! In a recent trend on Twitter, people have been decribing their favourite cartoon as poorly as possible nd it'll ruin your favourite cartoons for you!
Describe your favorite Cartoon Network show as poorly as possible…. pic.twitter.com/RTBQrJVVvn

— CN Confessions Backup – #FREECNC (@backup_cn) November 19, 2019
And people are really going out there, starting with everyone's favourite Scooby Doo!
4 teenagers with uninvolved parents and delusions of grandeur travel across the country with their dog to ruin people's costumes. https://t.co/bzg1Rebdph

— pur-umeed (@rozenameh) November 23, 2019
Oh man, you shouldn't have ruined Power Puff Girls like this for us!
Man gives virgin birth to three daughters only for them to end up working as unpaid child labour for the city's evil, monocled overlord. https://t.co/cCh8usO4zj

— 🌈Zara Khan🏳️‍🌈 !FGM happens in Pakistan! (@whale_sister) November 23, 2019
a pharmacist tried to make some kool aid and created three girls who enact repeated state sanctioned violence on a nonbinary person of color and a monkey https://t.co/Y9gxvjQOG5

— jaboukie (@jaboukie) November 22, 2019
SWATCATS!
Two cats fly a jet https://t.co/tiyPEZyLRj

— Kabutarr ja ja ja (@queserasarasara) November 23, 2019
Ed, Edd and Eddy with their thirst for them jaw-breakers!
3 adolescent boys look for various ways to scam their peers on a weekly basis https://t.co/newEVQcjap

— Casey KC 💐✨ (@LeanandCuisine) November 22, 2019
3 outcasts trying to scam the cool kid's group they clearly can't be a part of in order to make money to buy candy to make up for the obvious parental neglect while occasionally getting chased by three other desperately horny women who look like they smell like feet https://t.co/NbzdApCA6c

— Ushnaa🐾 (@Lanaschild_) November 24, 2019
Hmm, that's one way to look at Foster's Home for Imaginary Friends:
An old woman, who was a social outcast in her youth and had no real friends but her imaginary ones, hence creates a house and fills it up with all imaginary creatures who got abandoned once their owners grew up and forgot about them so children like her can "adopt" a new friend https://t.co/8x2TPPfm0h

— the misandrist next door (@amnaaww) November 24, 2019
Okay, wow, mind is blown!
Dog treated like a Desi girl where it's unable to go outside so it just creates its own universe and turns to computer to find out solutions once in trouble. https://t.co/aaIIbMZO5q

— Fariha (@fay_alif) November 23, 2019
A married old couple lives where no one else does and their dog has siri as best friend https://t.co/MptUg5RaEP

— Moochar (@AsliBinLaden) November 23, 2019
Impoverished rural couple comes to terms with aging & isolation as their devout purple dog fights their demons on their behalf

— Charnell (@charnellpeters) November 22, 2019
Dog risks his own life multiple times to save his dumb owners from cannabalistic zombie filmmakers, murderous alien space ducks, a lanky anthropomorphic cat businessman, talking banana monarchy and many others https://t.co/BkIdpDgfiR

— ♡ JV ♡ (@javi_draws) November 23, 2019
LMAO, Johnny Bravo descriptions for the win!
A guy in his mid twenties with a blond mohawk and an accent like Elvis, who lives with his mother because his dad ran away when he was a kid so clearly he has daddy issues which results in his vain and often offensive behaviour towards women and also his befriend https://t.co/8x2TPPfm0h

— the misandrist next door (@amnaaww) November 24, 2019
Skirt chasing, muscle bound black shirt aficionado that would definitely be swept up in the #metoo movement if he was on tv today.

— My Name is My Name (@rfpcrawford) November 22, 2019
Misogynistic white male skips leg day every day https://t.co/bVnSjTtWZI

— Santa Pause🇹🇹 (@NotARedMan) November 23, 2019
Inappropriate white man catcalls women, also gels hair. https://t.co/5TEZZl1b1x

— Boss Baybee (@Dagentlemanboss) November 24, 2019
Gotta love this one for Samurai Jack!
A man gets lost in Technopunk LA with nothing but his bathrobe and a shiny stick.

— Degree Negro (@_winley_) November 22, 2019
Leave Dexter alone, okay!
5'5 boy gets bullied by 6'2 sister because he won't let her use his toys while their thick ass mom pretends not to know what's going on despite ol boy running their electricity bill.

dad is absent btw https://t.co/qO4X2fOxu6

— Dr. Agon Fly (@AcesOnSpades) November 24, 2019
Negligent parents fail to notice their antisocial loner son spends inordinate amounts of time in basement with explosives and chemicals, and is also a hypochondriac who ascribes a non-existent disease to his lunatic sister. https://t.co/wesp762HFW

— Andy Obuoforibo (@andyRoidO) November 23, 2019
Kids next door!
5 kids of different ethnicities build a cool treehouse and tackle adults with their unique abilities as a team https://t.co/F3Pu7EGqmn

— Done™ (@Meena_Harker) November 23, 2019
Never thought Grim was Jamaican and being scammed by Billy and Mandy…
a jamaican skeleton gets scammed by 2 white kids into going back to slavery https://t.co/hXHPbtG2u2

— louisiana blæck pilgrim (@_who___cares_) November 21, 2019
Which description did you enjoy the most? Let us know in the comments below!