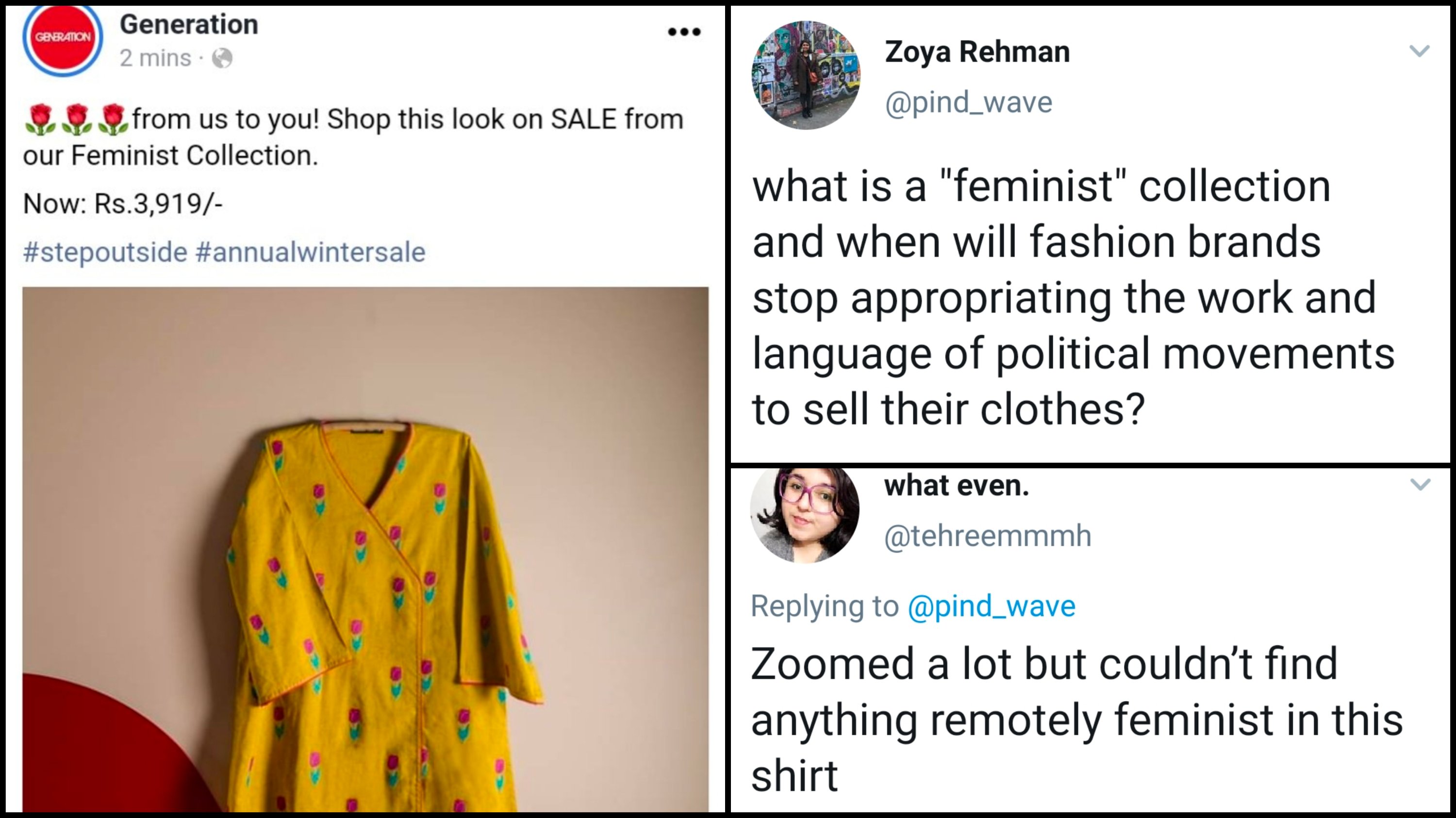 With the recent sale season, we're pretty sure your timelines too are full of sale steals! One of the sale posts by Generation was picked up by a girl Zoya and she's got questions:
what is a "feminist" collection and when will fashion brands stop appropriating the work and language of political movements to sell their clothes? pic.twitter.com/7ojQb5HBbs

— Zoya Rehman (@pind_wave) January 7, 2020
The tweet has sparked a debate on social media and the netizens are sharing what they think about picking up political movements like feminism to sell clothes:
Zoomed a lot but couldn't find anything remotely feminist in this shirt

— what even. (@tehreemmmh) January 7, 2020
Many agreed with Zoya:
Thank you for saying this. Everyone trying to sell shit with appropriating movements. I've been literally fighting off marketing agencies to mould my brand into this abomination. It's disrespectful to feminism to say the least

— Hareem Sumbul (@HareemSumbul) January 7, 2020
Times sure are changing:
So capitalism can't sell itself anymore. Not surprising it now sells feminism and socialism instead. Francis Fukuyama is right when he confesses, "socialism out to come back. Times are changing."

— Zaheer Wazir 🌹 (@zaheerwazir1) January 7, 2020
Feminism now comes with a price tag:
"feminism for 4000 rupees only."

— Zoya Rehman (@pind_wave) January 7, 2020
Some were done with the designs that the brand had to offer:
I have cancelled gen now bas bohat hogai basic ass styling

— nuwanda (@manalkhan07) January 7, 2020
Completely done with generation

— desi babushka 🌈 (@pashminakhan) January 7, 2020
Many shared the same thoughts:
OMG I just saw this on my insta and my reaction was the same. Let's now use buzz words and movements to sell merch 🙄

— Khizra (@KhizM) January 7, 2020
Umm?
Customers who bought this item also bought:
* Milaadi Scarf
* Inqilabi Student Leather Jacket
* Aurat March Mules.
* Kaptaan Dharna Chappal

— Shehryar Hydri (@sheryhydri) January 7, 2020
People were having a hard time finding anything remotely feminist in the shirt:
Couldn't find anything feminist about this shirt either 😭😭😭

— Manahyl (@manahylk) January 7, 2020
People were all for stop selling feminism:
Feminism for sell , u can wear it , #stopsellingFeminsim

— Dr.Arfana Mallah (@Arfanamallah) January 7, 2020
Ek teer se doh nishaanay:
This Generation is screwed.

— Jibran T. Siddiqui (@jibransiddiqui) January 7, 2020
Many were disappointed:
Generation went from doing everything right with their campaigns to completely butchering them. First that photoshoot where underprivileged kids were used as props and now this? Smh at their performative woke behaviour https://t.co/qLdLzHazs2

— ffk (@pleaseffkoff) January 7, 2020
Some had suggestions for expanding the line:
Gotta get me some feminist underwear https://t.co/YBeWwvUtMX

— Abbas (@absazmat) January 7, 2020
Some thought the brand should hire a copy writer:
Why to hire a copywriter: reason 9032! 🙄🤦🏽‍♀️ https://t.co/3FkKGcF8Tj

— Nidhi Dorairaj (@TypeWriterMom) January 7, 2020
Some didn't find it too surprising:
brands. forever capitalising social movements for revenue.
disappointed but not surprised. https://t.co/gaYCdOgvEs

— . (@BadassBakri) January 7, 2020
Some were appalled at the price, even after sale:
wo bhi 4k ki mc https://t.co/aP9uAWzW03

— 🍐 (@amrood123) January 7, 2020
Some had high expectations, given the price point:
It better damn well have pockets at that price lol

— Han (@rehanna83) January 7, 2020
pockets hi daal detay smh

— Waami (@Waamiz) January 7, 2020
Some were in a world of their own thinking it was a maternity dress…
Looks like a perfect maternity dress. I hope feminism is not anti-maternity these days. https://t.co/MJriprztlQ

— KHAAAAN!!!! (@TheSciencedaan) January 7, 2020
What do you think about brands marketing their products in the name of feminism? Let us know in the comments below!