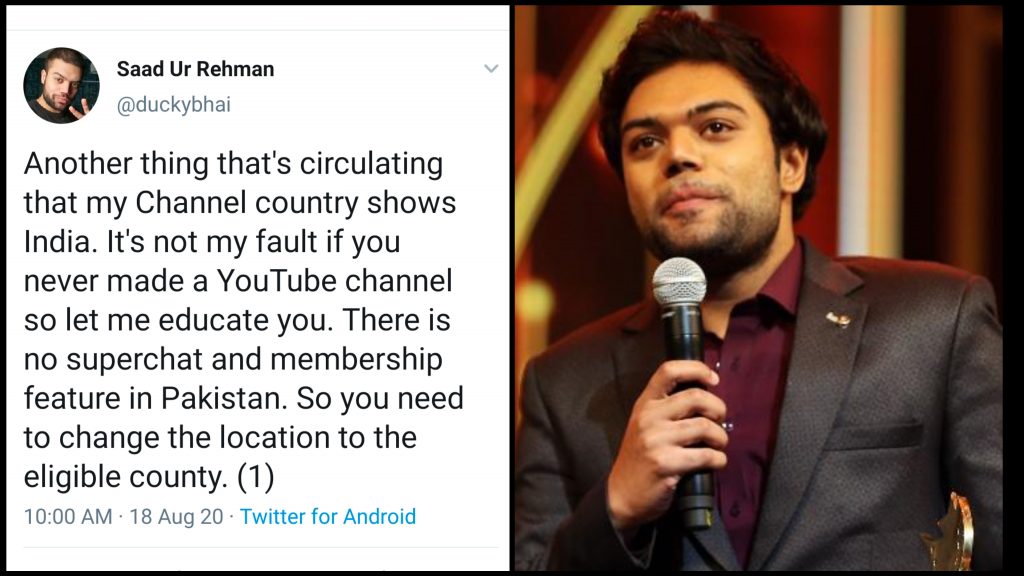 In a recent turn of events, YouTuber Ducky Bhai has been receiving tons of backlash for unleashing his followers on a girl who uploaded a picture of her dog wearing the flag around its neck, his followers have since then been bullying the girl to the extent of death threats in the name of nationalism and patriotism.
But things took a turn when someone on Twitter pointed out how Ducky Bhai keeps lecturing others on patriotism while he has his channel registered in India:
This Ducky guy is another pretend comedian who runs his channel with location of India for a bigger reach. Paise ki lalchi qoum, aur Pakistanio ko patriotism ke lecture pic.twitter.com/zLrplLRBYQ

— Mojack Shaykman 🌲🌳🌴 (@ChampagneShayk) August 17, 2020
And people were calling him out on his hypocrisy:
Aur isay hi PISA award b mila tha if I am not wrong.

— محمد بلال نعیم (@DrMBNaeem) August 17, 2020
Ahem:
Yeh hai "Patriotism" ki asliyat. He had no qualms in declaring himself an Indian for more clout! https://t.co/wLvW84t7Hp

— 𝓔𝓶𝓹𝓻𝓮𝓼𝓼 𝓐𝓾𝓻𝓸𝓻𝓪 𝓑𝓸𝓻𝓮𝓪𝓵𝓲𝓼 (@PropitiousOn3O) August 17, 2020
People had questions:
#duckybhai kya aap thoray paisoon ke liye apni "national identity" change karney ke liye tayyar hein? Ye kya hypocrisy hay https://t.co/pg9a8dhiHK

— (the not-so-great) depression (@hassonling) August 17, 2020
Jo baat hai!
Na babu, na maiya!
Sab sai bara rupaiya! 💰 https://t.co/oumZVQZuP9

— Usama Ali Minhas (@minhasusama1) August 17, 2020
Oops!
Ducky bhai said respect the flag! Unless it's about money, then it's every man for himself. https://t.co/EDFmtABY5B

— Arhum (@arhuml92) August 17, 2020
As the tweet spread like fire, Ducky Bhai took to Twitter to address the issue:
Another thing that's circulating that my Channel country shows India. It's not my fault if you never made a YouTube channel so let me educate you. There is no superchat and membership feature in Pakistan. So you need to change the location to the eligible county. (1)

— Saad Ur Rehman (@duckybhai) August 18, 2020
I am a gamer/live streamer and i want my live streams to properly work. I'll change the location to USA or UK if you want but can't change to Pakistan because of no live streams features. Just like you need to change your Facebook page location to enable your monetization (2)

— Saad Ur Rehman (@duckybhai) August 18, 2020
According to the Youtuber, he did it all to avail the feature of superchat, but others shared how the feature is very well available to those who have their location set to Pakistan:
MrJPlays is also a Paki gamer and he has set Pakistan as his channel's location. He's getting superchats without any issues. Ducky Bhai is the only guy who knows about YouTube more than anyone else. Apna fake patriotism andar le lou jab tum khud hee aik Indian YouTuber hou. (1) https://t.co/VBxK39XR5r

— Mista Ajeeb (@MistaAjeeb) August 18, 2020
People were just not having it!
While Pakistani who live in UK , best streamer location is Pakistan.

hamray Maathay pay tu chuitya leekha hai . pic.twitter.com/xezRtrlcxb

— Awahab (@i3ahab) August 18, 2020
People wanted to know why India?
Bhai India Hi kiu tu Turkey Germany bhi to rkh skta tha America bhi rkhskta tha

— D-killuminate (@dkilluminatiii) August 18, 2020
Which was ✌intelligently✌ answered by the PISA Award winner:
It's because sometimes your channels gets hacked or some other problems occus they can assign me with Hindi/Urdu speaking person for better conversation.

— Saad Ur Rehman (@duckybhai) August 18, 2020
But people still weren't convinced:
Idhr itni angrezi mar rha hai,udhr bhi mar lein

— AK (@PilayaHo) August 18, 2020
Lmao, facts!
Janu this story will only work on your 13 year old fan base 🤥

Adults know ke KISI BHI country mey customer support ke liye phone karo agay sey milta hindi speaker he hai, 🤭 https://t.co/rskhG1zh9y

— – (@maulana_banana) August 18, 2020
People were throwing shade at him:
Kash mujhe Hindi ati takeh mein yeh Hindi language mein likhi tweet parh sakta. https://t.co/YIHiktiiqd

— Qasim (@smqasimahsan) August 18, 2020
How hard is it?
Lmaooooooo bro kis ko ullu banaa rahey ho pakistaniyo ka jab koi nai hota tou uae hota hai just say you wanted a larger audience and go https://t.co/WIEkz3BEso

— Aimun (@bluemagicboxes) August 18, 2020
What goes around comes back around 🤷‍♀️
See. If you let people explain things, you may find reasons to not be offended. Try that in the future. Give others a chance to explain as well

— Raja Abdullah (@rajameyang) August 18, 2020
Itni he explanation doosron ko bhi kar lenay dia karo na♥️ https://t.co/3QRCblCPVb

— Azaadi? (@Aamnahtistic) August 18, 2020
Exactly!
All the counties in the world and you chose India and then have the audacity to give us lectures on patriotism and being rEsPecTfuL towards country?
Bhai yeh Twitter hai. You don't get away with hypocrisy here. https://t.co/2t0XSaBW0k

— S² (@PsychedSam) August 18, 2020
It's as simple as that:
Then don't stream lol, if you're patriotic you'd only do what you can do staying in Pakistan. Otherwise you're just an attention seeking hypocrite https://t.co/C9sfK1nLaS

— Majestic (@afronicaa) August 18, 2020
And while many people had their reservations, others didn't really mind the location and the debate is still on at Twitter!
What do you think about this scenario? Let us know in the comments below!