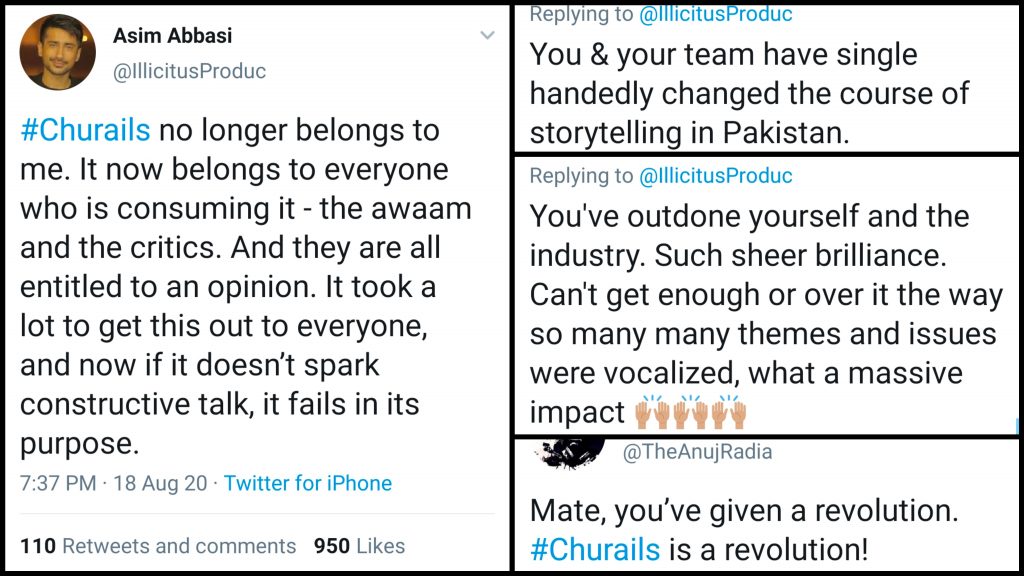 Ever since it's release, web series Churails has been the talk of the town scoring rave reviews from majority and some criticism as well.
Filmmaker Asim Abbasi who made his digital debut with the web series Churails, believes that Churails, after it's release is no more his project but everyone's who's consuming it and he's appreciative of the criticism as he is of praise:
#Churails no longer belongs to me. It now belongs to everyone who is consuming it – the awaam and the critics. And they are all entitled to an opinion. It took a lot to get this out to everyone, and now if it doesn't spark constructive talk, it fails in its purpose.

— Asim Abbasi (@IllicitusProduc) August 18, 2020
Being open to all criticism, the writer-director's tweet has left the audience in awe of him!
Kudos to you for breaking barriers and learning a long the way. And for acknowledging and appreciating the praise and the criticism. Look forward to seeing more work from you. #Churails

— Maheen Ghani (@maheenghani_) August 18, 2020
Absolutely!
You & your team have single handedly changed the course of storytelling in Pakistan.

I'm not at loss of the fact that great story tellers exists & are hidden somewhere in this country but the reason one of them had the guts to say what he wants to, is reason enough to celebrate.

— S (@theSSheikh) August 18, 2020
People were lauding his craftsmanship:
Bravo Asim 👏
You have made Pakistan proud with your remarkable craftsmanship.

Never thought that we were able to produce a product like Churails. But you showed us how its done.

Salutes and bows for you.

— Shujaat Ali (@Shujaat0909) August 18, 2020
People were finally feeling represented:
Thank you for Churails. Thank you for producing something for us feminists who are actually treated like churails for stating the obvious in this society. Everything was perfect. Please keep it up!

— HB♀️ (@HBhurgri) August 19, 2020
somehow i feel represented. somehow i could relate to all of them.
my only question (out of curiosity as an outsider) is: do such clubs & parties exist… like.. with the same intensity & vulgarity and objectification?

— 👀👀 (@fay_alif) August 18, 2020
It was so well done and intricately written. I am SO PROUD of it being a Pakistani production. For once in my life I felt represented by Pakistani media as a confused millenial girl trying very hard to love this country while still being myself! The unabashed decisions, (1/2)

— Noor Imran (@NoorImran_) August 19, 2020
the dialogues…oh the dialogues! The fashion choices, the pain, the guilt…it was all so bloody well done. Kudos to you and I cannotttt wait for your next project even if I have to buy many more subscriptions to various streaming services

— Noor Imran (@NoorImran_) August 19, 2020
People were proud of his work!
We are all really proud of what you have created! Best script in any Pakistani production ive ever witnessed. You are a genius of a writer and director. Keep making more of such meaningful and significant conten.

— Río (@PacifistRants) August 18, 2020
Definitely!
so proud of you and the whole team for executing everything so perfectly! our industry needs more artists like you guys! God bless! ♥️

— Esha. (@theshabbasi) August 18, 2020
Agreed:
Thank you for giving us churails, it's one of best things I've ever seen that too on pakistani media! Honestly, it was high time someone made a show like this so we could know all what's actually happening in the world!

— S🕊 (@JerralSirat) August 19, 2020
A massive impact indeed!
You've outdone yourself and the industry. Such sheer brilliance. Can't get enough or over it the way so many many themes and issues were vocalized, what a massive impact 🙌🏽🙌🏽🙌🏽

— ThatsWhatSheSaid (@zeishahamlani) August 19, 2020
Jo baat hai!
People can have their opinions but nobody gets to dictate an artist how his creation should be. The final verdict on everything remains with the artist. Period.

— Muzammil Kamran (@Muzi_Kam) August 18, 2020
There's just no stopping once you start watching it!
Amazing amazing work. There is no other way but to binge-watch it. Each and every episode was a treat to watch. Create more thrillers please.

— Rameen (@rameenistan) August 18, 2020
People found the show to be a breath of fresh air:
It was a superb show.A breath of fresh air from the rooti, dhoti aurat, we see in dramas. Except that it was a bit indianized, the pronunciation, the swearing,even colour of skin. Yes we know it was for an Indian channel, but did they ask you for it? Hope you don't mind asking.

— Naureen zaheer (@naureenzaheer) August 19, 2020
People were calling it a revolution!
Mate, you've given a revolution. #Churails is a revolution! https://t.co/eYpQRApE5L

— Anuj Radia (@TheAnujRadia) August 18, 2020
Yes!
How you realise that your project is a success? It starts a debate! https://t.co/EQMoXanHmr

— Ghania Khan (@ghaniashamskhan) August 18, 2020
We weren't expecting anything was than excellence:
Now THIS is how you send out your creation into the world. Excellent. https://t.co/bZdRa7SHbw

— Nuzhat S. Siddiqi (@guldaar) August 18, 2020
Have you watched the web-series yet? What are your thoughts on it? Let us know in the comments below!