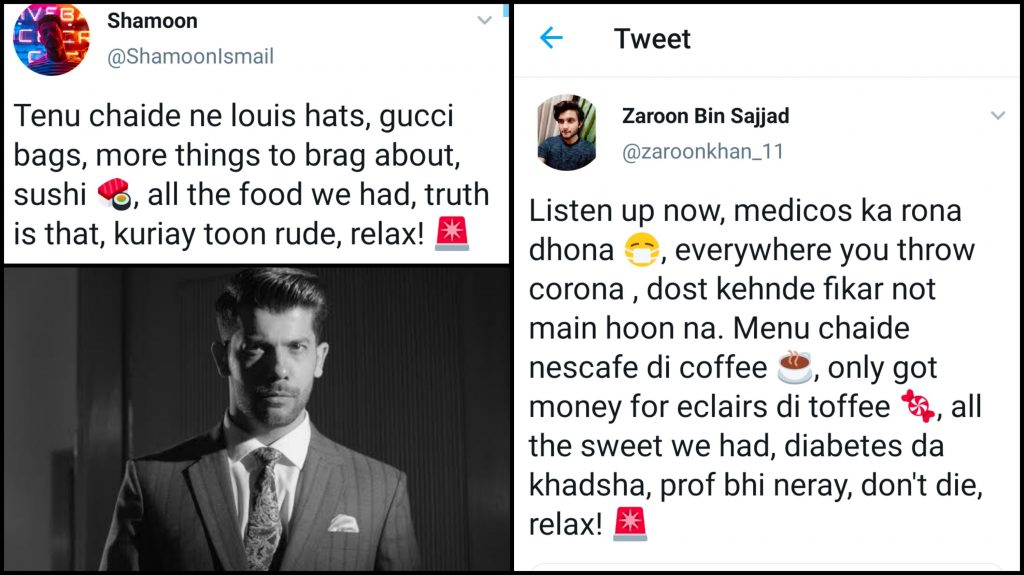 Rap culture has slowly but steadily been making a comeback with the new generation of rappers, and they certainly have a cult following!
Taking to his twitter account, the king of Punjabi blues, Shamoon Ismail, shared his part of the rap from the song 'Tum Tum:'
Tenu chaide ne louis hats, gucci bags, more things to brag about, sushi 🍣, all the food we had, truth is that, kuriay toon rude, relax! 🚨

— Shamoon (@ShamoonIsmail) July 3, 2020
Unimpressed by the lyrics, tweeple went in for an informal rap battle claiming that they can write better lyrics:
i bet i can write lyrics like these on the spot:

raati chalye assi drive thru, fast food, gaddi ch kare dance tu, no shoes, khali sarkan te sun roof, drinking booze, everyday im in the booth. https://t.co/0n38VaXh3v

— Usama (@Usamaexe) July 3, 2020
Okay, wow!
Tusi kar de ho genralise, sadey vi dil di sun lo voice, no bags no hats, i need no money, menu chahiye teriyan gallan, thori namkeen tey thori mithiyan. Boy don't be so crazy, tussi sun lo, hun, JLo says; ma love dont cost a thing.

— Anica Hasanat (@AnicaHasanat) July 3, 2020
People were not coming slow!
Relax! Bartan dho with max, don't evade the tax💰💴, imma play sax 🎷, tum karo relax 🛏, chop the wood with a fucking axe 🪓, these are just facs 💀 https://t.co/DKPAlpgoR5

— Punker Udaas (@PunkerUdaas) July 3, 2020
Yahan toh sub hi rappers hain!
bro you need to relax
tere lyrics ho gaye wack
kuri kehdi quack quack
main kya baby sit back
nayi karda main chit chat
i load my glock like click clack
paa k gucci flip flops
karda rule main hip hop https://t.co/dvCLnY40pt

— wiz (@wizxxo) July 3, 2020
GIRLLLL ❤
pindi ki hawa, meri maa ka tawaa aur teri woh adaa, mein khata hon achaar mujhe chahiye bachay 2 chaar a ja chamak chalo zara chalein bazaar🙏🏼👀🙈 https://t.co/10l8b9cEvY

— hummus (@humna_altaf) July 3, 2020
Islamabadis in one rap!
part 2: leke diti mein tenu corolla, phir vi kyun pandi ay tu rola? chayda ki tenu, audi, v8? ghussa kyun hondi mein ghar jana nai late, mein islamabadi munda mera curfew ay 8 😒 https://t.co/1kMomSnIV5

— ayk (@AYKbitch) July 3, 2020
Okay…
menu bhi chahiye louis hats 🧢 mere ghar me bohat saare rats 🐀 alot of people are trash 🤮 meri gaari ka hogaya crash 🚘 all the food i like 🥘 mount everest ki hike 🏔 shamoon ismail ka rap sunke me hogaya collapse, relax! 🚨 https://t.co/xLCHM1lzKz

— zainab stan acc (@sirfkfc) July 3, 2020
Some even went to the extent of introducing corona to their lyrics 😂
Listen up now, medicos ka rona dhona 😷, everywhere you throw corona , dost kehnde fikar not main hoon na. Menu chaide nescafe di coffee ☕, only got money for eclairs di toffee 🍬, all the sweet we had, diabetes da khadsha, prof bhi neray, don't die, relax! 🚨 https://t.co/TRqE4BV6K5

— Zaroon Bin Sajjad (@zaroonkhan_11) July 3, 2020
People had their ways to express themselves:
Tenu chahiye to chad de rap🎤, your lyrics are crap🤢, tera part saray kerday tap 👇👇👇, nhi suni jati Teri crap, no cap 🧢, burger 🍔, truth is that, you're a copycat 🐈, wanna islamabadi 🕺brat, to kharab kerda mood , that's just facts 🥵 https://t.co/kZWu0ohtmv

— duck (@schwifty1122) July 3, 2020
Some found themselves relating to the lyrics, like real hard!
my dad when I ask for money other than my pocket money: https://t.co/fMkzwARYbW

— Haleema Aamer (@Kyahalschaal) July 3, 2020
Some were trying to make a point:
Tere lyrics game is so down
Jiven lagda e tu clown
Tenu rab di soun
Band kar ey pheeki punjabi da show
Tenu sarey kardey ne troll
Tere hondi roz chitrol
So relax, and keep it low. https://t.co/s13QlKa5Mr

— Renfri!☕☕ (@douxxfemme_) July 3, 2020
We love the edition of a cat!
Meray paas hai ek kitten, uska naam hai Mitten, you best believe she has me smitten. Tenu main dehndiya ae khana, then why have you bitten? Oh mitten, relax! https://t.co/YVcCAMgSHO

— Hifza Khan (@hifzakhann) July 3, 2020
Haye Phoebe 😭
phoebe: if I worked with stocks, I'd have to live in a box, and only eat lox, and have a pet fox

this slaps harder than shampos verse https://t.co/hGNzjx15lL

— 𝖆 (@whorrendouss) July 3, 2020
Cancer is nothing to joke about 🙄
never smoked marijuana, never consumed alcohol, exercised daily for years, maintained good personal hygiene, stayed away from bad habits but all in vain cause your lyrics gave me cancer. https://t.co/WoaY0lZ85n

— zain (@GoGetMeTea) July 3, 2020
This hits us hard!
nahi chahiye mujhe koi topi
bus kamani apni rozi roti.
Nahi khani kachi machi
jeE hAan sachi
it's not about the money or fame
been running that game call it a flex don't feel no shame but hey, we aren't playing no blame game we making a name, our ambitions ain't an animal u can https://t.co/A6BVFT5HSg

— Saltafa (@saltafa) July 4, 2020
Here's one for the sweet toothed!
Tenu chaidi ay last bite of my cornetto
Main nai deni kisi aur se lo
Cocomo. Cornetto. All those chocolatto 🍫
Mangeya main cake up ditta tu breakup 😔
Fayr v i risked it
Eating prince biscuit 🍪
Kurriye tu cute but diabetes da chance ay, relax 🚨 https://t.co/TMcVK2g5y4

— Rana Talha Asfar 🇵🇰 (@RTAluvzAfridi) July 3, 2020
What even is this mix 😂
Garmi se nikla paseena, lets turn on ac saleena, likn hoga zyda bill,mgr baby you just chill, mere sth lets sing this gana mgr jani tune nhi hai ghabrana! https://t.co/6mS7Amwye9

— Hamdah (@Heymemedah) July 3, 2020
Kinda digging this…
Puchdi meno ki hai aj date? Mai keya baby fer na hojana late. Nae honda meray kouloun wait. Apni jodi tau aise jesay Rab ne likh di fate.
Loki kehnday is this Islamic state?
Mai keya karlo jinna karna ay hate. https://t.co/RL3AZ4KJ39

— . (@PsychedSam) July 3, 2020
People were rapping about everything, really!
Mein pehnu ek chadda, phir karun sabse phadda, personality meri landa, banu na mein banda https://t.co/G5oeDGmWi1

— Pathetic! at the Disco (@certifiedkachra) July 3, 2020
Umm:
Tu gaanda gaany
Jinna ty nachan burger nayaany
Tenu krda stan
Kitty party clan
Tere music di class down
Munda tun jivain clown
Ja Party weed coke kar
Chadd gaana saady ty rehm kr…. https://t.co/lIp45EcPw7

— Isolationship (@Ghumhour_) July 3, 2020
Some were just not having it!
matlab songwriting gayi jahannum main

— neeza ✨ (@vinniejpeg) July 3, 2020
Who do you think won the battle? Let us know in the comments below!