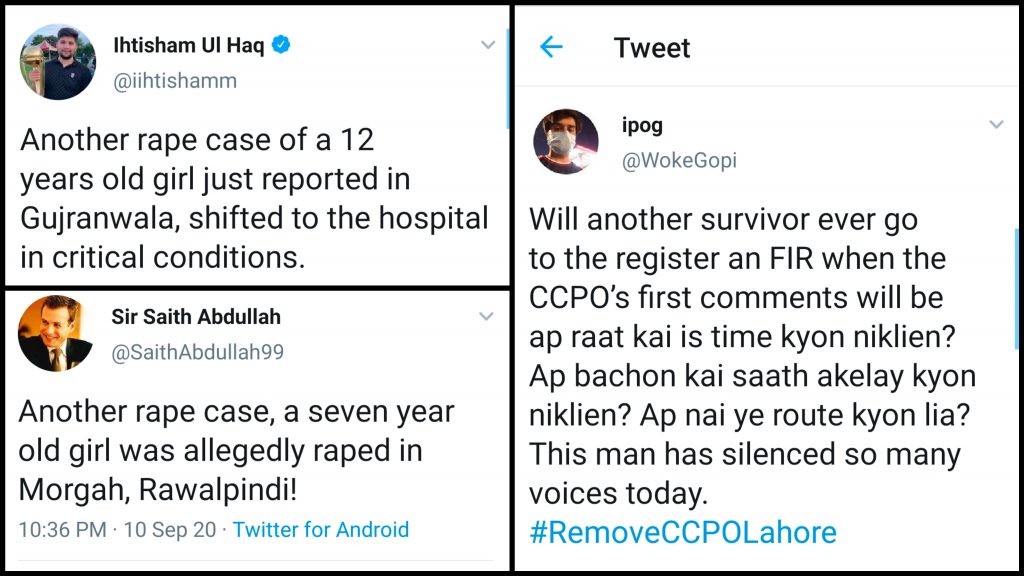 The nation had barely digested the bone chilling assault at the Motorway, that 2 more cases involving minor girls aged 7 and 12 came to light, one from Rawalpindi and the other one from Gujranwala. The alarmingly increasing number of the assault incidents has distressed people to a great length.
We are still in middle of processing the motorway incident.

12 year old raped in Gujranwala. I don't know what to say and how to articulate it better. I am guilty of being alive today. https://t.co/K5LL2nmZ6J

— ردا (@RidhaAlii) September 10, 2020
Another rape case, a seven year old girl was allegedly raped in Morgah, Rawalpindi!

— Sir Saith Abdullah (@SaithAbdullah99) September 10, 2020
Moreover the victim blaming comments from the CCPO Lahore also have everyone fuming:
THIS MAN NEEDS TO BE REMOVED NOW. HOW DARE HE BLAME THE VICTIM? #Motorway #motorwayincident pic.twitter.com/GVRpjbactx

— Marium Chaudhry (@MariumCh) September 10, 2020
After the initial video, people were alarmed by the nerve on the officer to blame the woman rather than doing his job. People expected that he'd do better in the second round of interviews, however, that too was cut short after the second interview went viral:
The police officer who said that the motorway rape victim should not have travelled on that route at night repeats his stance and adds that she (the woman raped in front of her children) thought this was France. And PM Imran's right hand man, Shehzad Akbar, defends him! pic.twitter.com/z4wWooIY7v

— Syed Talat Hussain (@TalatHussain12) September 10, 2020
And people think this victim blaming mentality needs to die!
How DARE HE talk down to women in this way & BLAME RAPE VICTIMS? This is OUR country, OUR motorway, OUR right to travel. The police force & govt servants are meant to SERVE & PROTECT, not lord it over us 😡 Immense arrogance + incompetence + misogyny #MeraJismMeriMarzi #motorway

— 𝓛𝓪𝓪𝓵𝓮𝓮𝓷 لعلین✨𝓹𝓮𝓻𝓼𝓸𝓷𝓪𝓵 𝓿𝓲𝓮𝔀𝓼 (@laaleen) September 10, 2020
People were calling him a rape apologist:
To this ccpo

You are a rape apologist because in incidents like this you are reminded of your own actions and you try to hide your guilt behind a bunch of meaningless words like this which you consider a justification to feel better about yourself. So fuck u

Jahannum mein jao https://t.co/TGXLLuFjNM

— Moochar (@AsliBinLaden) September 10, 2020
The ccpo starts out with questioning the victim herself. Good luck with that.

— Zarrar Khuhro (@ZarrarKhuhro) September 10, 2020
Actor Osman Khalid Butt too was appalled at how openly it was being admitted that the country isn't safe for women:
'Mujhe ye batana hai ke society hamari is tarhan ki hai… behnon walo, betiyan walo, ayenda khyaal rakho.'

Tell me this did not chill you to the fucking bone. This is an open admission that this country is not safe for women.
And we should make peace with it. https://t.co/Rde1JlprKs

— Osman Khalid Butt (@aClockworkObi) September 10, 2020
Human Rights Minister, Shireen Mazari, also condemned the victim blaming mentality of the CCPO:
For an officer to effectively blame a woman for being gang raped by saying she should have taken the GT Road or question as to why she went out in the night with her children is unacceptable & have taken up this issue. Nothing can ever rationalise the crime of rape. That's it.

— Shireen Mazari (@ShireenMazari1) September 10, 2020
Actress Mansha Pasha too shared how everyone is responsible:
The first crime is committed by the rapist.
The second by those who blame the woman.
The third by the officials who do nothing.
And the fourth by those who say nothing.

The only one blameless in entirety is the victim.

— Mansha Pasha (@manshapasha) September 10, 2020
Shaniera Akram wanted people to know how monsters are actually real and very much among us:
I've said it once and I'll say it a million times till I'm heard. We are lying to our children when we tell them Monsters don't exist! Monsters are real, they live amongst us and they are as dangerous as ever! #RealMenDontRape #MonstersAreReal #SexualAbuseIsReal #SpeakTheTruth

— Shaniera Akram (@iamShaniera) September 10, 2020
People wanted him to stop making excuses for failing to do his job:
SOCIETY IS TARAH KI KYUN HAI? Women can travel alone at night in France because unlike us their law and order situation isn't poor. You didn't do your job stop making up excuses. Why didn't she get a response from your fucking piece of shit motorway police?! #RemoveCCPOLahore https://t.co/gciXrkwA2D

— huda khan yousafzai (@huda_yousafzai) September 10, 2020
Shame!
"why don't u report to the authorities"
the authorities: https://t.co/tgLFmI3vOU

— Hoetaro Kujo (@yaindmachine) September 10, 2020
People wanted the rape apologists to be held accountable too!
This is CCPO LHR, Umer Sh. He is victim shaming. Everyone wants public hangings, what are we going to do about these rape apologists & rape culture enablers? Cuz no matter what punishment u choose, this culture of shaming victims prevails. Tackle the real issue i.e rape culture

— Rehan Ulhaq (@Rehan_ulhaq) September 10, 2020
True!
Translation: She should not have expected us to do our JOB like foreign law enforcement agencies. https://t.co/jraHH0OoL9

— i'm vengeance (@UmairNajeebKhan) September 10, 2020
Disgusting!
As a Public Servant and a Police Officer, Umer Sheikh's job is to question why there were armed men on the motorway. Instead he thought it'd be okay to ask why was a woman on the motorway with 3 kids. Only one of these groups is doing something illegal. Only one is criminal.

— Husn Hai Suhana (@Fatmounh) September 10, 2020
People were also appalled at the lack of outrage on the situation:
An actress twirled in a mosque & there were hundreds of molvis blocking the roads & yelling.

These men broke the glass of a woman's car, dragged her outside & raped her infront of her kids & there's no one on the road.

Apka Islam sirf aurton ki ghalti pe jaagta hai??

— Komal Shahid (@ArmedWithWords) September 10, 2020
Actor Haroon Shahid shared how the reality was exactly what film director Shoaib Mansoor had shown in Verna:
I remember while shooting 'Verna' I'd question Shoaib Saab, how is it possible that someone can walk into a park and pick up a girl and rape her in broad daylight. It sounds impossible. His response was "Hota Raha hai, ho sakta hai aur hota rahay ga" 🤷🏻‍♂️ #HangRapists

— Haroon Shahid (@HaroonsMusic) September 10, 2020
People wanted sex education to be taught in schools, to create awareness among the children:
A country where a 5 year old gets raped and her body disfigured, a mother gang raped in front of her children, but let's rip out reproduction chapter from grade 5 textbooks, let's never teach sex Ed and good/bad touch, keep us in the dark because everything is hunky dory.

— Maryam (@maryamful) September 10, 2020
💔
I just want to leave this here. That's all. pic.twitter.com/vje6OpPFLF

— Hira. (@HeeriPeeri) September 10, 2020
People were sharing the average number of rapes in Pakistan, and the number has us speechless:
Hello to men asking for references and sources… yaar kabhi tou sharam kero.

Have misplaced the link for 2020, but https://t.co/JkCD4v4aby will tell you that the numbers for 2018 and 2019 were 2937 and 3500 respectively.

We recorded 73 rapes in the first two months of 2020. https://t.co/qYuurC9kDz

— Aimun (@bluemagicboxes) September 10, 2020
Parents were sick worried for their girls:
Baba called me into his room today & said: "AJ K BAAD AKELI GARI LE KR KAHIEN NAHI JAO GI, NOT EVEN TO THE CLOSEST DEPARTMENTAL STORE"

My dad who never dictated me, said these words with nothing but helplessness in his eyes.
I blame SOCIETY
I'm beyond disappointed.

— م (@TueurDame) September 10, 2020
People had questions:
"This is not France" he said. So It is wrong to expect to be safer in my own country than in France? Can the State not provide women citizens the protection they deserve under the constitution? #unfathomable #crime #safety #security

— jehan_ara (@jehan_ara) September 11, 2020
Absolutely:
If they started broadcasting the number of rape cases like those of corona, maybe this nation will see the severity of the situation.

— Ayesha siddiqui (@21andcluelesss) September 10, 2020
The past few days have been extremely disturbing, with a total of 4 cases in a week, it's worrying to see the sad state of affairs of the country. What do you think?