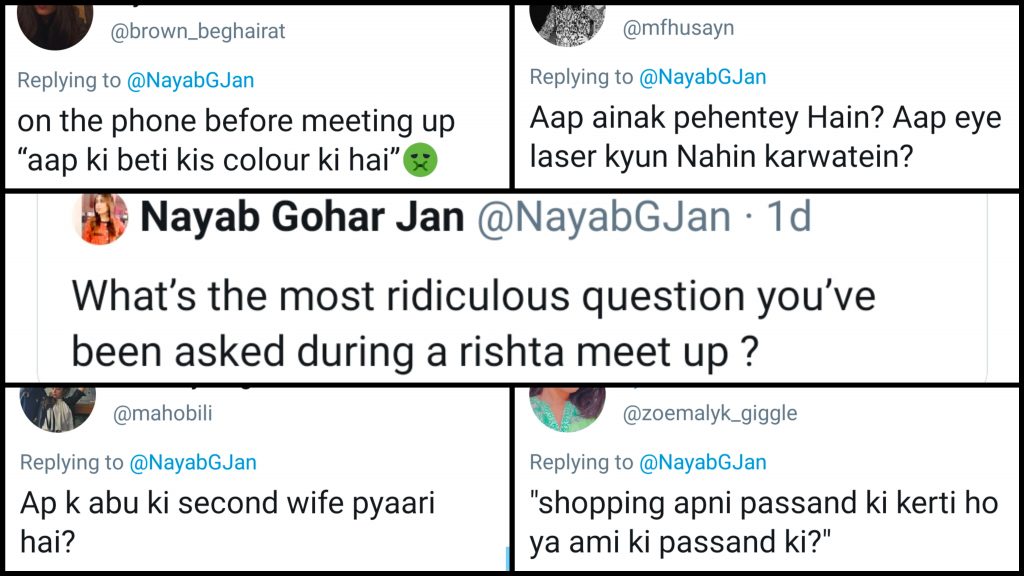 Rishta meetups are nerve wrecking already, and to top it off, people have the most absurd things to ask.
While we wish this whole concept of rishta parading never existed, netizens today are sharing the most ridiculous questions they were asked during the rishta meetups:
What's the most ridiculous question you've been asked during a rishta meet up ?

— Nayab Gohar Jan (@NayabGJan) September 9, 2020
And the replies will leave you speechless!
A rishta parade came to our house for my elder sister
When discussing ages, they found out that their son is 4 months younger than my sister.
The man's mother goes and it's a literal quote:

"Acha tou phir ap apni choti beti dekha dein."

They were promptly encouraged to leave. https://t.co/iUoqmWVaoY

— aloo آلو (@kachalooooo) September 9, 2020
People and their generalisations:
'So, what do you do?'

'I'm a journalist.'

'Oh, so you write.'

…

— Munnazzah Raza (@MunnazzahR) September 9, 2020
🤦‍♀️🤦‍♀️🤦‍♀️
Aap ainak pehentey Hain? Aap eye laser kyun Nahin karwatein?

— MehrHusayn (@mfhusayn) September 9, 2020
Savage!
on the phone before meeting up "aap ki beti kis colour ki hai"🤢

mum said "blue. hum avatar hain" and hung up. they were not invited to chai 🙂

— iraj (@brown_beghairat) September 10, 2020
For all the psychologists:
"I'm doing a major in Economics and a minor in Psychology"

"Oh Psychology! Can you read minds?"

………

— Ayesha Mysorewala (@ayeshamysore) September 9, 2020
For real?
The girl's mother asked for my picture: "standing position, front posed, a recent click" (had previously shared a picture with them but I was sitting in it)..

— Saheem Khizar (@Saheem_Khizar) September 10, 2020
Lo bhaee:
A lady called my mom and asked so ki beti ki shakal kis model say milti hai who Kia hai meray Betsy ki gf this Katrina say milti thi ab us ko waisi biwi chaye 💁‍♀️. My mom told her to go call a modeling agency

— Ayesha (@ayishaikon) September 9, 2020
Umm, what the hell?
Ap k abu ki second wife pyaari hai?

— Choolhay ka ignored burner (@mahobili) September 9, 2020
Wait, what?
What are the best qualities of your horoscope

— Maha-Dar (@Kschessinska_M) September 9, 2020
Secretly trying to see how submissive the girl is:
"shopping apni passand ki kerti ho ya ami ki passand ki?"

— 🐬 (@zoemalyk_giggle) September 9, 2020
Sigh!
Ap bhi wohi hain desi feminists ki tarhan, aurat march wali?
This was when I told them that i don't like cooking but I think cooking is a basic life skill everyone should know.

— R. (@ramsha_saghir) September 9, 2020
DUDE?
Awaaz kuch achi nahi hai…

— Maryum (@IKankurd) September 10, 2020
Hadh hai:
Auntie asked a cousin of mine a guy, ap ke baal gir rahay hay? Yeh to bara bura asar paray ga agli nasal pe. Tankha kitni ha ? Shadi ke bad apnay parents ko to nai salary maim se paise do gay? 😐. Humari larki alehda rehany ki adi ha. Boys do go through hell as well.

— naxi7 (@uzairakram80) September 10, 2020
???
This uncle came to see me for his son and goes like 'so are you ready to look like Kangana for my son who looks like Hrithik? Promise me you'll lose weight?'

— bhaiwhy? (@wrecktangle6) September 9, 2020
Hain?
Kis cheez par aye hain ap? Gaari?

Nahi behen gaddha gaari par https://t.co/7qp40NY2Ak

— Meph⚓ (@UnitedsFreak) September 9, 2020
Straight to the point:
Aap k pass visa kon sa hai? https://t.co/dGNbyeVNmg

— پاکستان سے زندہ بھاگ (@furqan_pk) September 9, 2020
Lol, we love this!
Met this guy once, we talked for 2 hours, I only spoke for 10mins. He vented the shit out of his life& I wondered if it was a rishta meet-up or a therapy session. Kher, session went well & he asked if we'll meet again& I told him only trial session is free next will be 3k/hour 💁🏻‍♀️

— Maria ☭🌷 #DownWithFascism (@marriyamalik1) September 9, 2020
What are some of the most ridiculous questions you've had to answer? Let us know in the comments below!