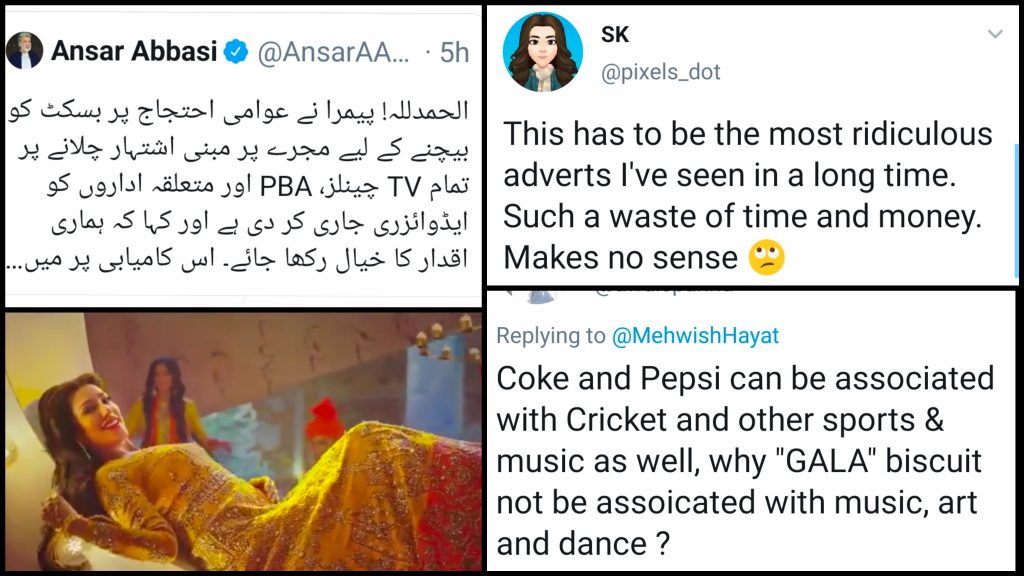 Mehwish Hayat has been teasing us all with a little something from a few days, turns out it's her ad for Gala Biscuits:
Let me take you on a majestic journey of our #des, as the most awaited #deskayqissay is unveiled. It has been an absolute pleasure to be part of this masterpiece by #Gala #deskabiscuit, where we cherish the cultural diversity of our des bcoz "apnay des ka har rung hai Niraala" ♥️ pic.twitter.com/BBb6IQ0IMp

— Mehwish Hayat TI (@MehwishHayat) October 4, 2020
While the ad itself was met with divided feedback from the audience, PEMRA too raised a series of concerns regarding the ad, which, investigations Editor, Ansar Abbasi calls a 'mujra:'
الحمدللہ! پیمرا نے عوامی احتجاج پر بسکٹ کو بیچنے کے لیے مجرے پر مبنی اشتہار چلانے پر تمام TV چینلز، PBA اور متعلقہ اداروں کو ایڈوائزری جاری کر دی ہے اور کہا کہ ہماری اقدار کا خیال رکھا جائے۔ اس کامیابی پر میں اُن تمام افراد کا شکریہ ادا کرتا ہوں جنہوں نے اس کے خلاف آواز اُٹھائی۔ pic.twitter.com/oKwuXpI5dn

— Ansar Abbasi (@AnsarAAbbasi) October 5, 2020
And people have a lot to say!
Gross misuse of power once again. Extremists like Ansar Abbasi are reducing freedom of speech because they are unable to comprehend the different forms of entertainment. Appalling. https://t.co/R2nyU1eUSk

— soha (@SohaTazz) October 5, 2020
People didn't find anything wrong:
There's nothing wrong in this Advertisement / Television Commercial.
In this Gala biscuit Ad/TVC Mehwish Hayat is wearing fully covered clothes but the hell ppl with such a cheap/narrow minded thought like Ansar Abbasi called it's a Mujra? Shame on such thought.@MehwishHayat ❤️ https://t.co/qt7h44kXGJ

— RAO FAHIM PTI (@rao_fahim) October 5, 2020
People were sharing how no one had a problem with Tarang's ad:
The new Gala biscuit ad – in which fully clothed women depict different cultures of Pakistan & dance – has stirred 'ghairat' of 'Muslims' & 'Pakistanis'. Only if this shame & honour was triggered when someone slut-shamed, victim-blamed a woman or harassed her in their presence.

— Farwa Naqvi (@farwanaqvi_) October 5, 2020
Tarang ki baari kisi ko koi takleef nahi hoti kyunki uss mein Aadmi bhi thumke laga rahe hote haina. When a man dances, it's okay. When a woman dances, it's mujra. I am not fond of this unnecessary idea either but my reasons are different.

— Farwa Naqvi (@farwanaqvi_) October 5, 2020
People didn't think the ban could apply to it:
I dont see anything attracting a ban on this Advertisement. It shall go on.

Puting unreasonable restrictions on everything is doing no favour tp us already.

Let the businesses grow and market their products. https://t.co/PkSMciWpfF

— Yasir Cheema (@Yasirmcheema) October 5, 2020
People had a problem with Ansar Abbasi calling it a mujra:
More BS from #ansarabbasi
He has problem with anything that has woman in it . Why doesn't he throw out his tv and start living the life of a real "pious" man. Stop pushing your pervert mindset into society. #PEMRA should do no such thing. https://t.co/4XzkvYBEpu

— Gaitty Ara Anis (@GetiAra) October 5, 2020
People were throwing shade at Ansar Abbasi:
Uh oh! So..this gave Ansar Bakvasi an embarrassing boner! https://t.co/TkchbDdkyz

— Mala's Fury 🏳️‍🌈 (@Pablo_Sheikh) October 5, 2020
Yes…
Lmao, ispe offend hogaye sab? https://t.co/EPTx3ALvif

— Atelophobic (@CallmeJaagii) October 5, 2020
You never know…
They banned this ad? For what? Are we going to ban movies as well? https://t.co/hSX3MEoE27

— Waqas Habib Rana (@waqas464) October 5, 2020
People didn't find any problems within the ad:
People are criticising this ad video. But why? What's wrong in it? I haven't seen any

— zeeshan butt (@BHumbleNotAngry) October 4, 2020
People loved the ad:
Love it ♥️ not a fan of any cookies but love their marketing ☺️ https://t.co/Em5pFIJYyc

— A.s.m.a. اسماء (@asmasyed99) October 5, 2020
People agreed it was a rather irrelevant ad, but not enough to ban it altogether:
Cheap Ad by Gala but nothing to ban it.

Chawal by Pemra n Ansar Abbasi

— Madam Shireen Mazari Fan Club (@DrZAQ99) October 5, 2020
People found the notice to be absurd:
PEMRA is also against ads that promote "consumerism" – err … isn't that precisely the aim of advertising? pic.twitter.com/PYTQHHUMpr

— omar r quraishi (@omar_quraishi) October 5, 2020
People wanted to know how Gala was any different than Come and Pepsi:
Coke and Pepsi can be associated with Cricket and other sports & music as well, why "GALA" biscuit not be assoicated with music, art and dance ?

— Awais Pannu (@awaispannu) October 5, 2020
And while many disagreed with PEMRA, others still couldn't make sense out of the ad:
Not sure if this is to be labelled as mujra ad but its quite senseless 'biscuit' advert with focus on women objectification.good riddance of such idiotic advert!There should also be ban on any silly songs with objectification of women @reportpemra #Pakistan #RespectWomen https://t.co/tdV4W6FDxj

— MS (@livenletlive__) October 5, 2020
People who had their reservations on the ban culture too think it's time women stop being objectified:
While I have my reservations on the "ban culture" and "Religious Vigilantism", OBJECTIFICATION of WOMEN for brand promotion does need to stop, there are other creative ways to market a product than sex appeal. https://t.co/zHqCHmTxg5

— Aleena Farooq Sheikh (@FarooqAleena) October 5, 2020
People found the ad to be in bad taste:
No offence! The ad is in a really bad taste. How do you put across a simple brand of biscuit with an unending display of tasteless semi indian mujra?
Never have I seen biscuits being associated with dance & noise, instead of tea!

— Mehnaz Nadeem (@nadeem_mehnaz) October 5, 2020
People were calling it an item number:
An item number on 'des' is all our entertainment media can come up with…No wonder local audiences have already discarded these D-copies of Bollywood's B-grade actors! 😏 https://t.co/TJCu62PJ0q

— rabia khan (@princessofdhump) October 5, 2020
Some had questions:
All this for a biscuit? 😦 https://t.co/MY4rkuR5gJ

— Dr. Tanya Ahmad (@tanyaahmad) October 5, 2020
People found the ad to be dumb:
The objectionable thing here is how dumb and annoying this ad is. Any ad that is not funny doesn't deserve to be aired. Anyone who grew up on original Ufone ads would agree with that 🤷‍♂️ https://t.co/1FoxVWg8s6

— Yousaf (@YcubeminusY) October 5, 2020
People really want advertising agencies to move forward:
Who runs Pakistan's big ad agencies & where do they get their training from?

Why are they using 80's/90's Bollywood formula & same ol' tired & repetitive dance steps in 2020's Pakistan?

Learn creativity from the British ad agencies who make the most amazing ads in the world. https://t.co/i7god7tat7

— Radiant🌸🌸 (@RadiantSez) October 5, 2020
People were calling the ad a waste of money:
This has to be the most ridiculous adverts I've seen in a long time. Such a waste of time and money. Makes no sense 🙄 https://t.co/lHFc3TS0SP

— SK (@pixels_dot) October 5, 2020
People were trying to find a connection:
No product connection only dance dance dance https://t.co/VsE1H33aN9

— عائشہ رندھاوا (@HariMirchein) October 5, 2020
People were calling it a marketing nightmare:
Dear Lord this is a Marketing Nightmare. Terrible storyline and execution. Fire everyone, please. https://t.co/MkI7cU0L8G

— The Dude (Adnan Moiz) (@Nnormanbates) October 5, 2020
What do you think about the ad? Is the ban justified? Let us know in the comments below!