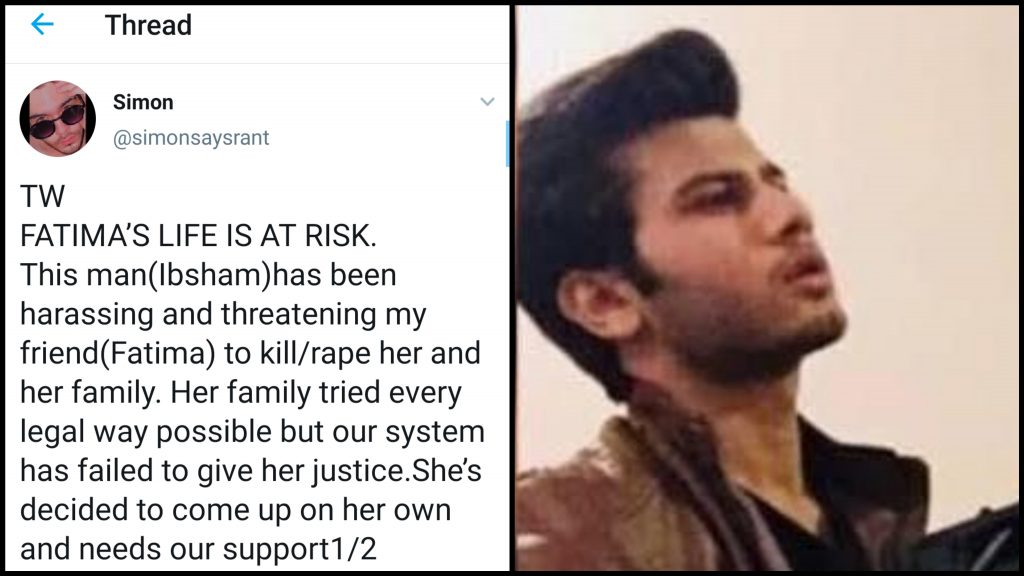 To add to one of the most upsetting weeks Pakistanis have seen this year, reports from a girl facing harassment and rape threats have surfaced the internet and they're utterly disgusting.
The accused goes by the name Ibsham Zahid who has been threatening a girl named Fatima Aamir and her family since the past 4 years. Despite years of attempts at reconciliation, litigation and involvement of family members, Ibsham Zahid has continued to display his horrendous behavior. And the issue came to light after Fatima posted screenshots, voice notes and video evidence of Ibsham uttering the most vile of things for her and her family involving rape and death threats.
The story has angered the citizens and they want Ibsham to be held accountable as it's posing a risk to Fatima and her family's lives:
TW
FATIMA'S LIFE IS AT RISK.
This man(Ibsham)has been harassing and threatening my friend(Fatima) to kill/rape her and her family. Her family tried every legal way possible but our system has failed to give her justice.She's decided to come up on her own and needs our support1/2 pic.twitter.com/aDg6xMl6pQ

— Simon (@simonsaysrant) September 14, 2020
Actor Feroze Khan also took notice of the situation and has set up an Instagram page where girls can complain of any sort of harassment/blackmailing they've been facing at the hands of men:
Actor Osman Khalid Butt too wanted the situation to be looked at asap!
@cybercrimefia – please read the thread below and take immediate action. https://t.co/P8pbsx4hkq

— Osman Khalid Butt (@aClockworkObi) September 14, 2020
People have been tweeting the evidence originally posted by Fatima Aamir and are standing by her side to help get Ibsham Zahid arrested:
This pathetic, pyscho man is threatening and harassing Fatima since 2016. His parents apologised Fatima's family lately but could not control their son and come up with a reason that he has anger management issue #ibshamzahidbehindthebars pic.twitter.com/JhBncAn2DH

— Arham Saeed (@Arhamsaeedfilms) September 14, 2020
There's been a petition to lock Ibsham in jail:
Sign the petition to help us put #ibshamzahidbehindthebars at earliest as possible, It's the least we can do to help.

Link: https://t.co/aV2E7zft6k

— حیدر (@Haider_Zaidi9) September 15, 2020
Absolutely!
The dog needs a leash…ASAP#ibshamzahidbehindthebars pic.twitter.com/4zcC2wOU8k

— shayn (@Shayn_zyfa) September 15, 2020
TW: strong language:
The culprit Ibsham can be seen threatening and intimidating #fatima and her family by showing off weapons and using foul language in this video.Urging concerned authorities to take immediate measures without any delay #ibshamzahidbehindthebars @HniaziISF @mohrpakistan @SHABAZGIL pic.twitter.com/lI8d0pKgI2

— Ramia Khan (@Ramiakhan12) September 14, 2020
The voice recordings were disgusting:
This is how he used to threaten her.#ibshamzahidbehindthebars pic.twitter.com/vlmzKjOhK5

— Simon (@simonsaysrant) September 14, 2020
People were calling him a potential rapist:
This person needs to be behind bars and hung publicly, just like every other person like him, with the mentality of a rapist. He's trying to be manly, no son, you're not manly, we'll show you what manly really means. Spread the word all of you, Fatima will be liberated! https://t.co/sWamurvaCU

— Blogosphere (@BlogsByDawar) September 15, 2020
Fatima Aamir also shared the voice notes of him confirming he was fleeing to Dubai:
He's fleeing away. Is there anybody to stop him??? @CcpoLahore @PTIOfficialLHR @ShireenMazari1 @DCRawalpindi #ibshamzahidbehindthebars pic.twitter.com/56LDROKZbm

— Simon (@simonsaysrant) September 14, 2020
And people were losing hope:
He is going to take the first ongoing flight to dubai once again our government law agencies r gonna fail because of the power of money pls don't make it happen whole nation is finally taking stand against bullies, harassers @ImranKhanPTI @OfficialDGISPR #ibshamzahidbehindthebars

— Shahzad Arshad (@shhjoe17) September 14, 2020
Ibsham Zahid is taking the first flight to Dubai. He's running away. Please take an action before he runs away from Pakistan. I request you all to tag all the important people under this tweet until an action is taken. Don't let him get away. 🙏🏻Retweet. #ibshamzahidbehindthebars

— Komal Shahid (@ArmedWithWords) September 14, 2020
People were writing emails to Dubai Police to look into the matter:
Contact Dubai police and send them mails so they can arrest him if ibshamzahid manages tp escape #ibshamzahidbehindthebars pic.twitter.com/wi6drLBm5H

— Abrar Lashari (@AbrarLashari4) September 15, 2020
And nothing's ever done about it:
every freaking day these kind of creatures make life unbearable for many, sigh#ibshamzahidbehindthebars https://t.co/RgNAhm8Ld9

— Shamyl (@thatsadshamyl) September 14, 2020
True that:
''Baloch kis tarah ki cast hai pata chal jaye ga'' it's always the criminals or harassers that use their ethnicity to get away with things https://t.co/5TxwPy1UVu

— Hanzo Hasashi 🌈🌴:) (@friedKebaab) September 14, 2020
Agreed!
THIS IS RAPE CULTURE. THIS IS VOILENCE. WHO WILL PROTECT HER? HER OWN FATHER'S LIFE IS AT STAKE! READ IT LOOK HOW FEARLESS THIS GUY IS!
DON'T TEACH US ABOUT HUMAN RIGHTS. https://t.co/cfpc4d53mP pic.twitter.com/yJY0MPIcVm

— Musaffa (@saywtnow) September 14, 2020
People were worried:
I can't believe this..Is this our beloved country??? I ask this question to every single person … If you couldn't feel goosebumps then you aren't a human ..As it is clear that it isn't a gender problem .. It's related to every single person of her family and our country… 1/2 https://t.co/IeqgAbCzqX

— M-A-H-E-E-N (@callmemaheen) September 14, 2020
Every man will be held accountable:
Share as much as possible so that men like him do not roam around free thinking that no one can question them for their heinous acts https://t.co/h2XQfFgsWT

— Jiji (@juhievnm) September 15, 2020
People were upset at how the system had failed her and enabled her harasser:
This is how system fails you.
I can't imagine how this girl has survived this trauma for all this time.
That's why people don't involve police because they always work with the powerful and don't do anything.
Please realise proactive is better than reactive. https://t.co/pRA0Z869Zl

— Yaser Awan (@yaserawan) September 14, 2020
What do you think about this case? Will justice be served? Let us know in the comments below!