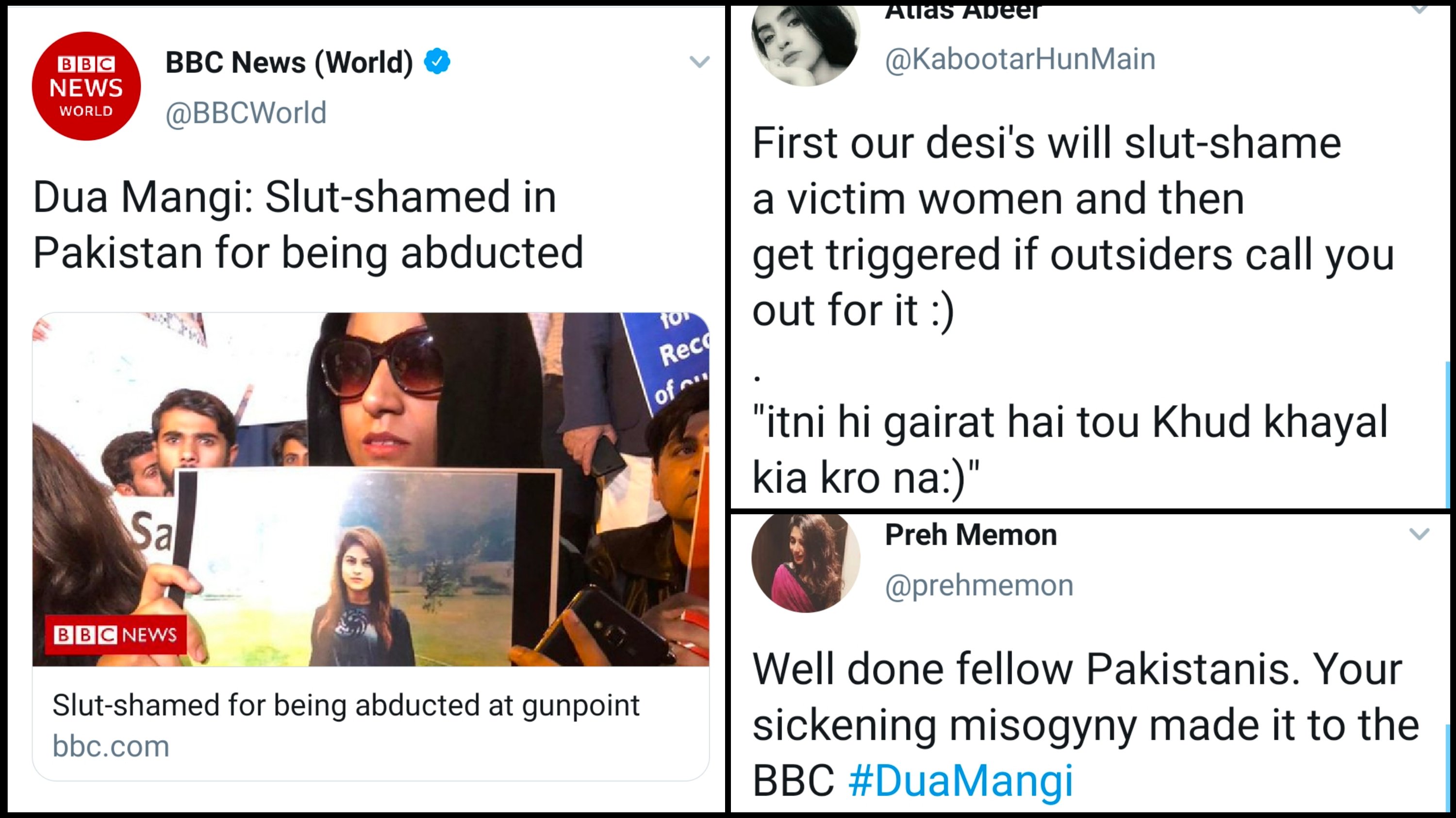 Ever since Dua Mangi was kidnapped, people have been commenting all sorts of things about her, from sending prayers to character assassination and what not. And as Dua Mangi returned safely to her parents, the judgements have really gotten out of hand.
People are curious to find out every little detail from when Dua Mangi was abducted and are demanding that the family reveals all details as they have the 'right' to know. Many have been commenting absolute nonsense calling it all a big drama. The vile comments were picked up by BBC and an article was published at BBC World:
Dua Mangi: Slut-shamed in Pakistan for being abducted https://t.co/YHvFEKEpR9

— BBC News (World) (@BBCWorld) December 4, 2019
The replies had people baffled:
Nuclear power stuck in the 14th Century.

— Brian Biddle (@BrianBsurf) December 4, 2019
The girls were horrified:
As a Pakistani, I'm horrified myself. Our society is literally trash, no wonder the country hasn't progressed at all. It's not even remotely safe for women.

— zeynab🦋 (@itszeynabbb) December 8, 2019
Some suggested that all girls be evacuated from Pakistan:
All females should be evacuated out of Pakistan.

— Kealani Smith (@KealaniSmith) December 4, 2019
Some were calling out the triggered awaam:
Truth hurts but slut shaming dua mangi for getting kidnapped is exactly what's been happening for the past week, ab sab Kar Kara ker kissi nei kuch keh diya toh rona daldete Hain, ab thora kam jalein kutein toh behtar hoga

— ꋫ ꒒ ꌚ ꋫ (@KamikazeKarela) December 8, 2019
People were angry at the men:
slut shaming a woman……… kidnapped at gunpoint & abused by men…….instead of shaming….. the actual kidnappers……

y'all ever wonder how much better life would be if indian & pakistani men were just shipped out in a big boat to d*e in the Indian Ocean? cos same https://t.co/Qe3oInoIFy

— medusa apologist (@faegonometry) December 8, 2019
Some were pointing out why the news made it to international headlines:
Main reason it made to the headlines was because everyone unwisely chose to disproportionately highlight a few odd uneducated comments. Even the article only mentions comments condemning the mindset that supposedly represents all the Pakistanis. https://t.co/Viw9MQhnLN

— Amna (@Amnabaano) December 8, 2019
People were calling the shaming men trash:
"Pakistani men are the best it's just your family" LMFAOOO suck it up Pakistani men are trash it's official https://t.co/fT40nRmPNE

— hoor (@hoorrulain_) December 8, 2019
Many were happy about the fact that the word slut shaming was used:
tHANK YOU FOR SAYING IT LIKE HOW IT IS https://t.co/cXJO2oDUVm

— reha (@clownbitch6) December 8, 2019
Many shared how this was unfortunate but true at the same time:
Love all the white people hating on our society because of the shit you pakistani men have to say. Can't even disagree with them https://t.co/gITd4bxo3k

— Nayab (@Nay__t) December 8, 2019
Ummm…
Once again, BBC and the evil west is portraying bad image of Pakistan. https://t.co/ZZ6SiBQO8v

— real (@artisticboxer69) December 9, 2019
So much for tabdeeli:
This is our people and then we have the audacity to blame to out government and everyone else. https://t.co/vbIS3lHCBu

— Ⓜ️aaz Kidwai (@Maazkidwai) December 8, 2019
The vicious circle!
First our desi's will slut-shame
a victim women and then
get triggered if outsiders call you out for it 🙂
.
"itni hi gairat hai tou Khud khayal kia kro na:)" https://t.co/ruE8ftHl8B

— Atlas Abeer (@KabootarHunMain) December 8, 2019
People agreed that the Pakistanis were being rightfully called out:
We always make it to international headlines for being exactly who we are, so fucking encouraging, isn't it!!!

Sigh! https://t.co/TIElnTOIDx

— Maida Farid (@maidaFarid_) December 8, 2019
can't believe people are still claiming this to be terribly worded and falsely reported when we saw how nasty men reacted and spit nonsense about the kidnapping,how do u turn a blind eye to all that,ALL THAT https://t.co/K7gj14HPgh

— 🕊 (@cashmalalala) December 8, 2019
People were lauding the Pakistanis:
Well done fellow Pakistanis. Your sickening misogyny made it to the BBC #DuaMangi https://t.co/QMqg2EYafl

— Preh Memon (@prehmemon) December 4, 2019
Badnaam na hon gay tu Kia naam na hoga…
Shabash Pakistanio…
Naam Roshan ker dia duniya main…
Pakistani Zindabad…!!! https://t.co/J0Yzl0bD57

— ZeeKayy (@TheZeeKayy) December 8, 2019
Phir kehtay hain mulk k khilaaf na bolo badnami hoti hy. Tum kra lo naik naami. Ghaleez loug. Nang e aadamiyyat! https://t.co/NNgbxytcvZ

— Shadow Of My Old Self (@ShadowOfMyOldS1) December 8, 2019
Some suggested how there's a dire need of more Aurat marches:
Can't begin to imagine what this family is going through having to see such headlines in such a difficult time.

The things they've said is deplorable and shows how much mvmts such as
Auarat March is needed to create awareness and bring change.

Time for institutions to step up! https://t.co/MSAXUrTb6l

— Arhum (@arhuml92) December 4, 2019
Absolutely!
There shouldn't be any ifs and buts while condemning a crime. https://t.co/UzlAjnk5CX

— Adeem Ghaffar Rana (@ranaadeem) December 8, 2019
Some were still blaming Dua for the badnaami:
Ek larki ki wajah se poora Pakistan badnaam ho rha hai https://t.co/K1HDWDYtHh

— 🛡️ (@Iemepakistani) December 8, 2019
Some were telling BBC to mind their own business:
Bbc we are do3our work u mind ur own business and tell to world what happening in kashmir, Philistine, iraq, Iran and miser?
😡😎

— Anwer Hussain (@anwer_qumnews) December 4, 2019
What do you think about BBC calling out Pakistanis on their slut shaming? Let us know in the comments below!