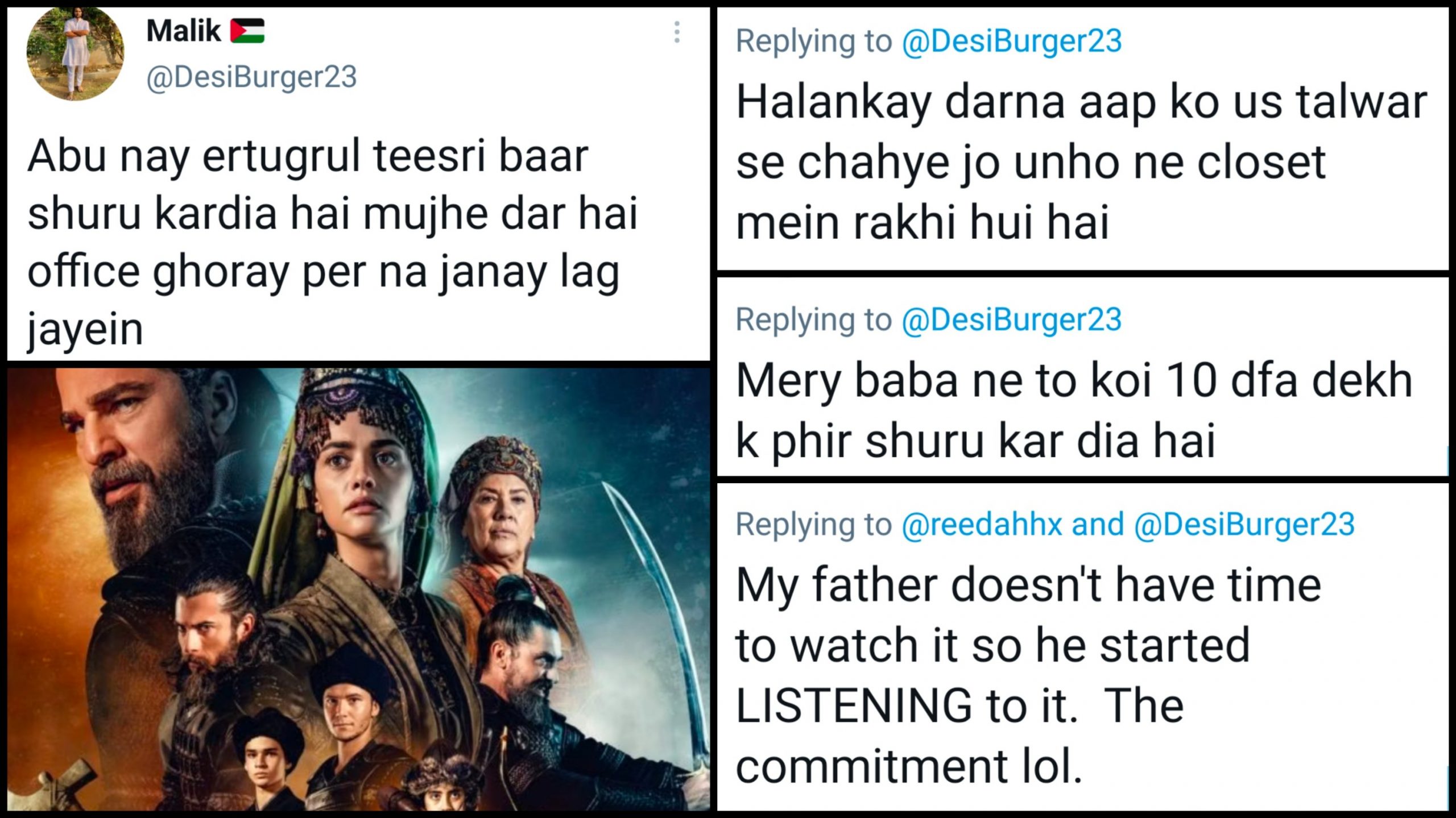 If you thought the nation's Etrugrul fever is gone, it hasn't! The series that took Pakistanis by the storm still holds a very special place in their heart and we don't see the love dying anytime soon.
Finding his dad watching the series again for the third time, this guy's hilarious tweet has the netizens in fits:
Abu nay ertugrul teesri baar shuru kardia hai mujhe dar hai office ghoray per na janay lag jayein

— Malik 🇵🇸 (@DesiBurger23) July 24, 2021
And fellow Pakistanis can't stop relating!
Mery baba ne to koi 10 dfa dekh k phir shuru kar dia hai

— Tooba (@tuba_shafi) July 24, 2021
Lmao, such dedication!
My father doesn't have time to watch it so he started LISTENING to it. The commitment lol.

— ridatheunicorn 🇵🇸 (@reedahhx) July 25, 2021
Same!
Bro your dad is built just like my dad https://t.co/udWoOwfpHq

— A (@NaqliStark) July 25, 2021
😂
Mere abba to pichle saal se dekh rahe hain pata nhi khatam hi nhi hora😭

— Babblu (@drunkndedduc_) July 24, 2021
Jo baat hai!
Halankay darna aap ko us talwar se chahye jo unho ne closet mein rakhi hui hai

— Ghazi Sargana (@SarganaGhazi) July 24, 2021
Us too 🤣
😂😂 ngl i fear the same at this point https://t.co/ujzHQIMLGU

— Ayesha (@Ayeshamohiudin) July 25, 2021
Seems like dads weren't the only ones in love:
Abu is me😀 https://t.co/jj9G8B1AzS

— Bushra 🇵🇰🇵🇸 (@bkhanz181) July 25, 2021
It's an addiction, and I'm an addict 🥵

— Mahnoor Faisal khichi khan. (@KhichiMahnoor) July 26, 2021
Bruh!
Mere baba ne 6 baar🤣🤣🤣

— Ali (@Katalizer07) July 25, 2021
Like father like son:
Ertugrul miss ho jae to neend kharab kr k bhi dekhtay hain
Lekin mein koe series zyada dekh loon to kehtay hain tumhay kuch zyada hi craze hota jaa raha hai 😔😔 https://t.co/9aOv24Q7Mr

— Abdullah kashif (@____AK47_______) July 25, 2021
Hahaha!
Desi father: uss zamanai mein covid ki tayari ho rahi thi.

(referring to their meeting gesture aka "covid elbowshake) https://t.co/kHHZS5x9Zl

— Hira Saleem (@Hirasalimalik) July 25, 2021
Cutie!
MY MOM LITERALLY COMPLETED THAT AN YEAR AGO BUT KEENLY WATCHES THE TV SERIES THAT TOO AN EPISODE TWICE A DAY https://t.co/7z16AshP6Z

— hoor •.• (@basichoorants) July 25, 2021
Yar 😂
dekhna nai halima sultan bhi na a jai😂😂 https://t.co/7Sabbi5ipZ

— MANI ||| Maryam Fatima stan acc (@PabloExKoMar) July 24, 2021
😂😂😂
WHY IS THIS SO FUNNY 😂😭 https://t.co/8dTkQNlhsN

— momina k. (@sjklmj) July 25, 2021
Can you relate? Because we absolutely can! Let us know in the comments below!