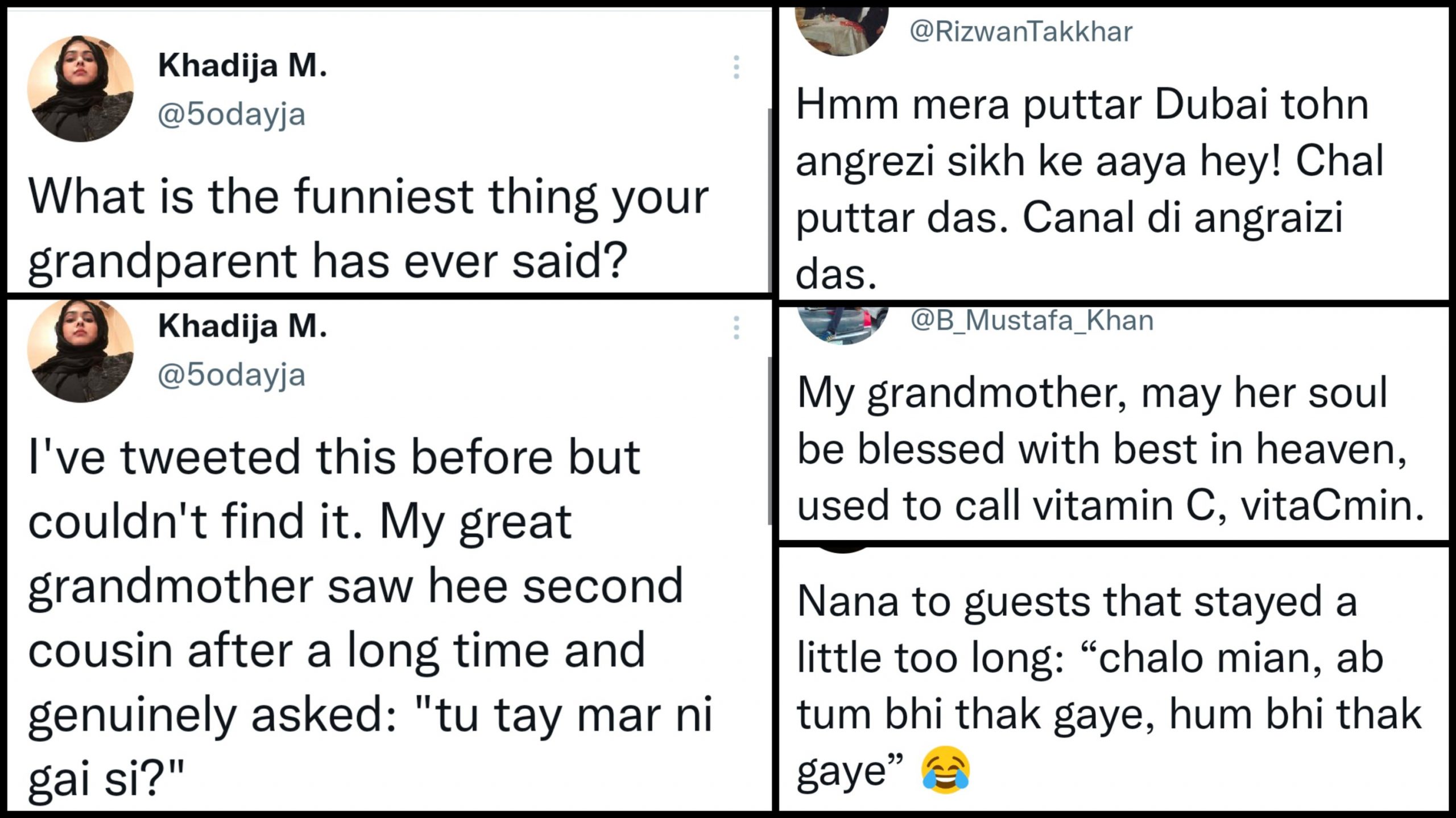 Grandparents really are precious, from them telling us their adventurous tales to protecting us from our parents' daant, they've done it all and we cherish them.
And today, Pakistanis are sharing the funniest things their grandparents have said:
What is the funniest thing your grandparent has ever said?

— Khadija M. (@5odayja) August 25, 2021
And we just can't stop laughing!
was having dinner at Nana's and I generally make niwalas out of my roti using both hands, which is not the "right etiquette" apparently. Man just looks at me for a couple of seconds then goes in his full bihari accent: "ab paaun bhi laga hi lijiye" 😭😭😭 https://t.co/nAlqdSfF8S

— uncle shady (@doctorwhothefuc) August 25, 2021
Omg, noooo 🤣
I've tweeted this before but couldn't find it. My great grandmother saw hee second cousin after a long time and genuinely asked: "tu tay mar ni gai si?" https://t.co/woP5RBmjxG

— Khadija M. (@5odayja) August 25, 2021
Lmao!
My dado said she was having a bad day because she had a dream my dada was having tea with another woman. My dada has been dead for 24 years https://t.co/uosHPRvcdZ

— rameen (@rameensak) August 25, 2021
Haha, dadi jaan getting straight to the point!
My dad's ancestral home was haunted. There was a spirit/jinn who'd wake one of them up routinely. Poor thing tried it on my daadi once. Daadi's narration:

'Menu ik hath nazar aya meri akhan dey agay hilda, main puchya: paiyaan tussi kaun ho?'

— Parvaneh (@innerglow91) August 26, 2021
Yar 😂
Dadi at a wedding, about the bride: "kurri da chest bara changa ai" 🥴🥴🥴🥴🥴🥴🥴 https://t.co/XhbpN1Kf3Q

— kulfi (@MeethiChhurri) August 26, 2021
I mean, she's not wrong 😂
My nanna, may Allah bless her soul, was playing name place animal thing verbally with us in the car and said Ass for animal when we got the letter A, saying donkey ko kehtay hain na, when we laughed XD https://t.co/FG2tlD9eZM

— WannabeJannati 🌈 (@Islamabaddiee) August 26, 2021
Hahaha, nana jokes for the win!
Anno Papa and I were eating moongphali and he says to me in the most dead serious tone, "Aj se tum mujhe nana nahn keh saktien." I almost had tears in my eyes and I was asking him if I said something wrong and he replied, "Woh moongphali main daana nahn tha na." https://t.co/oHAmjPHF7f

— H. (@hifzakhann) August 26, 2021
Best 😂
My grandmother's sister once came to Islamabad and listened to the azaan and said "da senga chal de? Dalta hm baang pukhto ke v?"

Translation: "aray ye kia hai? Yahan bhi azaan pushto mien hoti hai?" https://t.co/86wwltUnn4

— Resident of Banana Republic of Bannistan (@Affanarchist) August 25, 2021
I can't 😂😂😂
my daadi once made a comment on my stick thin cousin:

**** ainj aye jivain baans nu bund layi aye https://t.co/KjExgubhI2

— ✯ (@pehchankaun_) August 25, 2021
Savage!
My grand mother had Alzheimer's in her last years and she used to sing songs of her youth randomly. Once while singing, she asked me to sing any song for her. I started and after a line or two she stopped me and said "Tou puttar rehn de, tere wass di gal nahi". 🤡😂 https://t.co/KrMW88n6Aq

— JUNAID (@jonaid196) August 25, 2021
Cutie!
Dado and i were sleeping in the same room once, she wokeup around 3am flashes the torch at the clock and said oho mei toh xanax lena he bhool gayi. I was in fits, like dado u literally went to sleep without it, next we just laughed over it, miss you dado ❤️ https://t.co/sNBh8lWz7m

— Z (@zeenaqviii) August 26, 2021
Things they do for us 🥺
She was watching TV and saw the ad of Pedia sure. She got me one the next day, I asked why? She said tm khana nahi khati yai peeyo. I'm 20 lol. https://t.co/fYOJ4oZ6Ng

— Aroosa odho (@Aroosa693) August 25, 2021
This melted our heart!
my dadi makes up the funniest stories just to make me eat roti.She once came in my room and goes"meine news mein deikha aik bande ko corona hogaya tha q k woh roti nai khata tha" https://t.co/24C5sb7zh1

— H. (@hamnawbu) August 26, 2021
Lololol, most of us can relate!
when Bashar came to my house for the first time, we were just hanging out away from the elders. when they left my daado said, "Ki gallan horiya sn, Meri nazar tuwaade dowa'n te si" 😭😭😂😂😂 https://t.co/yHNyMvpWiA

— keshef (@kashmirichai__) August 26, 2021
Ah, shots fired!
Dada abbu extremely disappointed in us for sleeping during day "quaid-e-azam farma jo gaye thay araam, araam aur bas araam, shabash" https://t.co/gRBNpAn37f

— anusha (@tissueandustbin) August 25, 2021
Cutie!
off the top of my head.
me and nani watching cricket together: *powerplay is done and they show highlights of all the boundaries*
nani: itni jaldi kaise itne saare run bananliye aik minute mein hi 😭😭😭 https://t.co/YmAawFJqRr

— farzan (@fartzan) August 26, 2021
Clear and concise!
Nana to guests that stayed a little too long: "chalo mian, ab tum bhi thak gaye, hum bhi thak gaye" 😂 https://t.co/Wf0XhTWQR3

— Sarah (@sarahHsnNqvi) August 26, 2021
😂
My grandmother, may her soul be blessed with best in heaven, used to call vitamin C, vitaCmin.

Miss her 😢 https://t.co/Aw2xhRZz72

— Bilal Mustafa (@B_Mustafa_Khan) August 25, 2021
Oooof!
"Have you thought about finishing school? I think it could help." – NaniJaan to me, 31 https://t.co/xU6nJSR7PA

— Sabah Malik (@sabahbanomalik) August 25, 2021
Uh oh!
Once my cousin went to market with dadi amma and asked her to buy her ice cream cup
To which she replied
Why? Don't we already have enough cups at home? https://t.co/meE50N3QSS

— Yeh Dunya jhoti ~ (@sarmadard) August 25, 2021
Mic drop!
my nani caught me reading with a flashlight in the dark when i was 7 and said "kuch loug bichare sirf jahil hotay hain aur kuch loug parhay likhay jahil" https://t.co/Jmqpf4kX7k

— zein (@sharktaIes) August 25, 2021
Yaaaas!
My grandma is so cute she still calls the microwave, "microwhale" and Nutella is "noo-trella" like Yas decolonize us queen https://t.co/0hxwlJc6Op

— maha/mahad 🇵🇸 (@highkeydancing) August 25, 2021
🤣
Hmm mera puttar Dubai tohn angrezi sikh ke aaya hey! Chal puttar das. Canal di angraizi das. https://t.co/JLd4FWiBIG

— Rizwan. (@RizwanTakkhar) August 25, 2021
Hahaha, nothing funnier than an angry grandparent 😂
"Warh ja ja k jithoun niklya si". https://t.co/8c5G28urF2

— Hamna Malik (@hamnatweets) August 26, 2021
Awww!
My great grandmother used to call every soft drink "tepsi", because she couldn't say pepsi.

— Remsha (@am_a_potato) August 26, 2021
Hahaha!
"Bring me snow" – she meant ice

— Shaheera (@ShaheeraAnwar) August 25, 2021
Hey, budgeting is important!
My grandfather gave 10 rupees to a beggar woman and asked her to return 9 rupees 😂😂😂😂

— Entitysuspended (@entitysuspended) August 25, 2021
What's the funniest thing your grandparents have said? Let us know in the comments below!