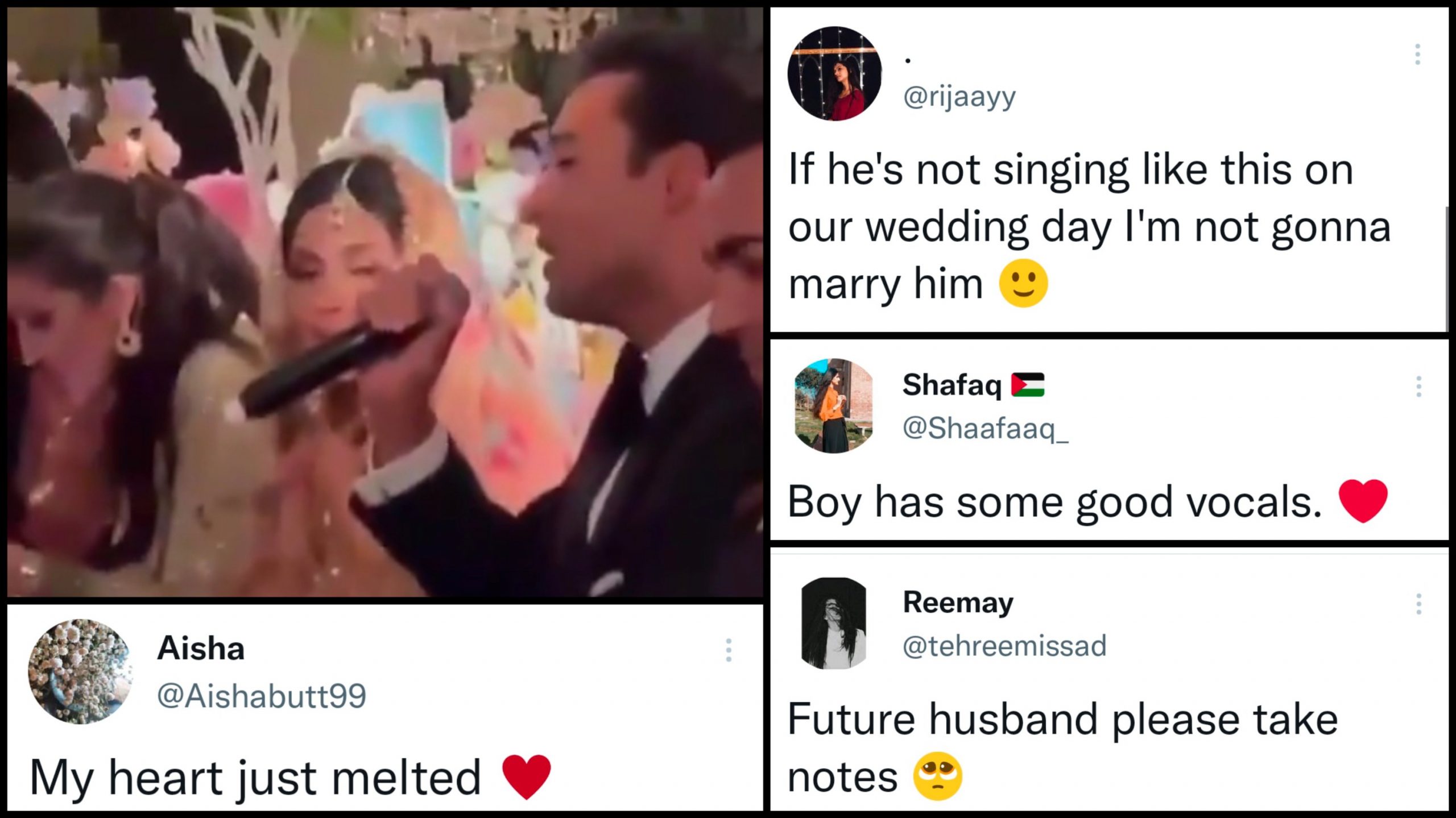 Twitter has been lit ever since Junaid Safdar's nikkah pictures made it to the internet, from memes on his wife's reaction to a cross-armed Nawaz Sharif fitting into almost every scenario, it's been a ball!
And recently a video from the nikkah ceremony surfaced the internet where Junaid Safdar can be seen singing for his wife:
Junaid Safdar sings classic song "Kya hua tera wada"

He sings too good 🥺#JunaidSafdar pic.twitter.com/RH4u3IZHVe

— Ambreeeen.. (@Nostalgicc_A) August 25, 2021
And twitter is in love!
Wow what a voice😃😃 https://t.co/XPbHb34LKt

— Hadiqa Jannat 🇵🇰 (@HadiqaJannat) August 25, 2021
People had questions:
who tf sings kya hua tera wada on their wedding day? https://t.co/B1pVCnfZDP

— معید۔ (@yarmoeed) August 25, 2021
man can definitely sing but why is he singing this song on his own wedding 😭💀 https://t.co/C4hDO2fbtD

— F. (@moonlitcemetery) August 25, 2021
bro who tf sings peak ghum hour songs like this on his wedding? 😭😭😭 https://t.co/96wMMr0oKk

— 🤺 🇦🇫 (@horrcrux_) August 25, 2021
He did!
did he really turn away from his wife and look at someone else while singing 'bhoolega dil jis din tumhein, woh din zindagi ka aakhri din hogaa'😭 https://t.co/d6HwGODwVJ

— Sadia Bhutto (@BhuttoSadia) August 25, 2021
He's married!
Crush updated 😭💛💛💛💛 https://t.co/WTUoN9ck9r

— A. (@verydumbone) August 25, 2021
People had suggestions:
Maryam Safdar is a crowd puller and Junaid Safdar has melodious voice. I think, they both organize concerts instead of wasting time in politics and polo.

— Ali Raza (@AliRazaTweets) August 25, 2021
Lmao:
My vote for Sharif Family for generations to come Coz Junaid Safdar can Sing.

— Syed Haji Professor Dr. ZAQ (@DrZAQ11) August 25, 2021
Count us in!
Junaid Safdar's got some serious singing skills. Invite him to our Space. pic.twitter.com/CDMHvgWGLU

— Ihtisham Ul Haq (@iihtishamm) August 25, 2021
For sure!
Boy got looks and can sing too!!😩♥️ https://t.co/GJibSf7S3p

— Noshii🌻 (@darknightagain_) August 25, 2021
Some still weren't sold:
Jitni corrupt ye family hai I'm convinced he's lip syncing to some guy singing in the back. https://t.co/DZoIFxCOq4

— Raafay (@highonEcstasyy) August 25, 2021
Bruh, same!
If my manz was remembering some bewafa while i'm looking like a goddess next to him khuda ke kasam im leaving😭😭😭😭😭😭 https://t.co/QzbthtAd5D

— Utha le re baba (@PathanticBaji) August 25, 2021
Real sus:
Not him looking at a guy and smiling while he didn't even look towards his wife the whole day. Hmmm sus https://t.co/DI5Y5QBwyF

— aloo🧣 (@Fizzaa___) August 25, 2021
People were also sharing how Shehbaz Sharif is a good singer too!
Shahbaz Sharif is also a good singer. https://t.co/S3NutSASt2 pic.twitter.com/DJtACJMeiO

— Shafeeq Gigyani (@ShafeeqGigyani) August 25, 2021
What did you think of Junaid Safdar's singing? Let us know in the comments below!