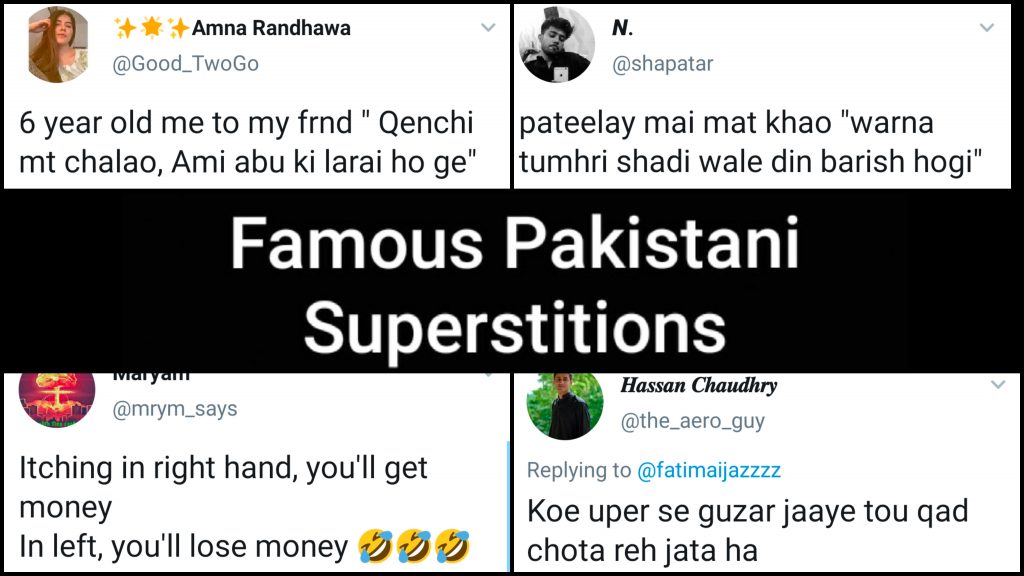 Are you even a desi if your family doesn't believe in certain superstitions? Because ours does and we're as desi as can be!
Today, Pakistani tweeple are sharing the superstitions they've heard of and some of them are really interesting!
I am become death,the destroyer of worlds https://t.co/bEYF5ToQT7 pic.twitter.com/DejLihEBiw

— PronetoCancer (@Pious_Dictator) May 28, 2020
And achaar!
Eating tamerind (imli) will make a man impotent. https://t.co/MVpKwAMsUf

— ST (@shobz) May 28, 2020
The amount of times we've heard this!
Family planning causes infertility https://t.co/AcLJomBvyG

— Seeeeeeeeruuu (@se3ru) May 28, 2020
This nation and their gora complex!
Tea darkens your complexion and milk lightens it. https://t.co/GMnwLvqRZ8

— Saadia Ahmed (@khwamkhwah) May 29, 2020
Hello, goth babies!
کاکے کو نظر وٹو لگا دو تاکہ نظر نا لگے! https://t.co/opsClSw87O

— 90s Kid (@ContagiousVibez) May 29, 2020
HAHAHAHA 😂
Most stupid one:
Jisko bohat machhar kaaten uska khoon meetha hota haii https://t.co/7vs57uXpTm

— not me (@beinghamna) May 29, 2020
Same 😭😭😭
Idk if you guys know this but kehty hai chapal/shoes ko Ulta na choro shaytan khush hota hai. I just cannot stand ulti chapal I have to make it seedhi lol kch b hojae https://t.co/RZLch1CyOz

— . (@ghattay_wrajay) May 28, 2020
My mum still tells me this everytime it rains!
If you're the first kid, you shouldn't go out in the first acid rain because "lightning bolt sirf pehle bache pr strike marta hai" https://t.co/qImRA0JloL

— 💟 𝐀𝐥𝐢𝐳𝐚 💟 (@Lizzation) May 28, 2020
Omg!
6 year old me to my frnd " Qenchi mt chalao, Ami abu ki larai ho ge" https://t.co/fWZLKfBxWk

— ✨🌟✨Amna Randhawa (@Good_TwoGo) May 28, 2020
Does it work? Anyone?
If you find yourself in the vicinity of a lizard say, "agar tu djinn hai tou tujhe hazrat suleman ki qasam, chali ja" and it will go away https://t.co/oeEIeVduu5

— Fenton Crackshell (@civilserpentt) May 28, 2020
Ummm?
If you Put Horseshoe on The front Door No Problems Will Come In https://t.co/y7I9XKXHRX

— Sarfraz Haider (@Sarfuuu___) May 29, 2020
Iss hisaab se toh crore-pati hona chahiye tha humain:
Itching in right hand, you'll get money
In left, you'll lose money 🤣🤣🤣 https://t.co/ru13lhcw5z

— Maryam (@mrym_says) May 29, 2020
We feel attacked!
Fold over the corner of the prayer mat when you finish salat or when it is not being used else shaitan will pray on it. https://t.co/RVVg5P9VL0

— Fariha Shaikh (@FarihaShaikh12) May 29, 2020
Noooo, we used to believe this!
Eat 2 bananas coz one will give you constipation ☺️ https://t.co/Jzmb3x8VhX

— CheekyCat (@CheekyCat3) May 29, 2020
We don't see no connection!
Jitna hasso gay, utna ro gay https://t.co/gK9xqgHXor

— Manahyl (@manahylk) May 29, 2020
Yar.
Magrib k baad Ghar par Jharoh phairny se Rizk chala jata hai !! https://t.co/txrKRK7csu

— Hina (@paropizi) May 28, 2020
We still wouldn't advise that you try it:
milk + fish = vitiligo https://t.co/w5bbYG4PEO

— HawkesBay (Löuche) (@HawkesBay) May 29, 2020
Hum ne toh shohar suna tha:
"mEhEndI kA RaNg AcHa AyE to ApKi SaAs Ap sE PyAr KaReGi" https://t.co/X4p8bXPJ8l

— Leezay. (@kyascenehaibhai) May 29, 2020
Guest expect-o-meter!
If a crow caws at the roof of someone's home, guests are expected at that home🤓 https://t.co/0BZVuEcl1t

— Conjuring (@eansariey) May 29, 2020
Why not!
Don't cut your nails at night 🙄 https://t.co/6QRTjX2CNh

— Rija Ali (@pakistanilatina) May 29, 2020
Hahaha!
If you have a dream about someone, they are thinking about you.
Bhai meray khuwab mei ronaldo aya tha https://t.co/9VjFJpx7E4

— Bilal (@BilalSubhani00) May 29, 2020
Who was thinking about me at 2pm today, because ouch!
If you bite your tongue, someone's thinking about you. Seriously what even🤦 https://t.co/32yIYDOjcU

— Zainabbbb🌚🥀 (@fattthoe_) May 28, 2020
All family elders who have Whatsapp believe this!
Corona virus according to my family https://t.co/fa7oh3glAK

— Beauty guru/Beaconhouse hate acc (@garbishhh) May 28, 2020
We've heard the same!
If you go outside or to bed with wet hair you will get lice https://t.co/Gu4udRy6Q6

— Sabah Malik (@sabahbanomalik) May 29, 2020
Omggg, we all used to believe this as kids!
Bache perfume ni lgate wrna churailein chimer jati hn https://t.co/zo00e4KqSX

— Aloo. (@lifesaviour_) May 28, 2020
Scarred and scared till date!
Sit under a tree after its dark- be possessed by a jin ☠️ https://t.co/XctfSPLZSV

— Mian Sb🍂 (@AdilJamalArain) May 29, 2020
Why can't we have two of the best things together?
Don't eat watermelon whilst you're drinking Lassi! https://t.co/bfe4MRDzjc

— Junaid A. (@junaidalikh8) May 29, 2020
Aur sari mithayi le jaatay hain?
"Raat ko mithai ki dukaan pay sirf jinn atay hain" https://t.co/rsG8n95ds3

— Qurat-ul-ain Zaidi (@annyzaidi) May 28, 2020
Hahaha, all of us in grade 5:
tmharay haatho ki "bay" bohat pyaari hai tmhay pyara shohar milay ga. https://t.co/JDoFHHQYMD

— Abdullah (@abrafique09) May 27, 2020
Oops!
pateelay mai mat khao "warna tumhri shadi wale din barish hogi" https://t.co/Q2zB8w5LGg

— 𝙉. (@shapatar) May 29, 2020
THIS!
Saanp maaro tou Sapni dunya mien kahin bhi aa kr badla ley legi. https://t.co/ugGv5dpFFX

— Pressure Kukarr 🐓 (@CrashinBurnin) May 28, 2020
How about we don't pee at random places at all?
Don't pee under the tree. Jin chimar jayen gain 😐 https://t.co/xEKeSdYS7T

— bilal.🇵🇰 (@bilal_a98) May 29, 2020
Wait, WHAT?
Daddo ko marne say saas andhi milti hai https://t.co/J6yuEUpCkJ

— Syed Ali Raza Zaidi (@lucifer_512) May 29, 2020
How many of these superstitions did you believe in at some point? Have more to add? Let us know in the comments below!