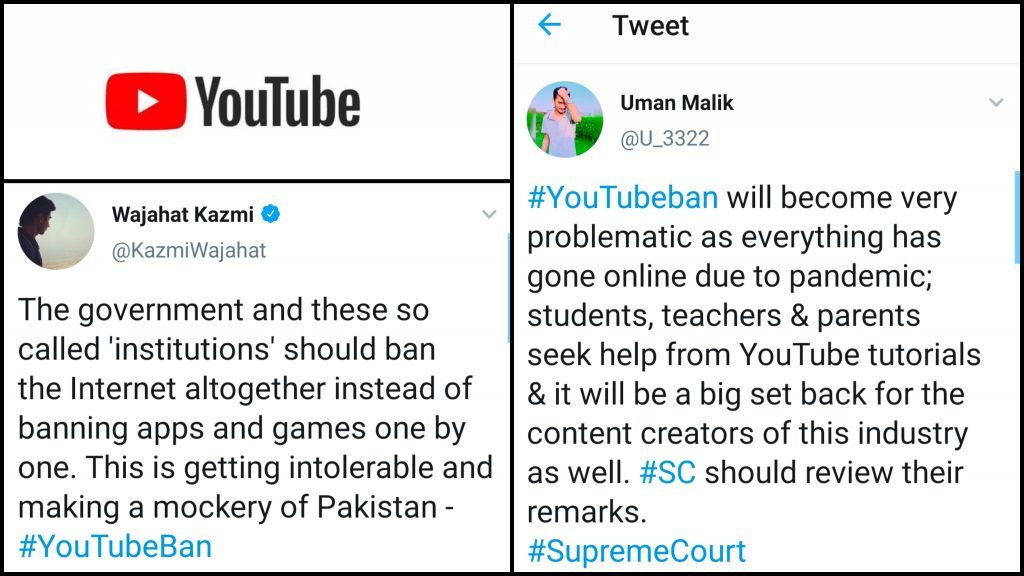 First it was PUBG, then Bigo, people were thinking Tiktok would be the next app to be banned, but Supreme Court just hinted that the next app to be banned might be YouTube:
Furious at the hinting, netizens have taken it to all social media platforms to express their anger:
A great round of applause. It's just funny now. We have the potential to be called a developed or a first world country, but we are so obsessed with staying the way we are as a third world country. We ban what we don't understand as simple as that.#pubgbaninpakistan #YouTubeban pic.twitter.com/JlKQDvCEMl

— Marsiery (@marsieryspamsXD) July 22, 2020
People wanted the judges to revisit what was said last time:
The honourable Supreme Court of Pakistan should consider what Senator Aitezaz Ahsan had said about the YouTube ban in Pakistan in 2012: "Banning YouTube for a few objectionable videos is akin to burning an entire library because of a few books there one doesn't like". #YouTubeban

— Usama Khilji (@UsamaKhilji) July 22, 2020
Musician Mustafa Zahid took to Twitter concerned at the ban:
It's a ridiculous idea to ban YouTube in a country that has no music labels, no prominent music channels and absolutely no platform for youngsters to showcase their talent. #YouTubeban

— Mustafa Zahid (@Mustafology) July 22, 2020
💔
No one!!!
Literally No One….

Pakistani think tank & decision makers

Ban all games ban all entertaining sites ban everything ta k hamary bachy parh sakain… salam#YouTubeban pic.twitter.com/XShYCkOX28

— M Abu Bakar Farooq Tarar (@abubakarSays_) July 22, 2020
People were feeling no different than being in North Korea:
Inshallah we will be the Next North Korea!#YouTubeban pic.twitter.com/HzFEiLpYHx

— Ahtesham Ahmed (@mein_ahmed) July 22, 2020
Many were advocating how useful and essential YouTube is to learning:
Why pakistan is heading towards freedom-less days? The specific channels with inappropriate content should be banned rather than whole app. Other than that specific content, no doubt youtube is a big platform of learning for many students. #YouTubeban pic.twitter.com/7OObnhXVSg

— Mahnoor (@MAHNOORQASRANI) July 22, 2020
People were done!
Ban these shitty Judges & Retired
Generals at PTA who don't understand technology. Youtube ban in the past has hurted Pakistan's digital space so badly that we're still recovering. Let this new generation flourish. & keep your bullshit ideas to your brains@ZakaWaqar#YouTubeban pic.twitter.com/moWLPlBOCI

— Malik Waleed Abdullah (@IAmWaleed05) July 22, 2020
People were really angry:
So your only reason to ban something is because people criticize judges?

If judges from didn't sound like complete buffoons all the time, maybe people would like them a lot more.

Judiciary is by far, easily the worst part of Pakistan's governance.#YouTubeban pic.twitter.com/HJvW1Mk6hV

— A² (@meremadadkro) July 22, 2020
Many were concerned about hundreds of people losing their means of earning:
Dear PTA and SC think before you do. There are thousands of YouTubers in Pakistan who earn through YouTube. Are you going to make them jobless just because of some idiots? You should ban or arrest them instead of banning the whole platform #YouTubeban pic.twitter.com/EThH4xwqQx

— Ashan not Ahsan 😒 (Areeshsa'a bday 🎂🥳) (@simpli_shani_) July 22, 2020
People had completely lost hope:
Now it's time to leave Pakistan. Seriously only these judges and stupid laws are the reason why

Tesla
Amazon
PayPal
Spotify
Apple

Will never come to Pakistan.#YouTubeban pic.twitter.com/fgmSCs5pXK

— Ayan (@arcturut) July 22, 2020
Aur kya!
The government and these so called 'institutions' should ban the Internet altogether instead of banning apps and games one by one. This is getting intolerable and making a mockery of Pakistan – #YouTubeBan

— Wajahat Kazmi (@KazmiWajahat) July 22, 2020
People wanted to know where the #DigitalPakistan promise was heading?
I think we are heading back to 1980's. Ajeeb Jahilo Wale harkaten kr rhe Hain. @ImranKhanPTI
Kaha gya apka #digitalpakistan? please take action about this shit #youtubeisoverparty #youtubeban https://t.co/aYBQCqUPIp pic.twitter.com/qtEjJZyccX

— M U S T A F A 🇵🇰 (@Mustafa_Memon5) July 22, 2020
Exactly!
Ok ban pubg acceptable
Ban TikTok no problem
But YouTube? Really Man
Thousands of people are learning from YouTube. If there is anything against the prosperity of our country then take action against those individuals. #YouTubeban pic.twitter.com/pBWRff2YOZ

— TheHulk (@lumusrupin) July 22, 2020
Waqayi?
All social media platforms will be shut down except Twitter and Instagram,because the banners themselves use these platforms.
Congratulations Pakistanis, soon your electricity, water and gas will also be banned
And you just keep fighting by the keyboard

#YouTubeban pic.twitter.com/RkrBYhP9Ea

— Hasan Bahi ⚠🔞⛔🚫♠️♠️♠️ (@BahiSays) July 22, 2020
There were memes:
Supreme Court in Pakistan as a meme.#YouTubeban pic.twitter.com/v59ZRlAjmj

— Rao Daniyal (@n0tyourbhai) July 22, 2020
Ducky Bhai thought this was a good time to put forward his resume:
Any strip club wanna hire me after #YouTubeban ? I do have some mujra experience tho.

— Saad Ur Rehman (@duckybhai) July 22, 2020
And while it was just a hint, there have been reports of PTA responding to the situation:
via Muzamil Hasan's Instagram story. #YouTubeban pic.twitter.com/M24SqFrE4j

— اُجالا (@lalatweets_) July 22, 2020
Do you think banning app after app is a permanent solution? Let us know in the comments below!