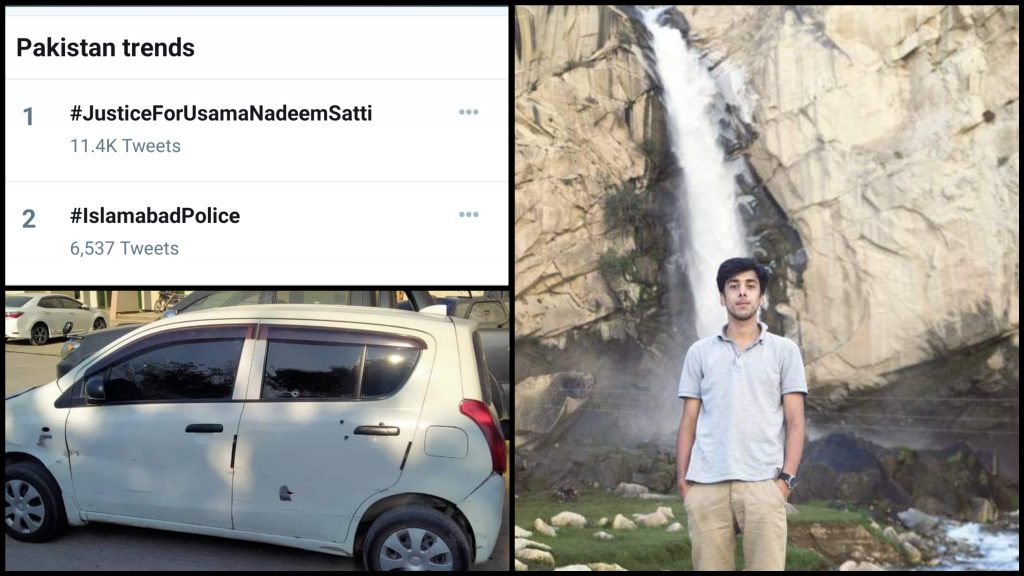 21 year old Usama Nadeem Satti was shot dead by Anti-Terrorist Squad personnel in Islamabad last night after they signalled him to stop and he failed to comply.
According to media reports, the police fired 21 shots out of which 17 hit Usama and he died on the spot. As soon as the news surfaced on social media, people have been furious and are demanding that the case be investigated thoroughly and justice be served:
Last night, a 21 year old guy Usama Satti has been killed by ATS Islamabad Police near G-10 Srinagar Highway for just not stopping his car on police commands.

22 shots were fired on the car out of which 17 shot hit Usama.

5 personnels arrested.#Islamabad #IslamabadPolice pic.twitter.com/hkcIBPWwZ3

— Developing Pakistan (@DevelopmentPk) January 2, 2021
People were disappointed:
Instead of chasing and stopping the car, they choose to murder a young civilian.

Just frustrated and not even expecting government to hold these policemen accountable. https://t.co/ArG9EBkfmC

— Maira (@MairaBrizo) January 2, 2021
People weren't really surprised:
not the first case of police brutality. in 2015 two brothers, unarmed, were killed by police for the very same reason in pindi. will not be the last either considering people think shooting at someone twenty two times is somehow justified. the replies under this are sickening. https://t.co/7tuiEsZXCO

— j. (@shahitukray) January 2, 2021
People were speaking up:
I want EVERYONE to speak up for this boy. Aj uske sath huwa hai kal ko kisi ke sath bhi ho sakta hai. 22 Goliyan????! Janwar hain yeh log insan nahi. Government should take a strict action against the culprits. #JusticeForUsamaNadeemSatti pic.twitter.com/HsrtxRfN08

— Komal Shahid (@ArmedWithWords) January 2, 2021
People couldn't believe the audacity that others had:
Look at the replies. How is "he shouldve stopped" the first that comes to your mind after reading this. YOU are part of the problem. The police couldve easily shot the tyres & stopped the car, he wasnt a criminal, the car wasnt stolen or anything, there was no reason. Disgusting https://t.co/gnVCTvFspB

— pepa (@ipogistan) January 2, 2021
People were calling it a cold blooded murder:
Can't even bring myself to read the replies that are defending this. Nothing can ever justify being shot at 22 times. This is cold blooded murder. https://t.co/cDhcV9yktq

— Ushnaa🐾👻 (@Lanaschild_) January 2, 2021
If you defend this brutality, you are sick to the core. This is murder in cold blood. Absolutely horrific and cannot be justified at all. May Allah give sabr to his family and mah his soul rest in peace 😔 https://t.co/nYG2ee4F2y

— daddylina (@ozilinaa) January 2, 2021
People were calling the police incompetent:
i wouldn't have stopped in the night either, it's very sketchy and dangerous, I'm going to go to a place where there's people and then I'll stop
it's stupid how incompetent this god forsaken police force is if you can even call it that bc personal militia hai https://t.co/pNhFQ6eeVu

— Solid Snake (@yaindmachine) January 2, 2021
People had questions:
They shot him 22 times?! Couldn't they have shot the tyres instead? Who is training them this brutality? https://t.co/GWUpqSRfzh

— عمار (@Ammar_AliKhan) January 2, 2021
People were calling it extreme police brutality:
This makes NO sense. Extreme police brutality https://t.co/RndZDfZpSM

— 𝓛𝓪𝓪𝓵𝓮𝓮𝓷 لعلین✨𝓹𝓮𝓻𝓼𝓸𝓷𝓪𝓵 𝓿𝓲𝓮𝔀𝓼 (@laaleen) January 2, 2021
People weren't buying the story the police had to tell:
If he didn't stop, why are there bullet holes on the windshield? Doesn't add up. https://t.co/RJlfiD5L89

— Waqas (@worqas) January 2, 2021
Some weren't really sure of who to blame:
Not really sure who to blame here. It's almost impossible to aim at tires of a fast moving car. If this was an explosive laden vehicle, the policemen would be heroes right now. All check posts are clearly marked too. Very unfortunate. https://t.co/LIRpDWSxCm

— AS (@AScf90) January 2, 2021
Sad incident but who really is to blame? The kid with tinted windows who didn't stop at a police check post at night or the police who while doing their duty should have aimed for the tires? (While the police said this is what happened but since it was night, aiming was hard). https://t.co/WbN7gBihBI

— GuruLahoriiiiiii (@GuruLahoriSahab) January 2, 2021
Some believed both the police and the boy were wrong:
Both were in the wrong, the boy should have stopped when ordered to. The LEA's should have shot at and deflated tyres. https://t.co/IOQYC206F4

— 💕🇵🇰 Aurora Borealis 🇵🇰💞 (@PropitiousOn3O) January 2, 2021
And while others were furious, some people found nothing wrong with what the police did:
One must stop when the police asks you to stop … a very unfortunate incident but if the Rules Of Engagement were followed properly, the policemen can't be penalised https://t.co/STGkbxYYzL

— Ali (@Maarkhor) January 2, 2021
People wanted to know the other side of the story:
Dont know the other side of story but he should have stopped his car on police commands.
ps I think tints made him suspicious in police's eyes! https://t.co/ynOwlGoBPu

— Rabia Kiani (@Rabia_Kiani) January 2, 2021
People had their reasons:
This doesn't look as straight forward as people think. The car is 100% tinted. That's been illegal in Islamabad for many years. ATS wouldn't shoot at anyone for not stopping once. They'd pursue the car for a while and keep asking it to stop before shooting. https://t.co/m0bi9LKlmW

— Haris Khan (@haris1khan) January 2, 2021
Have anything to add to the story? Do it in the comments below!