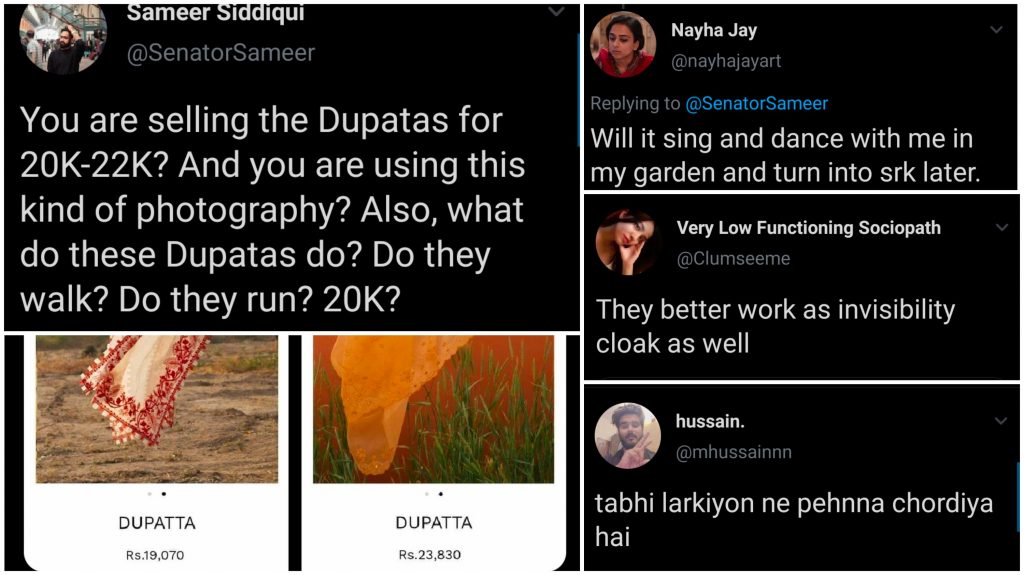 It's that time of the year when we're frantically looking for what to wear on Eid, from designer wear to designing-your-own-wear, there's a lot to think about!
Appalled by the prices of some dupattas, this guy was just not impressed and wanted to know everything that the dupattas between 19k-23k can possibly do:
You are selling the Dupatas for 20K-22K? And you are using this kind of photography? Also, what do these Dupatas do? Do they walk? Do they run? 20K? pic.twitter.com/5G3H0LKIhK

— Sameer Siddiqui (@SenatorSameer) May 8, 2020
And people had the funniest things to say!
Will it sing and dance with me in my garden and turn into srk later. pic.twitter.com/4LqH8NWCvF

— Nayha Jay (@nayhajayart) May 8, 2020
Wouldn't that be great?
This better make you invisible if it costs 20k https://t.co/5nw0GD20nd

— Jafri (@SmaackJaw) May 8, 2020
Ab samajh aya:
tabhi larkiyon ne pehnna chordiya hai https://t.co/ZbC5wijGcR

— hussain. (@mhussainnn) May 8, 2020
Many were looking at the bright side, one dupatta, two ways!
The second photo is clearly using the dupatta as an anti locust prevention device, spread over crops

— Dawar (@theLahorewala) May 8, 2020
Elon Musk? Are you listening?
Wifi enabled Dupattay! https://t.co/O2cpJmRU8O

— 🇦🇪🇵🇰سبزی سموسہ (@BaatYeHai) May 8, 2020
You never know!
I think sath wali zameen bhi milegi https://t.co/HQuPkXCiIZ

— kon hai ye (@shayadzohair) May 8, 2020
Every damn time, yes!
For 23k this better get caught in the cufflink of the hottest guy in the room every damn time https://t.co/S8yJ6xwNDR

— OhChiefestAndGreatestOfCalamities (@mustyoumustard) May 8, 2020
Matlab mazak hai kya?
They carry the family izat apparently. That must be why they cost so much 🤔 https://t.co/rKPC70bcVu

— This Burger Tastes Funny 🍔 (@MGhamgheeno) May 8, 2020
Hmm?
The only way it can cost this much is that wearing it somehow protects you from corona. https://t.co/fDV4AAPIXh

— Ali (@Bhuut_) May 8, 2020
Someone please delete this before people at Apple see it!
did apple started selling dupatas? https://t.co/mpuiaqwT2l

— Sabir. (@anoldschoolsoul) May 8, 2020
Dupatta, please come and do your thing:
You don't have to go get these duppattas… Khud chal ke aap ke paas ata hai!:p https://t.co/5ssI2pB1Ee

— Denial (@DanialAfridi) May 9, 2020
😱😱😱
Ye vo dupatta hai jispy Aladin beth kar urrta tha https://t.co/MabayBeALA

— ☭ (@Hamad_Rajput) May 8, 2020
I mean, not a bad deal after all:
these dupattas will stuck in guy's cufflinks or watches so 22k is for providing us girls our spouses too. https://t.co/6Y6PeHteHR

— . (@awazarhu) May 9, 2020
This dupatta will pay your bills as well:
Will this dupatta boost my metabolism? https://t.co/dJoYCjMsky

— Saadia Ahmed (@khwamkhwah) May 8, 2020
Oh, that's one way to look at it!
Oho the agricultural land in these pictures are complimentary with the dupatta. 1 acre land with one dupatta that's why 20K https://t.co/sWZC31LIdv

— Super Maan (@ZameerMaan) May 8, 2020
People were just not having it with the photography:
The second picture has me dead 😂

Imagine paying 23k for a dupata exhibited like that 😂😂😂 https://t.co/XIsLXEfguA

— Haider (@hodornm) May 8, 2020
Come on, not that rare!
I think Dupattas are rare now a days

That's why so Expensive 🤣🤣🤣 https://t.co/TbtcbE46CY

— 𝓒𝓱𝓲𝓵𝓵 𝓟𝓾𝓵𝓵 𝓤𝓹 𝓖𝓾𝔂 🇵🇰 (@Shehrozzzzzzz) May 8, 2020
Khud dhundein please:
Sath me larki bhi derahe hein kia??? https://t.co/BY3uUivBlM

— Kamran Afridi. (@InsanePukhtoon) May 8, 2020
Uhhh, not how we recommend using dupattas:
This dopatta better choke me to death https://t.co/ct8XuzrIOx

— Komal (@SyedaKomalShahh) May 9, 2020
Desi moms and their bids!
my mama would bid it 200 https://t.co/sO31bhHy95

— Ify (@high_geminian) May 9, 2020
Some of you have a dark sense of humour…
These dupattas better kill my nemesis, and dispose off the body while managing minimal blood stains…. https://t.co/1J6i7ijbol

— Zoha (@maleeeqa) May 9, 2020
They listen, talk back, they're basically your therapists:
They talk..🙄 https://t.co/DNtQIb5VEa

— Noor ul Huda (@nooorrraaayyy) May 9, 2020
What do you think about the dupattas? Let us know in the comments below!