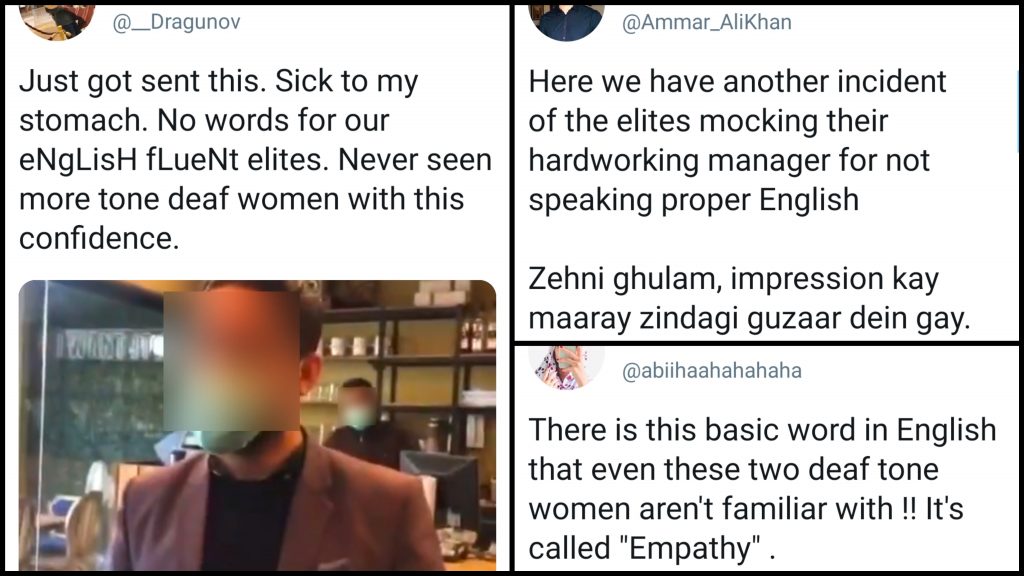 While 2021 has been off to a good start for most of us, it might not be a good start for Cannoli at Islamabad.
In a video that's going viral on social media, the restaurant owners at Cannoli who introduce themselves as Uzma and Diya are seen mocking their manager, Awais, for his English:
Just got sent this. Sick to my stomach. No words for our eNgLisH fLueNt elites. Never seen more tone deaf women with this confidence. pic.twitter.com/5eIj9hWOnZ

— N✨ (@__Dragunov) January 20, 2021
And people think it's the most tone deaf video they've ever seen:
I would personally pay for these women to take a class on compassion and empathy, but there are some things money can't buy. https://t.co/gNGkEulObJ

— sohniyeh (@sohnianika) January 20, 2021
People were disappointed at the lack of empathy:
Oh if only being privileged, educated, self-entitled, elitists somehow also also instilled compassion and empathy.

Wasn't education supposed to remove the colonial mindset & provide the bridge towards a better & equal society?

Unfortunately, these wannabes suffering from – https://t.co/wfXshOFxo6

— Shamyl (@thatsadshamyl) January 20, 2021
There is this basic word in English that even these two deaf tone women aren't familiar with !! It's called "Empathy" .#Owais https://t.co/4Li6TJJEG8

— abiiha (@abiihaahahahaha) January 20, 2021
People wanted to know the purpose of making the video:
I just want to know what the reason was for this video? What did they hope to achieve? "Wow Uzma paid first this guy's English classes and then humiliated him and wants her money back 😍"

Boils my blood. https://t.co/oe5zjtxksX

— zohair (@shayadzohair) January 20, 2021
People who had personally met Awais at Cannoli stood by his side:
I've actually met Owais at Cannoli… he is a very decent guy… it's sad that he's employed by such vile and distasteful elitists… both these women need to take a hard look in the mirror, because there's nothing there… so disgusting

— Khurram Qureshi (@qureshik74) January 20, 2021
People were quick to boycott the restaurant:
Cannoli by Cafe Soul. Never going there. https://t.co/Fh0lPcFO6z

— Waqas (@worqas) January 20, 2021
I will never ever visit that place if it is owned by such low level people. How shameful is it to embarrass someone to escape from your boredom. We should socially boycott these shit minded womens and their business places.#IamOwaisAftaab https://t.co/fgWpwYVsn9

— Aliyan Abdul Salam (@AliyanSalam) January 20, 2021
People had questions:
is cannoli short for colonial hangover

— Maryam (@maryamful) January 20, 2021
What do you get when you mix privilege with conceit? Apne mulaazmeen ki ENGLISH par mazak ura kar khud acha feel karne wali do pathetic khawateen.
Disgusting.
What use is your "better" education and upbringing if it couldn't teach you basic manners and humility. https://t.co/Idkg8KViUV

— Alina Faheem (@alinafaheem9) January 20, 2021
People had their theories:
i have a theory. once you are obscenely rich you lose most of your compassionate mental faculties. like, how out of touch can you get? "we're bored so let's make fun of the poors hehe" they're just so…jaahil. humiliating your own employees for what? great PR, ladies. fantastic. https://t.co/A8k2JeO4CS

— elia ❍ (@eliiooop) January 20, 2021
People were surprised:
surprised at the value they have for someones 9 whole years of service and loyalty to their shit restaurant with shit burgers #cannoli https://t.co/wzQ0Q8R9Xe

— Fatima N (@fatimanawaz98) January 20, 2021
People thought it was low blow:
This is sickening, HOW CAN YOU BE OKAY WITH LET ALONE MAKING FUN OF SOMEONE WHO HAS ACTUALLY TRIED TO IMPROVE HIS SKILLS, THAT TOO ON A PUBLIC PLATFORM? PATHETIC TO THE CORE. This is what is actually wrong with out nation, the laughs in the end. THAT. https://t.co/xcxFCEcPPp

— Ramshahaha🌻 (@NotyourDrWatson) January 20, 2021
People weren't happy with the humilation the manager had to face:
I am just amazed that in their little pathetic previledged world they felt that once the post this video people wil actually find this funny. They humilated a poor man, who works hard for his income not to become content of their crass humour

— Manchala (@kyati1123) January 20, 2021
People wanted to meet Owais and have a good time with him:
I just want to meet this man and spend a night drinking tea and talking about the world.

These women though….they can go to hell. Shaming a person because his 2nd language isn't private school educated? What is wrong with you women? That doesn't make him less of a person. https://t.co/SSsX7d0DJW

— Owais Aaftaab (@DennisCricket_) January 20, 2021
People found the video to be sickening:
The fact that people don't understand that English isn't the first language for many countries and it's completely fine for not everyone to be fluent wd it. It is sickening the way people humiliate others on the basis of this shit i am ashamed and I'm furious rn. https://t.co/Yg9Wfnv1Ni

— tooturntHAISHA (@Arsenic_hemlock) January 20, 2021
People had a lot to say:
Here we have another incident of the elites mocking their hardworking manager for not speaking proper English

Zehni ghulam, impression kay maaray zindagi guzaar dein gay. https://t.co/W9EgEkDCXO

— عمار (@Ammar_AliKhan) January 20, 2021
People were disgusted:
Disgusting, how can someone stoop so low? I've learned one good thing in my life is to never disrespect someone lower than my social class https://t.co/emrKP5K9zz

— monjolika (@urcrazie_) January 20, 2021
People found the whole scenario deplorable:
Speaking fluent english and wearing expensive clothes is useless if you lack basic manners. Being elite doesn't give you the right to humiliate middle and lower class people, this shit attitude makes you look like an imbecile not cool. Utterly deplorable!pic.twitter.com/HBEm7vOcGK

— Sir Saith Abdullah (@SaithAbdullah99) January 20, 2021
Jami messaged the restaurant, asking for an apology:
Whatsapp working. +92 333 2132777 pic.twitter.com/QywhpAfUnb

— Jamiazad (@azadjami1) January 20, 2021
People were already placing their bets on the apology video that's about to come:
Apology video coming soon with manager forced to appear as bff…
Place your bets now https://t.co/ILJsi4IIzz

— canned heat (@manahylk) January 20, 2021
What do you think about the reaction that netizens have shown? Let us know in the comments below!