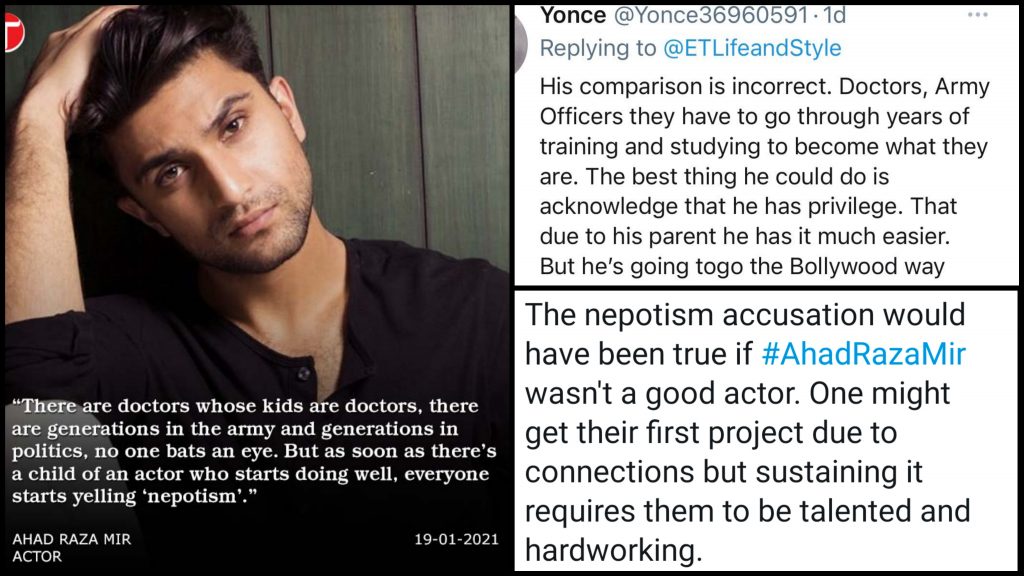 On a recent talk show with Anas Bukhash, Ahad Raza Mir shared with us a side of him we've never seen before.
Speaking about nepotism allegations among other things, the actor shared his take on the matter which was quoted by Express Tribune and shared to twitter:
Popular theatre and television actor #AhadRazaMir recently appeared on a talk show with Anas Bukhash and spoke of things he never even thought about before. #etribune #etlifeandstyle
For more: https://t.co/9dDZquummO pic.twitter.com/yhYP4wJ3nd

— Tribune Life & Style (@ETLifeandStyle) January 20, 2021
His take gathered mixed reactions from his fans and netizens, and most of them were just not convinced!
Can you guys just acknowledge your privilege ffs. It's not hard to say, "yes it was easier for me to get recognized in the industry because of my father."

Being an actor is different than being a doctor/soldier.. it's takes years of practice and SKILL to become one. like? https://t.co/g96hEB9arU

— 🔅 (@pkpopculture) January 20, 2021
Some fans though the statement made no sense:
no hard feelings for him, i really appreciate him as an actor but this statement clearly made no sense. https://t.co/2rmcP66XUJ

— tinky. (@flawsthatshine) January 20, 2021
People wanted him to acknowledge his privilege:
Doctors dont get to med school based on their parents being larjendri doctors. And literally everyone points out genrational politics. No one questions a*my because, well. Stop playing the victim and acknowledge your privilege! You had it easy. https://t.co/zU1jn32ODJ

— pepa (@ipogistan) January 20, 2021
People were sharing how he could have acknowledged it gracefully:
Nothing wrong with being born into privilege, just as there's nothing wrong with being born without

But atleast gracefully accept that u got lucky with that opportunity

How many talented theatre artists are thirsting for that first break that got served to u on a gold platter https://t.co/MKNjpzNRhI pic.twitter.com/497Zr0erAc

— Natasha (@natshkhan) January 21, 2021
People weren't happy:
There's nothing wrong in wishing to be in same profession as your parents BUT in your profession you get the PRIVILEGE to use your parent's position, you are already "someone" before doing anything, which is not the case with other professions. Here YOU get to' choose'. https://t.co/GfDgRc7NK0

— 🌹 (@_lucky_life) January 20, 2021
People thought the comparison was like comparing apples to oranges:
I like him but this was very dumb take, its like comparing apples to oranges , even a doctor's kids should go through the same procedure as someone who isnt frm medical bg, which isnt the case with actors😬 https://t.co/YfABdDvLui

— Yashasvi (@girlwithwingss) January 20, 2021
People were calling him ignorant:
IDK why actors make random statements like this? Just acknowledge your privilege and move on. Ahad is a fabulous actor TBH and very few could beat him at it. But talking so off handedly is not just stupid but reeks of ignorance. https://t.co/QMhJwYbmc4

— Zo / #StandWithKashmir (@zo_StydiasJeep) January 21, 2021
People weren't buying it:
"mae nae bohat struggle kiya hae"energy fr https://t.co/PDTfUIT3DM

— zohra 🕊 (@ctrlzohra) January 21, 2021
People understood where he was coming from:
People, calm down!

This one hell of a talented guy made his way to the screen after working in theatres, learning Urdu & all that we know about him.

It's not easy to hear the word nepotism when you've worked hard. His performance in YKS gives him the right to speak about it. https://t.co/wFs28J2tx0

— Gul⁷ (@GulGhutae) January 20, 2021
Fans were upset at the publication posting his remarks without context:
He literally acknowledged the fact he got it easier yet its difficult to fill in his family's shoes. Kindly post full statements instead of spicy bites to increase viewer engagement.🌝 https://t.co/leCjvjdQsG

— Norah Bing🌸 (@BingNorah) January 20, 2021
People failed to find the correlation:
why is almost every actor in Pakistan so freaking dumb what is the correlation https://t.co/DxxC4gEk3u

— Abdullah Shahid (@chadullah) January 21, 2021
People were so done with the hot takes:
I feel like shitty hot takes are now a requirement for Pakistani actors https://t.co/boe9vRxI0N

— س (@siruslyShirin) January 21, 2021
People were sharing how he himself is unaware of the privilege:
Saw that bit about nepotism, his arrogance and complete denial of his privilege wasn't surprising.
Not every young actor gets a debut role in MD production's big projects.. but inko yeh tabb pata chalta jab yeh kissi known actor kay sahib-zaday na hotay. https://t.co/3cSzjMuwfJ

— undone (@shaat_up) January 20, 2021
While others weren't too convinced, there were many who actually shared the same point of view on nepotism and found nothing wrong in the comparisons he'd made:
Why are we so angry at Ahad Raza Mir for comparing doctors & actors? He graduated in PA & trained in theatres just like doctors get an MBBS degree and do house job. We really can't get rid of "actors are bhaand" mentality can we? Also, he didn't disagree that he's privileged. https://t.co/2THIE1xAJJ

— Rozina Bhutto (@bhutto_rozina) January 20, 2021
True!
The nepotism accusation would have been true if #AhadRazaMir wasn't a good actor. One might get their first project due to connections but sustaining it requires them to be talented and hardworking. https://t.co/wtaVBWltEe

— Bella (@_akkiz) January 21, 2021
Fans were sad for him:
He is right. His background is in acting and he has experience outside Pakistan. Will we only appreciate our own when Hollywood or Bollywood lures them over with appreciation? I feel really sad for #AhadRazaMir. He is one of our best actors despite having played only 4-5 roles. https://t.co/mSXzR8dcCy

— SophiaQ (@SophiaAQ) January 21, 2021
Makes sense!
Nepotism in any industry is fine unless its starts snatching opportunities away from deserving ones. https://t.co/leCjvjdQsG

— Norah Bing🌸 (@BingNorah) January 20, 2021
It made perfect sense to people:
y'all can just say you ain't ready for this discussion and go but he's totally making sense here https://t.co/wGOsV9yAV1

— . (@cayoglushoe) January 20, 2021
People were sharing how acting is just as difficult of a profession as being a doctor:
#AhadRazaMir
for those who are calling him with zero IQ
Plz for god sake he has studied arts in canada and have done theatre then has came here
Its high time ppl should stop saying
Artist has no struggle
I dont know why ppl rant around like medical is only difficult career+ https://t.co/5evnmC4aeP

— 🤨*🐥*💜⁷••ᴵᵁ⁵ (@realisticheART) January 21, 2021
What are your thoughts on Ahad's take? Let us know in the comments below!