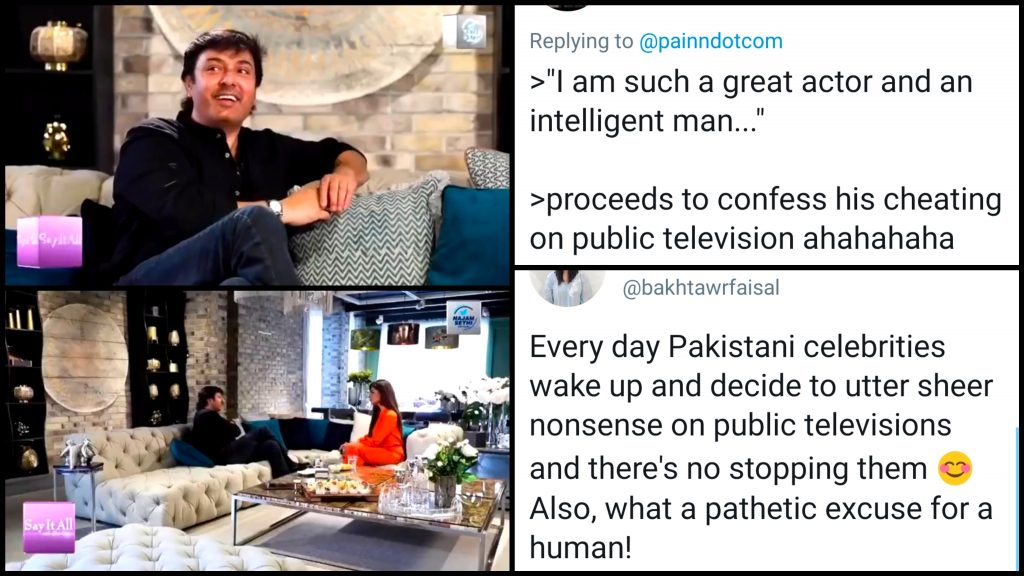 There's no doubt that Nouman Ejaz is one of the finest actors in the industry right from the very start. To celebrate his acting skills he was invited to Iffat Omer's show where his candid take on cheating and not getting caught has been creating waves on social media!
What the fuck is this??? Disgusting pic.twitter.com/vhmBeZTk8G

— pain (@painndotcom) September 7, 2020
After this clip went viral, people have been greatly disappointed and there's a lot they've got to say:
>"I am such a great actor and an intelligent man…"

>proceeds to confess his cheating on public television ahahahaha

— VerEbad (@CallMeWeebad) September 7, 2020
People found Iffat Omar's reaction even more problematic:
What's even more painful to watch in interactions like these is the lack of ethics & any moral standing from the host. I'm sure she knows and believes what he's saying is wrong and yet she's laughing it off. The fact that she has to act all nice & carefree about this nauseating.

— icy (@Nobodysherebye) September 7, 2020
Ahhh the confidence saying something so shitty and the "I need to learn some tips from u"
Why are we glorifying cheating??
As a woman she shouldve shut that shit down.

— B-n o (@pasta_h0e) September 8, 2020
How I wish, Iffat Omar had call out his misogyny and just not laugh along !! https://t.co/aOKkW61fdl

— Bano (@BanoBee) September 8, 2020
"Alhamdullilah":
Muslim man talks proudly about his infidelity and affairs.

Muslim man then talks about rise of MeToo movement because of lack of religiousness. So apt. 👍🏼 https://t.co/9xpEBs2lnz

— soha (@SohaTazz) September 7, 2020
Some were guessing his wife's reaction to the interview:
Begun when he arrives home pic.twitter.com/LNBb44ELNk

— HS. (@incognito4u1) September 7, 2020
People were disgusted:
The fact that he first calls himself "lucky" and then proceeds to confidently tell about his extramarital affairs is so cringey and disgusting. I just can't. WHAT THE HECK!!! Ew

— Rabia 🌻 (@raaabeeeaaa) September 7, 2020
This is disgusting on some many levels – A man bragging about being unfaithful, keeping his wife in dark throughout – Exploiting other women using a celebrity card, despite of his age – A host with no moral standing of telling him 'what is wrong with you' even if not assertively. https://t.co/chmgler1ab

— Sameena E. (@TheSERalways) September 8, 2020
Some weren't surprised:
Absolutely shocking. I'm actually disgusted at how well he has internalised his tarkee on-screen characters as his real life personality trait. https://t.co/bbBKKJZtn1

— Heena Bukhari (@HBukhari) September 8, 2020
People were sharing what would babe happened if the rules would have been reversed:
Now imagine if a woman said what he did. Not only would she be slut shamed but also probably face verbal and physical abuse at the hands of her husband. Desi men need to be called out every single time they do this bullshit BY FELLOW MEN. You call yourselves allies, get to work https://t.co/JDgM7ttG7Z

— Ushnaa🐾 (@Lanaschild_) September 8, 2020
Yep:
Yasir Hussain: Ertugrul actors are international garbage.

Meanwhile national garbage: https://t.co/RLVfMP0dyS

— S. (@psymetanvir) September 8, 2020
Many thought that her wife probably knew:
lmaoo you didn't get lucky, she's just keeping the marriage together for the kids🥴 https://t.co/uN6M5HpLJM

— 𝐢𝐛𝐢 (@hobohours) September 8, 2020
Your wife probably knows and she doesn't say shit because of your manipulation, and if she actually knows you're a dipshit to break her trust, plus marriage in Islam does include not having extra marital affairs "iS riShtAy kO lE kE cHalTa hUn" https://t.co/n85fETKYkO

— anti-liberal force (@jaanibus) September 7, 2020
He's an intelligent man after all:
I can't believe this guy said alhamdulillah to cheating without getting caught 🥴🥴 https://t.co/EtlEfTbeEp

— Tʀɛʏ.🚫 (@TremxineV) September 8, 2020
Well:
Wow lost all respect for this guy. Also, please don't ignore the fact that she says "I need to learn a few things from you". No bitch you need to call him out live. https://t.co/umWE114E1A

— تلمیذ (@Talmeez92) September 7, 2020
Utterly disgusting!
Her: What's the raaz of successful marriage?

Him: *Boasts about cheating and extramarital affairs*

Disgusting https://t.co/Bcq3Z0rZqN

— First rule of Fightclub? (@Ammar_AliKhan) September 7, 2020
People were so done:
Every day Pakistani celebrities wake up and decide to utter sheer nonsense on public televisions and there's no stopping them 😊
Also, what a pathetic excuse for a human! https://t.co/zjZ5F0QRC8

— BF. (@bakhtawrfaisal) September 8, 2020
Shots were fired:
It's:
-an attention seeker of the purest grade.
-going through a midlife crisis therefore needs to prove his manhood.
-a career that's about to go over the cliff; a desperate measure to revive it.
-a pompous self-centred ass- hole who doesn't understand why he is unattractive. https://t.co/iO7m5QA0ng

— Saffina Ellahi IYI #StayAtHome #PTI (@SaffinaEllahi1) September 8, 2020
The joke's on him:
him: i cheat on my wife but i'm so clever cuz she never finds out 😎

also him: *exposes himself on live tv*pic.twitter.com/t5KqDRqIvp

— 𝔏𝔞𝔦𝔟𝔞 (@Aethena666) September 7, 2020
Some had their speculations:
Must be a scripted interview to get maximum ratings – TRP
Otherwise never saw him talking like this in his more than 27 years of career. https://t.co/4N57nrUK5i

— Oh, Lady Mania! (@OhLadyMania) September 8, 2020
Some were actually lauding his honesty:
The fact he actually spoke the truth regardless of other 99% of the men who're pretending to be loyal to their wives. https://t.co/zuxh2N5QkP

— Isra Kaleem (@iisrakaleemii) September 8, 2020
What do you think about Nouman Ejaz's take on cheating? Let us know in the comments below!