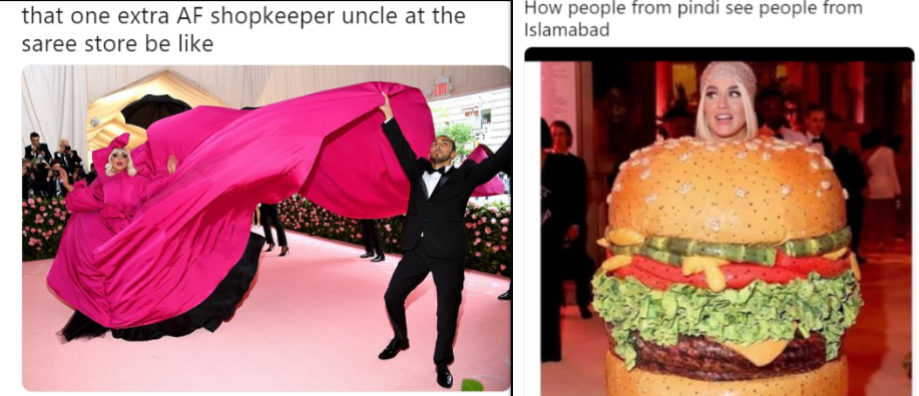 Even though the Met Gala takes place for a great cause every year, most people enjoy the memes it brings with it every freaking year! And let's be honest, we all dig them Met Gala memes.
Of course there had to be an iconic Bhola reference:
"Main hoon aur mere saath bhi mein hoon" pic.twitter.com/CMwTLKzIxU

— Salman Junejo (@salmanjunejo) May 7, 2019
Never have we related more to a meme:
When you watch movies with subtitles: pic.twitter.com/J38jMfoh6G

— ronnie 🌺 (@xsimplecreature) May 7, 2019
How dare you? Tumhain koi haq nahi hai ke tum itni khoobsurat lago:
*me, dude I am not even good looking*

Also me, on functions, with my mobile's front camera pic.twitter.com/u1h1hHoTim

— Farzan (@memesagaadmin) May 7, 2019
Hum ne apni light ka intezaam khud kiya hua hai, our rishtedaars are LIT!
Shaadi Halls: 12 bajay lightain bund kardi jayengi.

Late guests: https://t.co/qVvDKB1HbT

— Puffin Man (@junaidakram83) May 7, 2019
Kambal for the win!
Breaking news: Cardi B steals the show at Met Gala 2019 by wearing apni kambhal. pic.twitter.com/LHQrd3W45E

— Alishba (@fakebeinggss_) May 7, 2019
Someone please call Harry!
The Golden Snitch,used in Quidditch found in #MetGala. Somebody please call Harry Potter to catch this ball. pic.twitter.com/mYYssP2oqc

— Farwa 🌸 (@farwaa_zaidi5) May 7, 2019
Wow, time does fly…
😂 😂 😂 😂 😂 😂 😂 Kasam se pic.twitter.com/NYqkdOABD8

— Khushi Bukhari (@Khushi_Bukhari_) May 7, 2019
What kinda tooth brush are yáll using?
This is so true.😁
.
.#PriyankaChopra #MEMES #MetGala pic.twitter.com/Qao8Z2EeHP

— Khan_Sahab_Ke_Tweets (@rkn_here) May 7, 2019
One word: BURGER
How people from pindi see people from Islamabad pic.twitter.com/Kzo3oQA11R

— Farzan (@memesagaadmin) May 7, 2019
Umm, can we call her Kunafa Jenner?
I knew Kendall looked familiar #MetGala pic.twitter.com/NbGzEmhS5n

— ChampagneJuJu (@JHabashy15) May 7, 2019
Let's give it up for Groot!
"I am groot" pic.twitter.com/fzXIgERuhl

— Jake Vig (@Jake_Vig) May 7, 2019
Ranveer Singh was missed:
Iske husband ko kyu nai bulaya har dusre din met gala karta hai woh toh https://t.co/D4VABbihN7

— Harden szn (@sxrcaastic) May 7, 2019
Oh man, this has us laughing way too hard!
"Lady Sansa, I've known you since you were a girl… I've protected you" pic.twitter.com/p4MuGCvhfY

— jusuf twerkić 🌹 (@_yungkoala) May 7, 2019
Lmao, the internet is the funniest
Wtf😂😂😂 #metgala @priyankachopra #PriyankaChopra pic.twitter.com/3ZqHErNfTy

— Fahim SRK (@FahimSRKian1) May 7, 2019
Why you do this maa?
*me on call, planning a late night hangout with friends*

My mom's ears: pic.twitter.com/6MdEVGu6aA

— Farzan (@memesagaadmin) May 7, 2019
Well, the resemblance is uncanny
Why does she look like a croissant #MetGala pic.twitter.com/pJprht3FWy

— Caitlyn (@catosaurusmgc) May 7, 2019
Serena is serving… an omelette though!
Now I love the hell out of Serena but I'm sorry sis you wrong a f for this #MetGala pic.twitter.com/0lv06CFEfb

— J-W (@Whatsawordworth) May 6, 2019
I got new rules, I count em
dua lipa: "one, don't pick up the phone"
me, ignoring all red flags: pic.twitter.com/auho2Ly1R6

— Sonia Mariam Thomas (@SoKneeOh) May 7, 2019
Maut ati hai…
me, when i'm forced to clean my room pic.twitter.com/paOwFdtZve

— BuzzFeed India (@BuzzFeedIndia) May 7, 2019
Baji yeh dekhein, kapray ki quality toh dekhein…
that one extra AF shopkeeper uncle at the saree store be like pic.twitter.com/bJX4sVNvnX

— Arshad Wahid (@vettichennaiguy) May 7, 2019
And here comes the biggest truth bomb…
me judging the #metgala looks with a negative balance in my account pic.twitter.com/E7t7e7eZ0m

— kiwi (@ayekeilaa) May 6, 2019